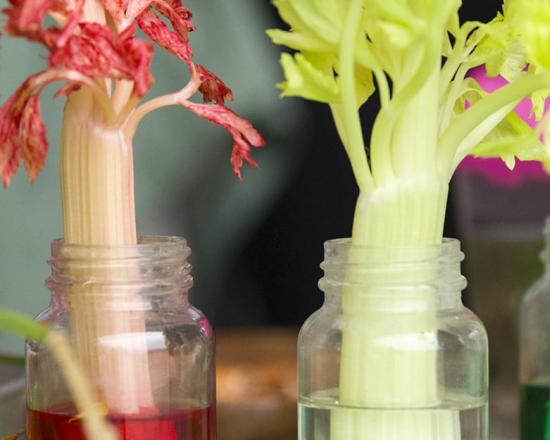 Learning
How well do you know the Chicago Botanic Garden? Find out with our mystery photo challenge! Guess these objects and where to find them with our close-up snapshots. Click on the picture to reveal the answer to each clue below.
Ever see a tree or even a weed and wonder what kind of plant it is? We'd love for you to stumble across the answer—right in front of you. Inspired by a movement by French botanists, my 5-year-old daughter and I decided to become street botanists for the day. We would identify plants in the neighborhood and write their names in chalk on the sidewalk.
People don't always think of the Garden as a place to read, but we have the perfect backdrop for your escape into another world. Don't wait until after the weather turns; grab a book and pick your sweet spot soon—we've got plenty of benches throughout our 385-acre grounds, some of them tucked away in secluded areas and others more public.
Teaching Children and Grandchildren Valuable Lessons, One Seed at a Time Parents and grandparents are often children's first and most important teachers. For 15 years, I have had the pleasure of teaching families with young children at the Chicago Botanic Garden. It is a gift to work in a garden with children because there is so much about gardening that we can use to help them grow.
Sit-spots are pretty much what they sound like—a place outside where you can sit and reflect. We use them often with little ones in the Chicago Botanic Garden's Nature Preschool. The dedicated places are a mindful way for people of any age to check in with and be present in the natural world. Choosing a Spot
Here's a quick, creative way to let mom or a special someone know that you care—make a kindness stone, just because. You may have seen kindness stones around your neighborhood. After my daughter and I recently painted some rocks, I was putting them around a flower bed in our front yard when a woman walked by. She said, "I love those—every time I see one on my walk, I take a picture and post it. Do you mind?"
More than 200 years ago, English poet William Wordsworth came upon the happy sight of daffodils in spring—and was inspired to write one of the most beloved nature poems in the English language. The poem, "I Wandered Lonely as a Cloud," is a reminder of the ability of the natural world to lift spirits. Wordsworth wrote the poem on April 15, 1802, after a walk in the Lake District of rural northwest England. On the walk, along the water's edge, he spotted golden daffodils swaying in the breeze.
For Earth Day this year, take some time to appreciate the rich soil that covers our planet and supports plant life. Try this soil seed-bank test to discover the magic of topsoil.
Looking for fun projects to do indoors? Here's one with a great return: start seeds. It's easy to do, whether you want to start seeds on a sunny windowsill or in a more formal arrangement. The great thing about starting seeds indoors is that it is relatively inexpensive—and who can resist the satisfaction of watching those first sprouts spring to life?