Seasonal. Fresh. Local.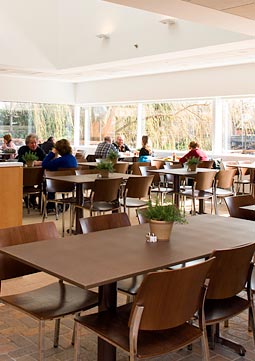 The Garden View Café seeks to provide customers with a fresh menu featuring local, sustainably produced, seasonal ingredients whenever possible. The menu includes breakfast with gourmet omelets and steel-cut oatmeal and lunch of freshly made salads, seasonal soups, weekly specials, and brick-oven flatbreads. Enjoy a gourmet coffee drink made by the barista. Sprouts menu for children offers a unique twist on traditional favorites. Café hours vary with the season.
Brunch
We serve brunch from 8 a.m. to 2 p.m.  on Saturdays and Sundays.
Menu Items to go
Freshly prepared ready-to-go sandwiches and entrée salads, yogurts, and snacks are available for those who have just a moment to grab something and go. Vegetarian and gluten-free options are also available. 
Garden Grille
The outdoor Garden Grille returns in spring 2017 with traditional favorites like grass-fed beef burgers, bratwurst, and chicken sandwiches, along with daily specials.
Rose Terrace Beer Garden
Preview for Members Only 
May 18, 2017
5 – 7 p.m.
Free; reservations required and space is limited
Parking fees apply.
Must be 21 years or older to attend event and have valid ID.

Opening May 27, 2017
Craft beers from Wisconsin, Michigan, and Illinois breweries will be featured, along with wines and tasty appetizers, sandwiches, and salads. Located just off the Linden Allée near the Krasberg Rose Garden, the beer garden is the latest addition to the Garden's dining options.
Local Partners
The Garden View Café purveys food from local sources when possible, including the Garden's own Windy City Harvest Youth Farm.
Click here to view our providers, and where they are from.
Sustainability at Work
Composting
In 2008, the Garden stopped selling bottled water, and in 2011, the Garden expanded its dishwashing and storage areas in order to change from using disposable plates, bowls, and flatware to using reusable chinaware. Also in 2011, the Garden began incorporating composting of food scraps and appropriate materials into its café operations. With the help of our customers, the Garden was able to divert 38 tons of waste from the landfill in 2013 by composting and recycling.
ReCORK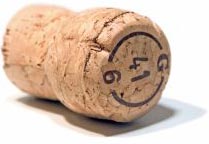 The Chicago Botanic Garden has partnered with ReCORK to recycle wine corks from the Garden View Café and on-site special events. Be part of the effort. Save your used, natural wine corks (no plastic or metal, please) and bring them to the Garden View Café. Recycled cork can be used in flooring tiles, building insulation, craft materials, and sports equipment. ReCORK's recycling program also educates audiences about the role cork forests play in curbing climate change, and encourages companies to make more sustainable products.
Please note: No outside food or beverages are allowed in the Garden View Café or on the decks of the Visitor Center. Please use the designated picnic area located adjacent to parking lot 2.