Seasonal. Fresh. Local.
The Garden View Café seeks to provide customers with a fresh menu featuring local, sustainably produced, seasonal ingredients whenever possible. The menu includes breakfast with gourmet omelets and steel-cut oatmeal and lunch of freshly made salads, seasonal soups, weekly specials, and brick-oven flatbreads. Enjoy a gourmet coffee drink made by the barista. Sprouts menu options for children offer a unique twist on traditional favorites.
---
Breakfast, Lunch, and Brunch
Daily we serve breakfast from 8 to 11 a.m., and lunch from 11 a.m. to 2 p.m. On Saturdays and Sundays brunch is served from 8 a.m. to 2 p.m. Visitors can eat their meal in our indoor dining area, or choose a table outside on the deck to eat. Vegetarian and gluten-free options are also available. Check out the menu here.
---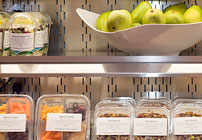 Grab & Go and Barista
Freshly prepared grab & go sandwiches, entrée salads, yogurts, and snacks for vegetarians and meat eaters are available for those who have just a moment to grab something quick, or enjoy a gourmet coffee drink made by the barista. Grab & go and barista options are available daily from 8 a.m. to 5 p.m. at the Garden View Café.
---
Outdoor Dining - reopens May 2020
Outdoor dining locations at the Garden offer the best views in town. The Garden Grille features favorites like grass-fed beef burgers, bratwurst, and chicken sandwiches, along with daily specials. Stop by the Rose Terrace Beer Garden located just off the Linden Allée near the Krasberg Rose Garden and taste craft beers from local breweries, along with wines and tasty appetizers, sandwiches, and salads.
---
TrueJuice - reopens May 2020
Open Memorial Day through Labor Day, a rainbow of colorful juices and healthy snacks has sprouted at the Garden. Check out TrueJuice at the Fruit & Vegetable Garden, a pop-up of the local store. TrueJuice will use some produce from Windy City Harvest in the freshly made smoothies and cold-pressed juices.
---