Drop by the Garden View Café for seasonal grab-and-go offerings; take a break with a drink or bite to eat outside.
---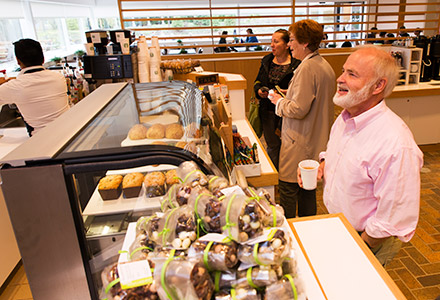 Garden View Café
Services: Grab-and-go food and drink only.  Outdoor seating, with heaters, available
---
Health and Safety Precautions
With your safety in mind, we're doing things a little differently at all of the dining locations in the Garden in response to the COVID-19 health crisis:
Food service employees will wear face coverings and gloves.
Visitors are asked to wear face coverings unless they are eating and drinking at their outdoor table.
We'll have outdoor dining only, and visitors will be seated 6 feet apart from others. Both Garden View Café decks in the Visitor Center will be available for seating, along with the picnic area in parking lot 2.
We'll serve disposable, compostable food and drink containers for you to pick up on your own.
High-contact areas—including tables, chairs, and credit card terminals—will be cleaned frequently.
We'll have plexiglass shields at payment registers.
Credit cards only; no cash will be accepted.
Water stations and drinking fountains will not be available. Canned water will be available for sale. You will be able to fill your water bottle at a touch-less refill station in the Visitor Center.
Wheelchairs will be allowed, but no scooters.