Outdoor Dining
The Chicago Botanic Garden pairs beautiful views with seasonal menus, now at two outdoor locations.
Enjoy fresh, local fare during your next visit to the Chicago Botanic Garden. There's something for everyone at the Garden Grille and new Rose Terrace Beer Garden, which also has craft beers on tap. Come experience the best dining views in Chicago's North Shore suburbs.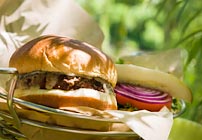 The Garden Grille
The outdoor Garden Grille features traditional favorites like grass-fed beef burgers, bratwurst, and chicken sandwiches, along with daily specials.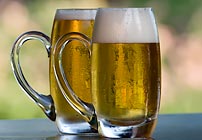 Craft beers from Wisconsin, Michigan, and Illinois breweries are featured, along with wines and tasty appetizers, sandwiches, and salads. Located just off the Linden Allée near the Krasberg Rose Garden, the beer garden is the latest addition to the Garden's outdoor dining options.