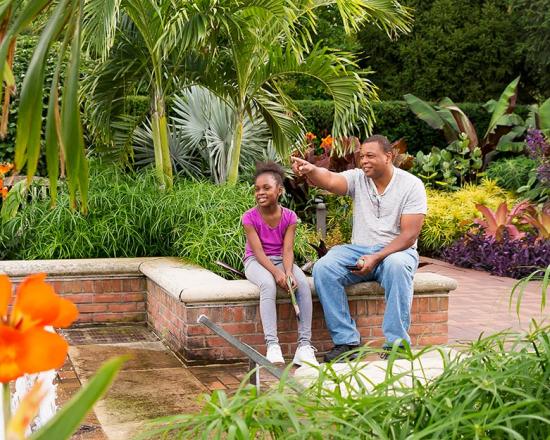 Hours of Operation
Today, August 12, 2020
8 a.m. – 8 p.m.
The Chicago Botanic Garden is open every day of the year.
Summer Hours
June 24 – September 7, 2020
A face covering is required at the Garden Shop, Butterflies & Blooms, the Model Railroad Garden, and Grand Tram Tours.
Garden Grounds*

8 a.m. – 8 p.m.

Regenstein Center**

Closed with the exception of restrooms in the Greenhouse Galleries

Visitor Center Membership and Information Desks

8 a.m. – 8 p.m.

Daniel F. and Ada L. Rice Plant Conservation Science Center

Closed

Plant Information Service

Closed

Plant Information Hotline

TBD

Lenhardt Library

Closed

Garden View Café Barista


8 a.m. – 6 p.m. weekdays
8 a.m. – 8 p.m. weekends

Garden Grille

8 a.m. – 10 a.m. daily
11 a.m. – 3 p.m. weekdays
11 a.m. – 6 p.m. weekends
weather permitting

Esplanade Grab & Go Café

11 a.m. – 2 p.m. weekdays
11 a.m. – 6 p.m. weekends
weather permitting

Rose Terrace Beer Garden

Closed
TrueJuice at the Fruit & Vegetable Garden


Closed

Garden Shop

10 a.m. – 5 p.m. daily

Grand Tram Tours

10 a.m. – 5 p.m. daily
Weather permitting

Bright Encounters Tram Tours

Canceled

Complimentary Walking Tours

Canceled

Garden Shuttle

Canceled

Model Railroad Garden


10 a.m. – 5 p.m. daily
Weather permitting

Butterflies & Blooms Exhibition

10 a.m. – 5 p.m.
Weather permitting

Regenstein Fruit & Vegetable Garden

Closed at 6 p.m. daily

Tool Shed Information Center

Closed

*Special event areas may extend past posted sunset closings

**Extended hours for class participants
Fall Hours
September 8 – November 12, 2020
Garden Grounds*

8 a.m. – 5 p.m.

Regenstein Center**

Closed with the exception of restrooms in the Greenhouse Galleries


Visitor Center Membership and Information Desks

8 a.m. – 5 p.m. daily

Daniel F. and Ada L. Rice Plant Conservation Science Center

Closed

Plant Information Service
Closed
Plant Information Hotline

Closed

Lenhardt Library
Closed
Garden View Café

8 a.m. – 5 p.m. daily

Garden Grille

11 a.m. – 3 p.m. weekends
Weather permitting

Rose Terrace Beer Garden

Closed
TrueJuice at the Fruit & Vegetable Garden


Closed

Garden Shop

10 a.m. – 5 p.m. daily

Grand Tram Tours

10 a.m. – 5 p.m. daily through October 25
Weather permitting

Bright Encounters Tram Tours
Canceled
Walking Tours

Canceled

Garden Shuttle

Canceled

Model Railroad Garden


10 a.m. – 5 p.m. through October 11
Weather permitting

Butterflies & Blooms Exhibition
10 a.m. – 5 p.m. through September 20
Weather permitting
Regenstein Fruit & Vegetable Garden

Closed at 5 p.m.

Tool Shed Information Center

Closed

*Special event areas may extend past posted sunset closings

**Extended hours for class participants