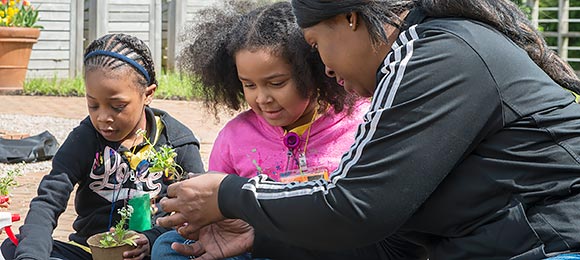 Bring your students to the Regenstein Learning Campus for a fun and educational field trip. Choose from a variety of Guided Field Trip programs that feature plant science and nature-based topics appropriate for specific grade levels. Or opt for a Self-Guided Field Trip, in which you lead your students on an independent exploration of the Chicago Botanic Garden.
The Nature Play Garden at the Regenstein Learning Campus is open for guided and self-guided group exploration. Parts of the garden and hills may be closed any time of year for maintenance.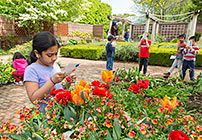 Guided programs are led by trained facilitators who will engage your students with hands-on activities aligned to the Next Generation Science Standards. All programs typically include outdoor exploration, so please dress for the weather. Availability varies for program and season.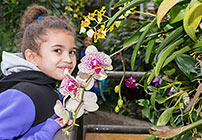 Self-guided field trips allow your students to explore while you lead them through the Garden. Science, language arts, literature, history, geography, art, and other subjects may be explored throughout the different gardens. Before your trip, Garden staff is available discuss the gardens best suited for any curricular topic. Available year-round, Monday through Friday.