Plant Information
Have a question? Contact Plant Information Service.
Use the search box below to search plant information. Or choose a month from the drop down menu to view monthly garden checklists.
Select any filter and click on Apply to see results
Smart Gardener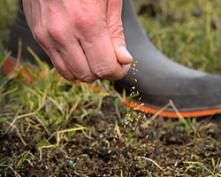 This year's cold, wet spring was followed by a hot, dry summer and that spelled trouble for lawns. If you've noticed some dead patches or more weeds (like ragweed and nutsedge) than usual, you're not alone.
Although spring is a popular time for lawn renovation, fall is even better. Summer's heat and drought have ended and the cooler temperatures and warm sun and soil help grass seed germinate quickly. This is a good time to assess your carpet of green.