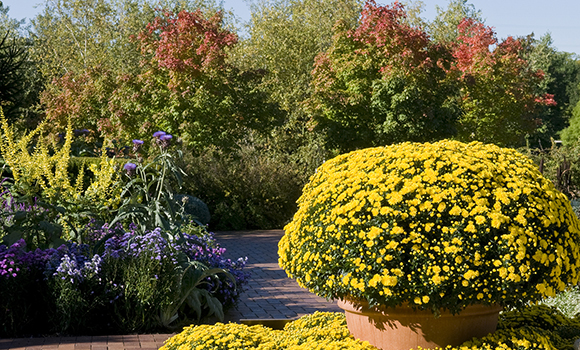 Welcome to the Chicago Botanic Garden Press Room. The public relations staff is happy to assist journalists with stories, on-site visits, interviews, experts, and photos.
Upcoming Event Highlights
Fine Art of Fiber – Friday, November 8, through Sunday, November 10 (10 a.m. – 5 p.m.) Opening Night: Thursday, November 7 (6:30 – 9 p.m.)
Stunning quilts, lovely knitted artwear, woven wonders and breathtaking beadwork are among the handcrafted items on view and for sale during the Fine Art of Fiber. The event is hosted by Illinois Quilters, Inc., North Suburban NeedleArts Guild and the Weavers Guild of the North Shore. 
Lightscape – Friday, November 22, through Sunday, January 5 (4:30 – 10 p.m.)
We have new magic for the holidays with the introduction of Lightscape, an enchanting, after-dark, illuminated trail inspired by and created just for the Garden. Along a mile-long path, the night will come alive with color, imagination and sound, from a playful choir of singing trees to a spectacular waterfall of light. Attendees will find themselves in the center of it all — stepping inside a sparkling tunnel, walking among immersive ribbons of light, enjoying a stunning festive finale and toasting marshmallows over a fire.