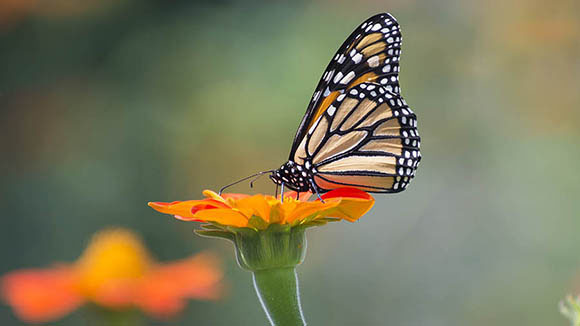 Welcome to the Chicago Botanic Garden Press Room. The public relations staff is happy to assist journalists with stories, on-site visits, interviews, experts, and photos.
September Event Highlights
Malott Japanese Garden Family Sundays – Sundays, September 1 and 15
Drop by the Elizabeth Hubert Malott Japanese Garden for hands-on activities related to Japanese arts and culture. Each Sunday features a different take-home project as well as books and hands-on activities, including using chopsticks, raking miniature dry gardens, practicing calligraphy and more. 
Central States Dahlia Society Show – Saturday, September 14 (noon – 4:30 p.m.), and Sunday, September 15 (10 a.m. – 4:30 p.m.)
More than 2,000 flowers in the dahlia family will be judged and on display in a wide variety of colors, sizes and forms, with floral designs and photography completing the show. Society members will be on hand to provide written information and to answer questions about dahlias.
American Craft Exhibition (ACE) – Friday, September 20, through Sunday, September 22
A juried exhibition featuring more than 140 artists selling handcrafted works in 12 media including baskets, ceramics, fiber decorative, fiber wearable, furniture, glass, jewelry, leather and more. Hours are from 10 a.m. to 6 p.m. on Friday and Saturday and from 10 a.m. to 5 p.m. on Sunday. Tickets are required. Visit chicagobotanic.org/ace more information.
Roadside Flower Sale – Friday, September 27, through Sunday, September 29 (10 a.m. – 4 p.m.)
More than 300 flower arrangements and wreaths created by talented volunteers are available for purchase at the Roadside Flower Sale. Visitors will find one-of-a-kind natural plant and dried flower arrangements, wreaths, bouquets, wall hangings, stationery cards and more. 
Harvest Weekend – Saturday, September 28, and Sunday, September 29 (11 a.m. – 4 p.m.)
Learn how to harvest, preserve and store your homegrown produce or farmers' market bounty during Harvest Weekend. Join us at the Regenstein Fruit & Vegetable Garden for "how-to" demonstrations, shopping from local vendors, Garden Chef Series presentations, a cookbook swap and more.