Welcome to the Chicago Botanic Garden Press Room. The public relations staff is happy to assist journalists with stories, on-site visits, interviews, experts, and photos.
Featured Expert
Topic: Farm on Ogden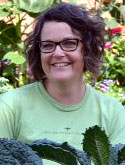 Angela Mason
Associate Vice President, Urban Agriculture/Windy City Harvest
In her 15 years with the Chicago Botanic Garden, Angela Mason has grown the urban farming/Windy City Harvest program from one site to 13 throughout Cook and Lake Counties. She has managed Windy City Harvest from its second year through the development of the certificate program with the City Colleges of Chicago, developed a transitional jobs program and a partnership with the Illinois Department of Juvenile Justice, and developed the incubator farm program, supported by the USDA. Mason administers the sustainable urban agriculture training and production programs, manages federal and state funding for these programs, and directs a staff of 15 full-time and 64 seasonal and part-time employees, including interns and justice-involved youth participants.
"The Farm on Ogden is really a culmination of 15 years of developing meaningful partnerships, being persistent when it mattered most, and continuing to be passionate about the work and the people and the communities we are part of. I see the impact we have and have had on the people in our programs and it keeps me going. The Chicago Botanic Garden's mission is "we cultivate the power of plants to sustain and enrich life". I can't think of a more suitable program than what we do with Windy City Harvest. "