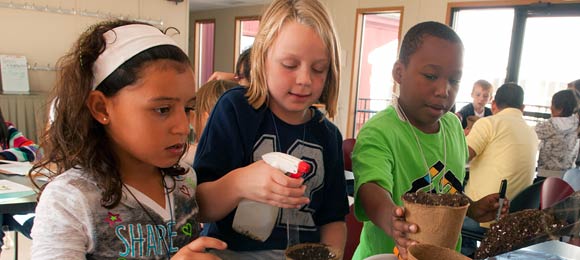 Enrich your curriculum and have the Chicago Botanic Garden come to you! Choose from a variety of programs that feature plant topics appropriate for specific grade levels.
offered in JANUARY - MARCH
$140/$50 deposit
Monday through Friday

60-minute program(s) between 9 a.m. – 2 p.m.

(maximum 25 students for PreK ; maximum 30 students for K-2)

A 1:5 student ratio of chaperones to children is required.
$100 for each additional class on the same day (up to 3 additional classes)

Schools located more than 20 miles from the Chicago Botanic Garden will be charged a $50 mileage fee.

GARDEN GROCERIES (PREK – 2)
Students will discover the relationship between plant parts and the foods we eat. An exploration to study some living examples is included. Students pot an edible plant to take home.
TERRIFIC TREES (PREK – 2)

Through the use of scientific tools and hands-on exploration, students will discover the important role trees play in forest ecosystems right from their own classroom. Students will pot a plant to take home.
Insect Investigation (PREK – 2)

Find out what plants and animals need to survive by observing patterns in how things live and grow at the Garden. Perform simple experiments to test the behaviors and preferences of some friendly insects. Consider how the external parts of insects might inspire a design solution to a human problem.
SURPRISING SEEDS (K – 2)
What is inside a seed? As junior botanists, students learn about seed parts and how they work together to produce a new plant. Students will pot a seed to take home.
FLOWER LAB (3 – 5)
Why do plants make flowers? As junior botanists, students learn about flower parts and how flowers, with pollinators help, produce seeds. Students will pot a flower seed to take home.