Teaching Children and Grandchildren Valuable Lessons, One Seed at a Time
Parents and grandparents are often children's first and most important teachers. For 15 years, I have had the pleasure of teaching families with young children at the Chicago Botanic Garden. It is a gift to work in a garden with children because there is so much about gardening that we can use to help them grow.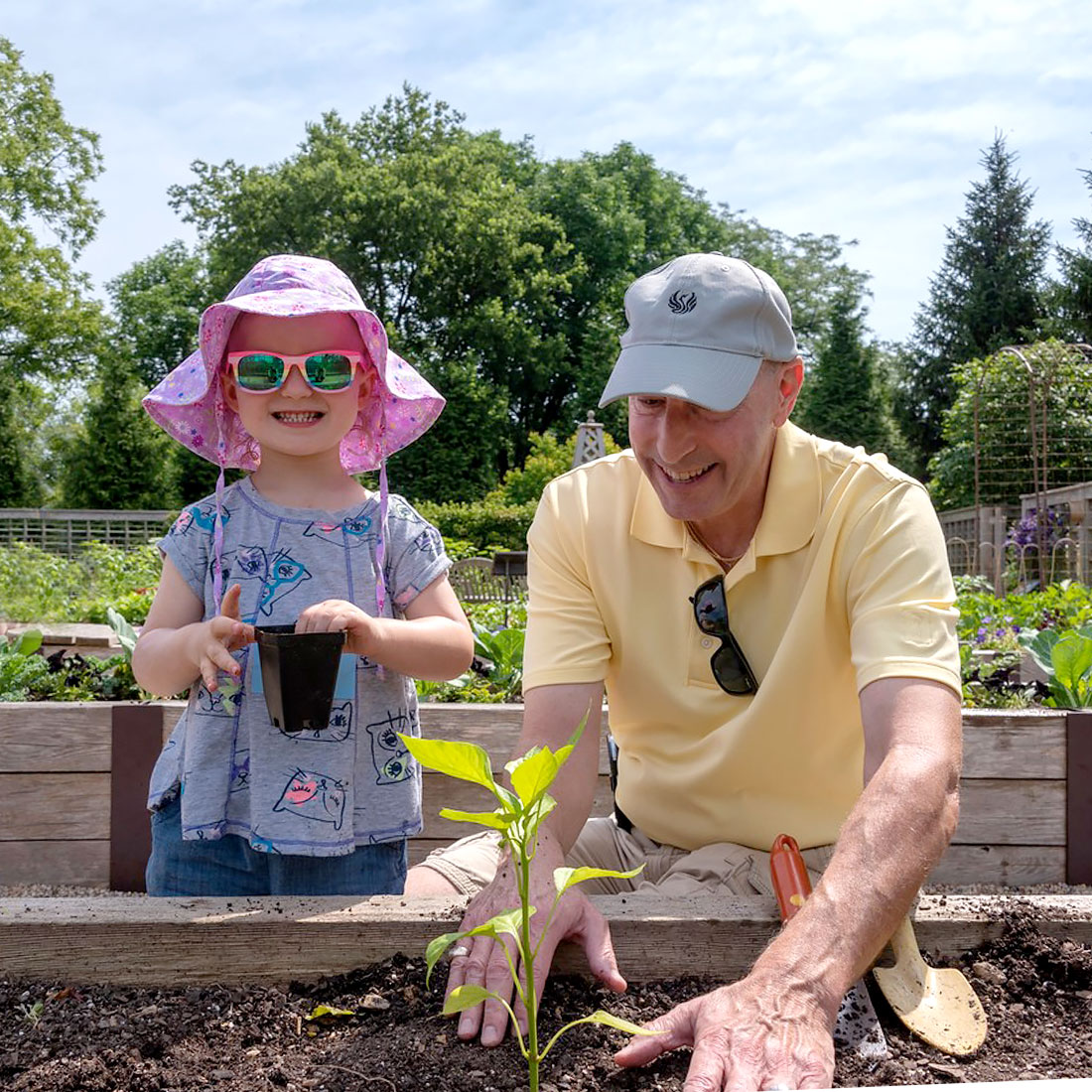 "It is not what is poured into a student that counts but what is planted."

—Linda Conway
If you've ever spent time with a toddler, you know that young children are active learners. The best teaching occurs when we join that child in hands-on, developmentally appropriate play. A backyard garden, a small container on a porch, or even a pail filled with dirt can introduce the joys of working the soil and the pride that comes with growing something. Along the way, we cultivate patience, perseverance, and a sense wonder.
Young children have an innate curiosity that thrives in direct sensory experiences. Think about small hands in mud or splashing water, tasting herbs, smelling flowers, and crunching leaves. The Latin names, propagation methods, and botanical facts will come, but first—digging. Digging is a simple, soothing ritual that seems universal. In the garden, we meet young children where they are. We allow them to practice what they know and we provide plenty of space to acquire new skills like weeding, watering, and planting. All of it is about caring for something—the first step in understanding that the world is bigger than ourselves. This is an essential milestone.
Children must spend time in nature before they can understand it well enough to care about it or preserve it. Time spent with tiny seeds, tender plants, sharp thorns, and creepy crawly insects teaches children the interconnectedness of the natural world and to appreciate the connections and differences. Gardening side by side with an adult, children begin to understand this because they are actively involved in the process; sharing their ideas and of course, asking lots of questions!
Gardening also provides wonderful invitations for children and adults to solve problems together. Why didn't the seeds grow? What can we do differently? Communication and social skills necessary in the real world (like the playground) can be learned through problem solving and creativity in the garden. Of course, there is plenty of research that shows science, math, health, nutrition, and literacy skills are acquired in gardens as well. However, the early lessons that help young children grow into stewards of the earth are equally as important as being able to spell rhododendron.
So, grab a trowel, a packet of seeds, and a watering can, and allow your child or grandchild to work the soil with you. If you're not quite ready to unleash your favorite 2-year-old on your orderly garden, start small with a planter or small plot of dirt in the backyard or on a porch. It doesn't really matter what you're planting—grass seed is just as good as heirloom tomatoes when it comes to teaching young children some of life's most valuable lessons.