Even when the kids have schoolwork, it's still important for them to play outside. Outdoor activities encourage creativity and independent thinking.
The good news is that outdoor play time has many benefits; a growing body of research shows that nature play encourages creativity and problem solving, boosts academic performance, helps people focus, reduces stress, and promotes positive social relationships.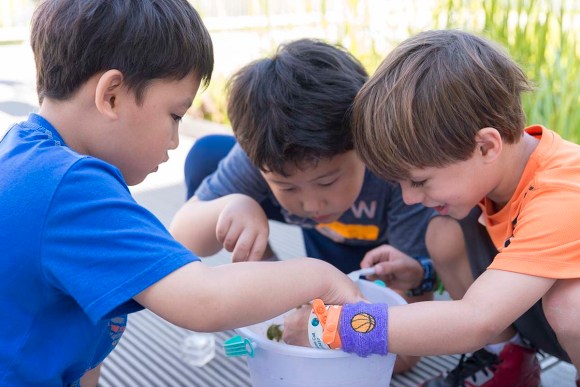 Sharing discoveries—like water creatures from Garden lakes—is a great way to cement knowledge.
Nature play abounds at the Chicago Botanic Garden, and can be found in many of our education programs, including Family Drop-In activities, Camp CBG, and the Nature Preschool.  Ann Halley, Nature Preschool director, outlined a few nature play activities that can be done at home. Choose an activity—or two—to keep children playing in nature throughout the school year:
Create land art. Use twigs, rocks, and leaves to create artistic sculptures and let creativity be the guide. Build a stone tower topped with a flower, or let a design naturally reveal itself. Discover the beauty of natural materials and make whatever feels right. There are no limits on what can be created using material found in the backyard and a bit of imagination.
Paint with mud. Why use regular paint when mud is so much more fun? Swap out watercolors for mud, and ditch brushes for hands to create all-natural art. Take sustainability up a notch by using an outside surface—the sidewalk, a driveway, or back patio—instead of paper as your canvas. Wash creations away when you're through.
Dissect flowers. Pick a few wildflowers and take them apart. Examine each petal and stamen. Compare different flowers and notice the shapes and colors of each. For older children who are interested in art, use the dissected flower pieces to make geometric patterns. Budding scientists can compare different kinds of flowers to learn more about what attracts certain pollinators.
Go on an adventure hike. It seems obvious to suggest a hike when talking about activities that can be done outdoors. But an adventure hike makes the walk more fun. Give the hike a theme and try to hunt for on-topic items. The theme can be a color (things that are blue), a shape (look for circles), or whatever else you think might be fun. Turning the hike into an adventure means children will be more aware of what's all around them and will stop—maybe even literally—to smell the flowers.
Study the clouds. Look up. A cloudy day provides an opportunity to find inspiration in the sky. Younger children can look for different shapes. Older kids can discuss the different types of clouds and identify those currently over their heads. The best part about this activity? No tools required.