Windy City Harvest Youth Farm
About the Program
Through nutrition demonstrations and redemption of federal nutrition assistance coupons at markets and Women, Infants, and Children offices, Youth Farm students serve their communities and gain a better understanding of pressing social and economic issues.
Participants stay in school and pursue careers. Graduates have found jobs within Chicago's growing urban agriculture and local food sector or as growers and interns within the program itself, motivated by the knowledge that they can contribute to their communities in meaningful ways.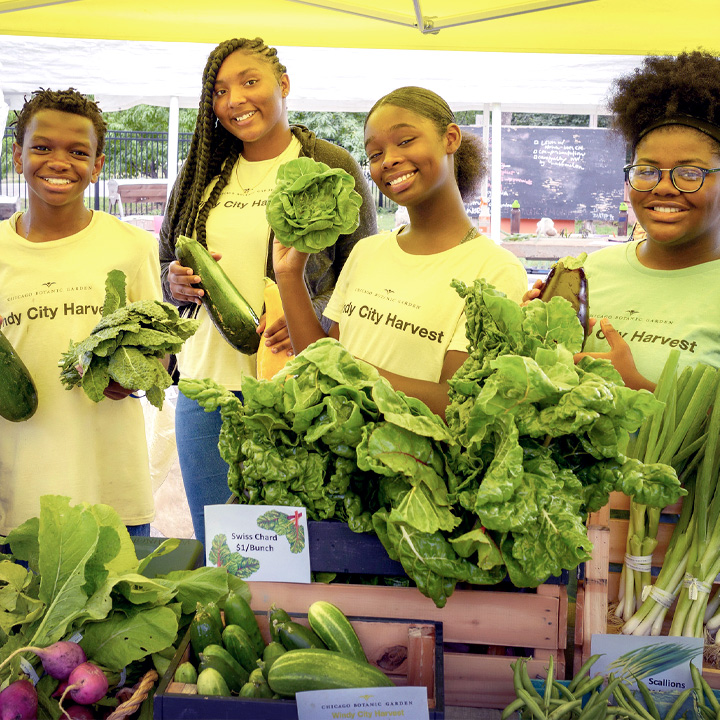 "[The program] helps me make healthy choices and helps me learn how to grow other healthy foods in order to maintain a healthy lifestyle." —Mario, Youth Farm in Lake County

"Mario loves it. It's changed the way he eats! He now changes how I grocery shop. We used to buy pizzas, junk food, now it's salads all the time. He's telling me, 'Buy romaine, Mom!' Romaine!!!" —Mario's mother
Since its debut serving 13 teens in Lake County in 2003, the program has expanded and has achieved the following:
Provided after-school and summer jobs for more than 600 youth
Harvested and sold more than 100,000 pounds of produce at farm stands in neighborhoods identified as food deserts
Educated more than 400 moms at six WIC clinics on the power of plants to help keep their babies healthy
Trained more than 120 ambassadors to build their own programs in communities all across the nation
Collaborated with more than 35 community partners
Presented the Youth Farm's service-learning model at dozens of local and national events
Recognized as a national best practices youth development program
Quick Links

Youth Farm Facilitator Training Program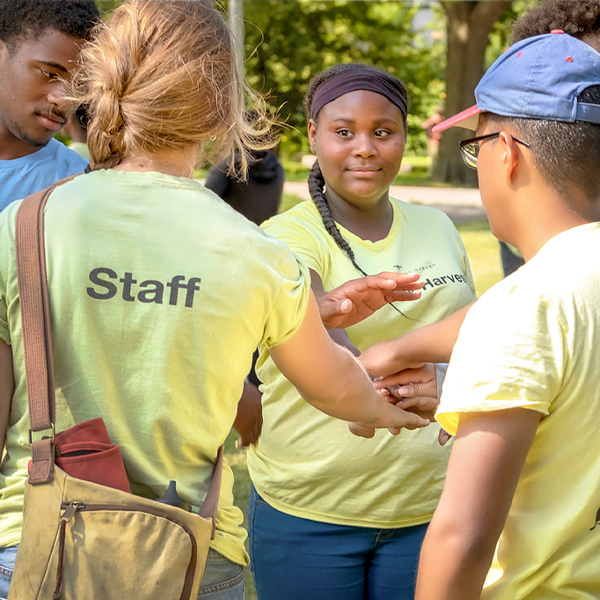 Program Components
Youth Farm teens work in all aspects of sustainable farming and food systems—from planting a farm to managing a beehive, from cooking with the food they grow to selling it at local farm stands and markets. Teens are paid a stipend for four hours per week in the spring and fall, and 20 hours per week in the summer, but the benefits far outweigh the wages they earn. By the end of the season, they have gained valuable job and teamwork skills, discovered a whole new way to look at the food they eat, and grown their support system to include supervisors, program coordinators, legislators, and their fellow participants. In addition to actual farming and farm-based workshops, each Youth Farm season combines field trips, nutrition education, and entrepreneurship to create a richer educational and life experience for each of the participants.

Field Trips
During the season, the Youth Farms join together during four day-trips to explore aspects of the program in depth. These programmed trips incorporate challenges to engage participants in the experience and help them grow together as a team. The challenges include the following:
Youth Farm Amazing Race—A day of farm challenges and team-building activities, setting the stage for a season of fun and hard work.
Youth Farm Top Chef—Youth Farmers are divided into six "families" and challenged to create their own lunches from local, seasonal food on a budget.
Youth Farm Apprentice—All sites converge at the Chicago Botanic Garden for a day of career exploration. Youth are split into teams and challenged to interview employees at the Garden, and perform in a skit in which a Youth Farm job seeker picks the best career for him/her.
Healthy Lifestyle Education
The Youth Farm carries the Chicago Botanic Garden's mission into neighborhoods, while creating access to high-quality produce in underserved communities and encouraging healthy lifestyle choices and habits in the following ways:
Community Lunches—Each crew cooks for their entire site using the farm-fresh produce they've grown. These extremely popular lunches promote healthy food choices and pride in food preparation skills, and reinforce the importance and joy of sitting down together to share family meals.
Get Healthy Goals—Youth Farmers learn about, practice, and challenge themselves to keep "Get Healthy" goals such as drinking water, interpreting food labels, getting enough sleep, and getting enough physical activity. Crew leaders track progress on a chart and award achievers with extra incentives that encourage crew members to meet their goals.
Healthy Snacks and Lunches—Access to healthy, consistent meals including nutritious breakfasts and daily wholesome lunches is provided, resulting in smoothly functioning farm sites, productive farmers, and increased consciousness about the importance of eating regular, healthy meals.
Social Entrepreneurship
Through their work at the farm, Youth Farmers are exposed to issues of food and social injustice and discuss how to combat these issues with entrepreneurship. While the demand for local, seasonal, and sustainably produced food has increased exponentially over the past decade, access to fresh produce is still a challenge for many Chicago residents. Youth Farmers are empowered to overcome this challenge through growing, harvesting, and then selling fruits and vegetables, establishing relationships with their customers in the communities where they live, many of which are food deserts.
---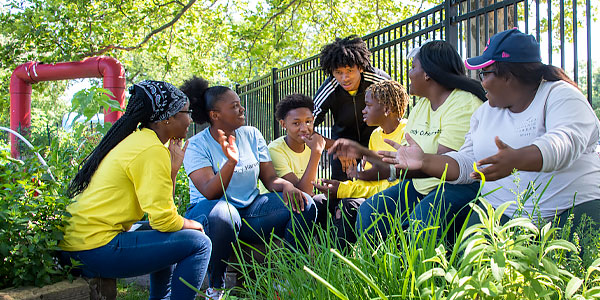 Any Questions?
Contact: Samantha Creightney, Community Education Manager