We are fully hired for the 2019 season. If you are a teen interested in working at Youth Farm, please check back in January for the 2020 application.
Youth Farm Facilitator Training: February 23 and November 2, 2019

About the Program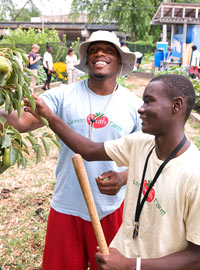 This thriving youth development program each year educates and employs 80 to 90 teens from low-income communities at three farm sites in Chicago and one in Lake County. As they advance through this program, grounded in sustainable urban agriculture and Social Emotional Learning (SEL) principles, Youth Farm students learn to grow food responsibly, work as a team, advocate for food justice, eat in a healthy way, and become accountable—to themselves, their fellow farmers, and to their employers. Through nutrition demonstrations and redemption of federal nutrition assistance coupons at markets and Women, Infants, and Children offices, Youth Farm students serve their communities and gain a better understanding of pressing social and economic issues. Participants also stay in school and pursue careers—93 percent of senior participants graduated from high school in 2013, 53 percent are enrolled in college, 20 percent are working full-time, and two are in job training programs. In 2014, a Youth Farm student in her third year at the Lake County site was named a Gates Millennium Scholar. Several Youth Farm graduates have found jobs within Chicago's growing urban agriculture and local food sector or as growers and interns within the program itself, motivated by the knowledge that they can contribute to their communities in meaningful ways.
Youth Farm teens work in all aspects of sustainable farming and food systems—from planting a farm to managing a beehive, from cooking with the food they grow to selling it at local farm stands and markets, and through sales to the Garden View Café, where the chef incorporates fresh organic produce into menu items available to Chicago Botanic Garden visitors. Teens are paid a stipend for four hours per week in the spring and fall, and 20 hours per week in the summer, but the benefits far outweigh the wages they earn. By the end of the season, they have gained valuable job and teamwork skills, discovered a whole new way to look at the food they eat, and grown their support system to include supervisors, program coordinators, legislators, and their fellow participants.
Since its first year in 2003, when the program debuted at the Greenbelt Forest Preserve in Lake County and served 13 teens, the program has expanded to three additional sites in Chicago, totaling two acres, and a rooftop "farm." Through this program, the Chicago Botanic Garden has built garden oases in some of the city's most challenged neighborhoods, where vulnerable youth can connect to the healing power of plants. Since 2003, the Youth Farm program has achieved the following: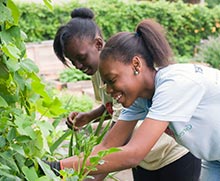 Provided after-school and summer jobs for more than 600 youth
Harvested and sold more than 100,000 pounds of freshly grown produce at farm stands and in neighborhoods identified as food deserts through nutrition benefit programs (Illinois Link cards, senior coupons, and Women, Infants, and Children, or WIC, vouchers)
Educated more than 400 moms at six WIC clinics on the power of plants to help keep their babies healthy
Trained more than 120 ambassadors (former staff, interns, and trainees) to build their own programs in communities all across the nation, teaching about the power of plants to sustain and enrich life
Collaborated with more than 35 community partners, including the Lake County Forest Preserve District, the Chicago Park District, NeighborSpace, Chicago Public Schools, After School Matters, Neighborhood Housing Services of Chicago, Lawndale Christian Health Center, and the Quad Communities Development Corporation
Presented the Youth Farm's service-learning model at dozens of local and national events
Been recognized as a national best practices youth development program by the Institute for Museum and Library Services (IMLS) and by the Pathways Project, an initiative of the Family Resiliency Center at the University of Illinois, Urbana-Champaign.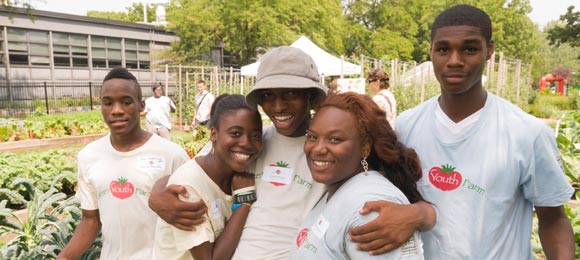 "The teens in this program come away with real-world work experience, a great deal of learning, and the ability to make a positive impact in their communities," said Angela Mason, associate vice president of urban agriculture/Windy City Harvest at the Garden. "While weeding, watering, planting, and harvesting, they learn about being part of a team. And they take pride in shaping the farm from the ground up."