Windy City Harvest Farms
Youth Farm Locations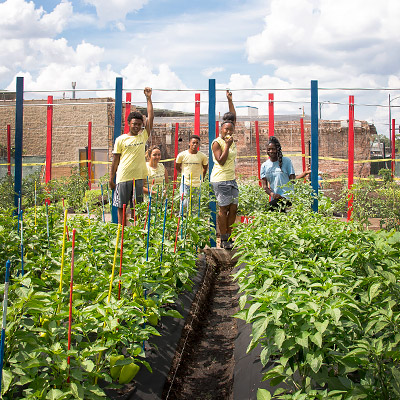 North Lawndale
3555 W. Ogden Ave., Chicago, IL
Windy City Harvest's Youth Farm was first established in 2003 on one acre of land in the Greenbelt Forest Preserve in Waukegan. The program was founded as a pilot to examine the feasibility of expanding the Chicago Botanic Garden's school and neighborhood gardening education to serve teenagers in an extracurricular setting.
Building on the success of the Lake County site construction of the North Lawndale Youth Farm began in 2005. This Youth Farm site is located on the west side of Chicago on a quarter-acre lot. This location is in partnership with Neighbor Space, an urban land trust that owns the land and supplies the water. Currently this space can serve up to 20 youth participants, the produce that is grown at this location is sold at our Farm on Ogden market.
The success of the North Lawndale Youth Farm served as inspiration for the partnership with Lawndale Christian Health Center to expand urban agriculture training opportunities and promote access to fresh fruits and vegetables in North Lawndale through the creation of the Farm on Ogden.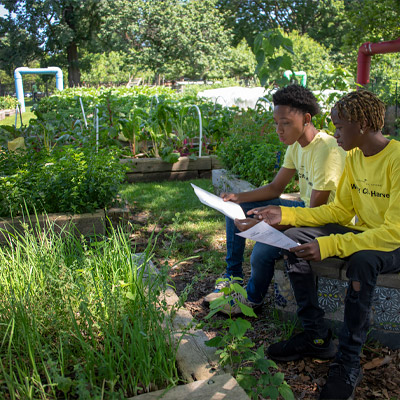 Washington Park
555 E. 51st St., Chicago, IL
In 2009, funds from the American Recovery and Reinvestment Act allowed the Garden to construct its largest urban Youth Farm site. Located on the northeast corner of Chicago Park District property in Washington Park, this 3/4-acre site hosts up to 25 youth from neighborhood high schools during the growing season. The site is unique in that it has a large hoophouse for extending the short growing season and a substantial orchard. It is also adjacent to Dyett High School, which allows access to office and cooler space for the produce.
Sustainable Agriculture Training Farms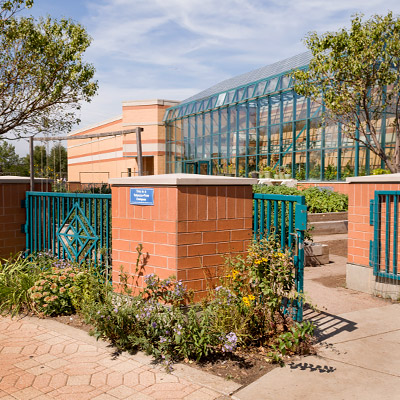 Arturo Velasquez Institute
2800 S. Western Ave., Chicago, IL
Windy City Harvest's main campus for the Apprenticeship is located at Arturo Velasquez Institute, a satellite campus of Daley College of City Colleges of Chicago. A greenhouse, hoophouse, and outdoor growing beds are complemented by a headhouse with aquaponics system, office space, and instructional classroom. This site was established in 2009 and has a ⅛-acre of production space.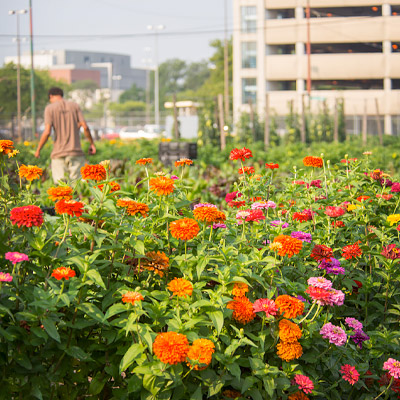 Rodeo Farm
2600 S. Washtenaw Ave., Chicago, IL
Very near Arturo Velasquez Institute, this nearly two-acre site is owned by Cook County. Established in 2012, Rodeo Farm is a major training, commercial crop, and composting production site for Windy City Harvest, which sells the produce grown here to Midwest Foods. Rodeo Farm is a training site for Apprentices and Windy City Harvest Corps employees. Rodeo farm is also home to a hoophouse, five colonies of bees, and a milkweed research station.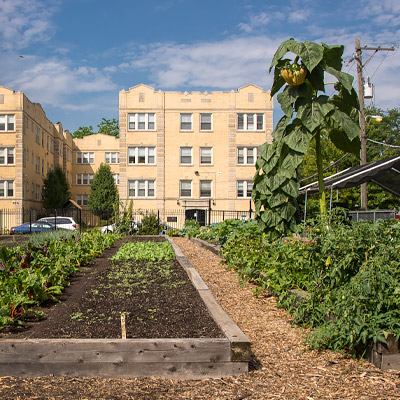 Kenneth Street Farm
215 N. Kenneth Ave., Chicago, IL
This 10,000-square-foot NeighborSpace lot in West Garfield Park has been used as a production and Corps training site by Windy City Harvest since 2009. Produce grown here is distributed through VeggieRx programming. This site is home to three farm plots used by West Garfield Park residents.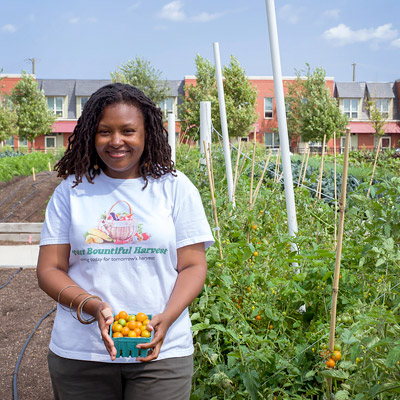 Legends South Farm & Community Allotment Gardens
4431 S. Federal St., Chicago, IL
Windy City Harvest's largest farm, Legends South, is a two-plus-acre site that serves as an incubator for small farm businesses independently run by graduates of both the Apprenticeship Program and a Farm Business course. The site, formally part of the Robert Taylor housing complex, was constructed in 2013 through support from the USDA-NIFA (U.S. Department of Agriculture–National Institute of Food and Agriculture), a Beginning Farmer and Rancher Development Program grant, and the land developer, Brinshore-Michaels. Legends Farm consists of eight Incubator plots, ⅛-acre raised beds, two hoophouses, a ¼-acre production training farm, a 40-foot wash-pack station, and a community allotment garden with 35 raised beds for surrounding residents. In partnership with the Michaels Organization, Windy City Harvest coordinates 20 community allotment plots at City Gardens in East Garfield Park and 25 community allotment plots at West Haven Park on the Near West Side.
Contract Partnership Farms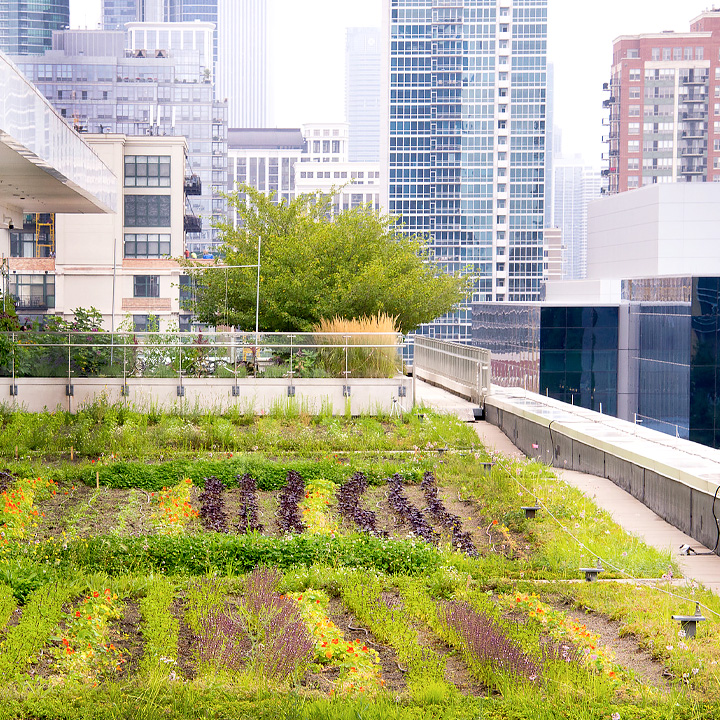 McCormick Place Rooftop Farm
2301 S. King Dr., Chicago, IL
Windy City Harvest runs a 30,000-square-foot rooftop farm at McCormick Place West in collaboration with Savor…Chicago, the food service operation for McCormick Place. Established in 2013, Windy City Harvest works with Savor chefs to focus on rare heirloom crop production and rooftop-appropriate varieties of vegetables, native fruits, herbs, hops, and edible flowers. The farm includes a microgreens operation, three colonies of honeybees, and vermicompost bins. Produce grown on this site is truly rooftop farm to table. Produce is harvested and then delivered directly downstairs to Savor...Chicago to be used at in-house conventions and conferences. This rooftop farm provides a job for a Windy City Harvest Apprenticeship graduate and is a sought after training site for WCH program participants.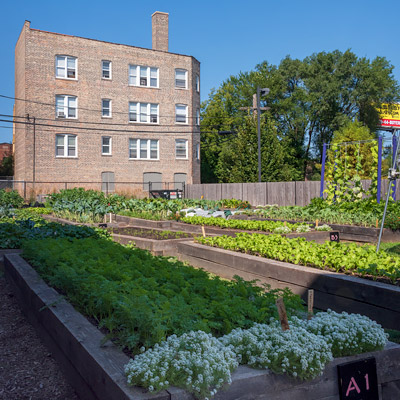 PCC Wellness Farm
330 N. Lotus Ave. Chicago, IL
This farm is a partnership between PCC Wellness Center and Windy City Harvest, established in 2015. The farm is on PCC property next to the Austin clinic located in the Austin Community. This site is home to eight community allotment garden plots run by community residents, a hoophouse, and 2,500 square feet of diversified vegetable production. This partnership provides a job for a WCH apprentice graduate. Produce from this farm is sold on-site at a seasonal weekly farm stand and distributed through a VeggieRx partnership with PCC Wellness Farm.