Exhibitions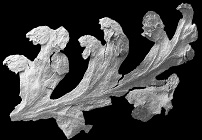 Fossil Hunting in Mongolia
Open during Garden hours through 2018
Daniel F. and Ada L. Rice Plant Conservation Science Center
Grainger Gallery
Admission is free; regular parking fees apply
Click here for more information.
On display in the Grainger Gallery of the Plant Science Center is an exhibition highlighting research by Chicago Botanic Garden scientists. Mongolia is well known for spectacular dinosaur fossils, including velociraptors and the first dinosaur egg fossils. But we know almost nothing about what plants lived alongside Mongolia's dinosaurs. Garden scientists Patrick Herendeen and Fabiany Herrera, together with colleagues, are studying plant fossils to learn more about Mongolia's plants and how they've evolved.
February 10 – October 28, 2018
Krehbiel Gallery, Regenstein Center

Meet the Artist: September 28 – 30, 2018
10 a.m. – 2 p.m.
Paul Lange's Big Blooms—Orchids, Trailblazers, and Visionaries is an exhibition of large-scale flower photographs of unusual orchids centered around the recognition of and tribute to groundbreaking women scientists. The photographs pose the question, "How many women in science can you name?" Fine arts photographer Paul Lange chose to honor women in science, technology, engineering, and mathematics (STEM) with this new series of Big Blooms, photographed specifically for this exhibition. Each fantastic, colorful, and unique orchid photograph is accompanied by a short biography about the scientist who provided the inspiration. The biography highlights her contributions and advancements that have become the stepping stones and standards of modern science today. Twenty Big Blooms orchids tell the story of 20 pioneering women in STEM from the mid-1700s to present day.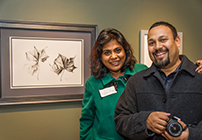 Opening Reception: Thursday, September 27, 2018, 5 to 8 p.m.
Exhibition: September 28 – October 21, 2018
Joutras Gallery
Click here for submission information.
Each autumn the Regenstein School's Annual Student Botanical Art Exhibition features outstanding student and instructor works in the Joutras Gallery, Regenstein Center. Come enjoy vibrant landscape scenes, delicate watercolors, intricate pen and ink studies, amazing pastels and much more.
Thursday, November 1, 2018, 6:30 – 9 p.m.
Friday – Sunday, November 2 – 4, 2018, 10 a.m. – 5 p.m.
Stunning quilts, lovely knitted artwear, woven wonders, and breathtaking beadwork are among the abundant handcrafted items on view and for sale during the Fine Art of Fiber, held at the Garden's Regenstein Center. The area's oldest, largest, and most unique fiber art event, the Fine Art of Fiber is hosted by Illinois Quilters, Inc., North Suburban NeedleArts Guild, and the Weavers Guild of the North Shore. A complimentary opening night, including early buying privileges, is from 6:30 to 9 p.m. Thursday evening.