Exhibitions
In addition to horticultural displays, the Garden presents a wide variety of exhibitions, including fine photography and an array of artwork. Click here for a map of the Garden's Regenstein Center, where most exhibitions take place.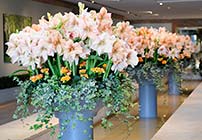 Krehbiel Gallery Plant Displays
The year gets off to a colorful start with bowls of amaryllis followed by the bright yellow and fragrant branches of canary broom contrasted with deep blue anemone poppies. The spring months bring tall flowering spikes of forced perennials such as foxglove, larkspur, and lupines, and a brief appearance of the fragrant, purple-boughed wisteria trees. In the summer, the pool is filled with a variety of tropical foliage and flowers. In the fall, the gallery is filled with baskets of cascading and specialty mums.
February 10 – September 24, 2018
Krehbiel Gallery, Regenstein Center
A new collection of Paul Lange's Big Blooms is on display the Chicago Botanic Garden.
Big Blooms—Orchids, Visionaries and Trailblazers consists of 18 distinct and beautiful orchid blooms individually photographed and presented as large-scale framed prints. Each image is titled with the namesake of a historical and celebrated woman in Science, Technology, Engineering and Mathematics (STEM).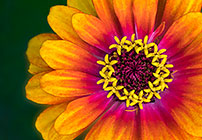 March 30 – April 22, 2018
Greenhouse Galleries, Regenstein Center

See the Chicago Botanic Garden in a new light! In this exhibition, photographs of the natural world feature the work of Garden Photographic Society members. Their remarkable images capture fleeting moments of beauty—from the morning mist to the first spring bloom. Society members have held their meetings at the Garden for more than 30 years, appreciating it as a special place to perfect their craft.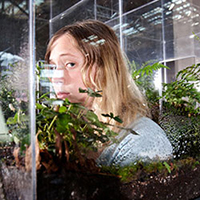 Friday, April 20 – Sunday, April 22, 2018
Burnstein Hall
Experience three Illinois ecosystems from the inside out, close-up and personal, in this interactive terrarium exhibition created by Seattle artist Vaughn Bell and Chicago Botanic Garden Scientist Pati Vitt. The secrets of a bog, ravine, and woodland are revealed at eye level by placing your head within these life-size terrarium-like structures. The contrasting multisensory, immersive experience of each ecosystem highlights the complexity and nuance of our local natural spaces, as humans sharing the same air and the same earth.
Free; open to the public during Garden hours.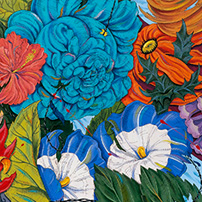 May 4 – August 12, 2018
Joutras Gallery, Regenstein Center
Penelope Gottlieb is a Santa Barbara-based painter who received her B.F.A. from Art Center College of Design in Pasadena and her M.F.A. from the University of California, Santa Barbara.
Gottlieb's paintings can be large, colorful, and full of motion that captures a sense of urgency. They can also be reflective and faint, with a quality of fading away. Her paintings are a series of botanical recounts of plants gone extinct and documentations of species that are endangered; or they show invasives that are jeopardizing balance in our natural environments. Against Forgetting consists of works from three series: Extinct Botanicals, Vanishing Series, and Invasive Series, each of which is presented different visually and shares an important status botanically.
Gallery Walk
May 5, 2018, 4 – 5 p.m.
See Penelope Gottlieb's Against Forgetting exhibition, and stay for a free gallery walk and discussion with the artist.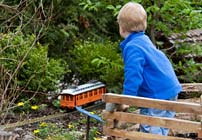 May 12 – October 21, 2018
10 a.m. – 5 p.m.
June 6 – August 29, 2018
Extended hours on Wednesdays only until 8 p.m.

The 7,500-square-foot Model Railroad Garden: Landmarks of America exhibition features trains running on 1,600 feet of track. The garden-scale trains are 1/29th the size of life-size trains. Train and garden enthusiasts, young and old, return year after year for the delightful sights and sounds of the miniature trains traversing high and low through tunnels, across bridges, and around buildings.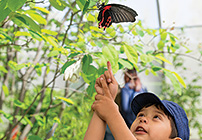 May 26 – September 3, 2018
10 a.m. to 5 p.m. daily, weather permitting
The Butterflies & Blooms exhibition is a butterfly exhibition where visitors can immerse themselves in a habitat filled with hundreds of live butterflies. This exhibition is filled with species native to South America, Asia, North America, and Africa, as well as those native to Illinois. The 2,800-square-foot white mesh enclosure is located on the Annex Road, as you head out from the Visitor Center to McDonald Woods.
August 24 –September 16, 2018
Opening Reception Thursday, August 23, 6 – 8 p.m.
Joutras Gallery
Join us for the annual exhibition of botanical photography by students of the Joseph Regenstein, Jr. School of the Chicago Botanic Garden. The exhibition features outstanding works by students and instructors in our diverse offering of photography classes.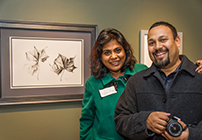 Opening Reception: TBD
Exhibition: September 28 – October 21, 2018
Joutras Gallery
Click here for submission information.
Each autumn the Regenstein School's Annual Student Botanical Art Exhibition features outstanding student and instructor works in the Joutras Gallery, Regenstein Center. Come enjoy vibrant landscape scenes, delicate watercolors, intricate pen and ink studies, amazing pastels and much more.
Thursday, November 1, 2018, 6:30 – 9 p.m.
Friday – Sunday, November 2 – 4, 2018, 10 a.m. – 5 p.m.
Stunning quilts, lovely knitted artwear, woven wonders, and breathtaking beadwork are among the abundant handcrafted items on view and for sale during the Fine Art of Fiber, held at the Garden's Regenstein Center. The area's oldest, largest, and most unique fiber art event, the Fine Art of Fiber is hosted by Illinois Quilters, Inc., North Suburban NeedleArts Guild, and the Weavers Guild of the North Shore. A complimentary opening night, including early buying privileges, is from 6:30 to 9 p.m. Thursday evening.