Past Exhibitions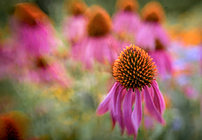 September 26 – October 13, 2019
Joutras Gallery
Join us for the annual exhibition of botanical photography by students of the Joseph Regenstein, Jr. School of the Chicago Botanic Garden. The exhibition features outstanding works by students and instructors in our diverse offering of photography classes.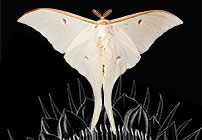 A Pollinator's Perspective
May 18 – September 8, 2019
Joutras Gallery
Regenstein Center
See the world from a bird's eye view. Or a bug's. Or a bat's. There are so many pollinators beyond bees—nearly 270,000 species worldwide. In this interactive exhibition, you can explore the fascinating world of these vital creatures. They keep our planet healthy. Food plentiful. Flowering plants diverse.
 
Pollinators are in trouble. Habitat loss, pesticides, climate change, and other threats have dropped their numbers. Without pollinators, our world—and our lives—would be drastically different.

Do you know what pollinators to thank for chocolate or tequila? Can you spot the difference between flies and bees? This exhibition features interactive elements, videos, illustrations, and specimens to share these fascinating pollinator stories.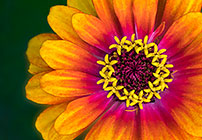 April 6 – 28, 2019
Greenhouse Galleries, Regenstein Center

See the Chicago Botanic Garden in a new light! In this exhibition, photographs of the natural world feature the work of Garden Photographic Society members. Their remarkable images capture fleeting moments of beauty—from the morning mist to the first spring bloom. Society members have held their meetings at the Garden for more than 30 years, appreciating it as a special place to perfect their craft.
Thursday, November 1, 2018, 6:30 – 9 p.m.
Friday – Sunday, November 2 – 4, 2018, 10 a.m. – 5 p.m.
Stunning quilts, lovely knitted artwear, woven wonders, and breathtaking beadwork are among the abundant handcrafted items on view and for sale during the Fine Art of Fiber, held at the Garden's Regenstein Center. The area's oldest, largest, and most unique fiber art event, the Fine Art of Fiber is hosted by Illinois Quilters, Inc., North Suburban NeedleArts Guild, and the Weavers Guild of the North Shore. A complimentary opening night, including early buying privileges, is from 6:30 to 9 p.m. Thursday evening.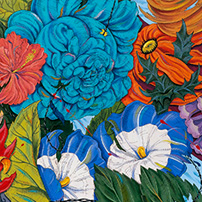 May 4 – August 12, 2018
Joutras Gallery, Regenstein Center
Penelope Gottlieb is a Santa Barbara-based painter who received her B.F.A. from Art Center College of Design in Pasadena and her M.F.A. from the University of California, Santa Barbara.
Gottlieb's paintings can be large, colorful, and full of motion that captures a sense of urgency. They can also be reflective and faint, with a quality of fading away. Her paintings are a series of botanical recounts of plants gone extinct and documentations of species that are endangered; or they show invasives that are jeopardizing balance in our natural environments. Against Forgetting consists of works from three series: Extinct Botanicals, Vanishing Series, and Invasive Series, each of which is presented different visually and shares an important status botanically.
February 10 – October 28, 2018
Krehbiel Gallery, Regenstein Center

Meet the Artist: September 28 – 30, 2018
10 a.m. – 2 p.m.
Paul Lange's Big Blooms—Orchids, Trailblazers, and Visionaries is an exhibition of large-scale flower photographs of unusual orchids centered around the recognition of and tribute to groundbreaking women scientists. The photographs pose the question, "How many women in science can you name?" Fine arts photographer Paul Lange chose to honor women in science, technology, engineering, and mathematics (STEM) with this new series of Big Blooms, photographed specifically for this exhibition. Each fantastic, colorful, and unique orchid photograph is accompanied by a short biography about the scientist who provided the inspiration. The biography highlights her contributions and advancements that have become the stepping stones and standards of modern science today. Twenty Big Blooms orchids tell the story of 20 pioneering women in STEM from the mid-1700s to present day.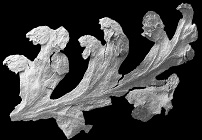 Fossil Hunting in Mongolia
Ongoing in 2019
Daniel F. and Ada L. Rice Plant Conservation Science Center
Grainger Gallery
Click here for more information.
An exhibition highlighting research by Chicago Botanic Garden scientists. Mongolia is well known for spectacular dinosaur fossils, including velociraptors and the first dinosaur egg fossils. But we know almost nothing about what plants lived alongside Mongolia's dinosaurs. Garden scientists Patrick Herendeen and Fabiany Herrera, together with colleagues, are studying plant fossils to learn more about Mongolia's plants and how they've evolved.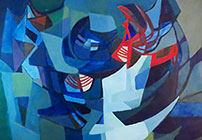 May 26 – September 10, 2017
9 a.m. – 7 p.m.
Joutras Gallery
An exhibition on modernist Brazilian designer Roberto Burle Marx. Burle Marx (1909-1994) is known for championing the use of native plants from Brazil and for modernist landscape designs including the promenade along Copacabana Beach in Rio de Janeiro. 

The exhibition includes original Burle Marx paintings, original sketches for the seaside street Avenida Atlantica, handpainted tapestries, and graphic woven textiles.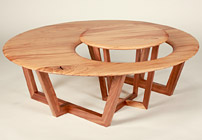 April 30 – August 21, 2016
Joutras Gallery
Click here for more information.

Beyond the bark, wood is a naturally expressive medium; all of our regional trees have some distinct and celebrated characteristics. The Hidden Art of Trees showcases some of the Midwest's most talented wood artisans and the materials that inspire them. The grain, the color, and even random defects in the wood motivate these artists to create some of the most stunning and unique furniture and bowls.
Featured artists: Mike Jarvi, Greta de Parry, Matthew Osborn, Michael Doerr, Sean "Lucky" Rice, Celia Greiner, Kelly Bresnahan, and Lou Pignolet.
The Hidden Art of Trees is a collaboration among the Chicago Botanic Garden, Philip Davis, Mike Jarvi, and Horigan Urban Forest Products.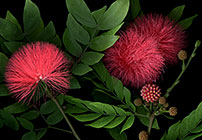 Botanicals: Intimate Portraits
April 18 – September 25, 2016
Krehbiel Gallery
Note: From September 23 to 25, the exhibition will only be accessible with a ticket to the American Craft Exposition (ACE).
Laurie Tennent's collection of photographs capture the dramatic color and texture of her plant subjects. Her use of soft and directional light that rapidly fades to black, combined with her polychrome on aluminum printing process give these images a three-dimensional element not often seen in photography.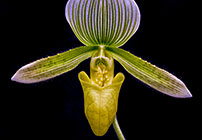 February 13 – April 3, 2016
Joutras Gallery

Twenty spectacular orchid images captured with a passionate eye, reproduced in large scale, highlighting the distinct features and character of each bloom.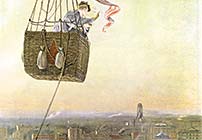 Chicago and Its Botanic Garden
May 2 – August 16, 2015
Joutras Gallery
Click here for more information.

Founded in 1890, the Chicago Horticultural Society celebrates its 125th anniversary in 2015. When the Society created the Chicago Botanic Garden more than 40 years ago, it launched not only one of the world's most inspiring living museums but a leader in plant education, conservation, and research. Don't miss the special 125th anniversary exhibition in Joutras Gallery.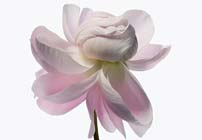 April 16 – June 28, 2015
Krehbiel Gallery
Celebrated photographer Paul Lange will be exhibiting images from two of his recent photographic series, Big Blooms and Fowl Portraits. Read more on the Aerin blog.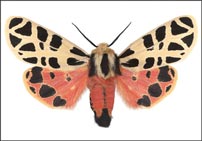 The Hidden Beauty of Moths
April 19 – August 17, 2014 (exhibition down June 12 – 24)
Joutras Gallery
With a keen eye for detail, innovative artist Joseph Scheer deftly weaves technology together with science and art. Using a high-resolution scanner, Scheer redefines how we view moths, by capturing never-before-seen subtleties and intricacies. His larger-than-life images allow the viewer to observe a world otherwise unavailable.  The show will include a variety of both rare and common moth scans that are almost unbelievable with their magnificent color palettes and highly detailed patterns. This show is not to be missed as it is a truly exceptional experience.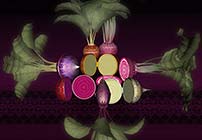 Saturday, May 25, through Sunday, August 18
Joutras Gallery
Celebrating the intersection of art and agriculture, Art of the Heirloom showcases original works commissioned by the Hudson Valley Seed Library for their annual Art/Seed Pack collection. The exhibition features works in a variety of media and styles such as oil painting, paper, collage, encaustic, colored pencil, and printmaking. Exhibiting artists range from the undiscovered to the up-and-coming to the world renowned. Each work of art becomes a unique seed pack.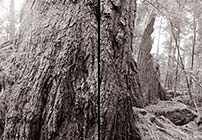 Opens January 12, 2013
9 a.m. – 5 p.m.
This exhibition presents landscape photographer Miles Lowry. Through his remarkable photographs, Lowry captures the grace and grandeur in what remains of the vast forests and savannas that once covered the eastern half of the United States. Since 2001, he has searched out and documented restored savannas and pockets of old-growth forests, focusing attention on these now-rare landscapes.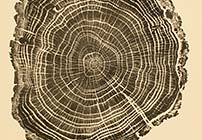 January 19 - April 14, 2013
9 a.m. – 5 p.m.
Click here for more information.
Woodcut is now available in the Garden Shop.
Book Signing - Bryan Nash Gill will be in the Joutras Gallery signing books from 1 to 3 p.m. on Sunday, April 14. The Garden Shop will be set up in the Gallery so you can purchase books, notecards, and original artwork.  
This breathtaking exhibition of Bryan Nash Gill's woodcut relief prints looks deeply into the life of 25 trees. In a remarkable ink and paper documentation, Nash captures the miracle of nature and time through every line, crack, and tree ring. The exhibition is on display in the Joutras Gallery of the Regenstein Center.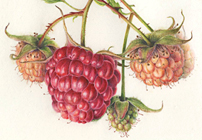 October 10 – 19, 2012
9 a.m. – 5 p.m.
Chicago's Top 12 is an exhibition of small works by members of the American Society of Botanical Artists. The exhibition will feature works by attendees at the annual conference being held at the Chicago Botanic Garden. Many leading botanical artists from around the world will showcase their artwork with a framed size of 12" x 12".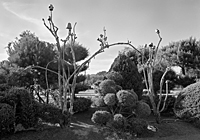 July 14 – September 30, 2012
9 a.m. – 9 p.m.
The Places for the Spirit: Traditional African American Gardens exhibition is a stunning collection of fine art photographs of African American folk gardens and their creators. The Chicago Botanic Garden, in partnership with the DuSable Museum of African American History, will host a joint exhibition of these black and white images created by the award-winning photographer, Vaughn Sills.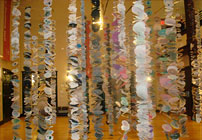 January 14 – April 8, 2012
It seems that everyone has a tree story — climbing a tree or falling out of one, walking in a dense forest, or finding that tree that seemed to speak to you. Treewhispers is an ongoing, international collaboration "awakening our heartfelt connection to trees," involving handmade paper, art, and stories relating to trees as a symbol and resource.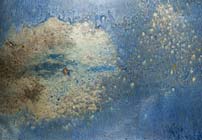 July 30 – September 25, 2011
An installation of modernist sculpture by ceramist and sculptor Ruth Duckworth. Duckworth was born Ruth Windmuller on April 10, 1919, in Hamburg, Germany. Because her father was Jewish, she was not allowed to study art under the Nazi regime, so she left her home country in 1936 to study in Britain, where she remained for her early career. In 1964, Duckworth moved to Chicago to teach at the University of Chicago. After 13 years on the faculty, she retired in 1977 to spend more time sculpting, moving her studio to a former pickle plant in Chicago's Lakeview neighborhood, where she worked until her death.
The exhibition's main piece, Amorphous #1, was shown at Navy Pier in 1997 and was donated to the Chicago Botanic Garden when Duckworth passed away on October 18, 2009, at age 90. Smaller pieces by Duckworth were also part of the exhibition.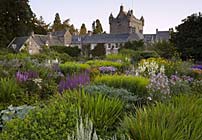 April 24 – September 26, 2010
This exhibition provided a journey throughout Scotland via the work of more than 30 renowned landscape designers and artists. The exhibition featured more than 250 photographs as well as an accompanying film about the exhibition. Photographer Allan Pollok-Morris spent five years exploring what this small nation has done to champion the role that gardens and land art play in global arts and culture.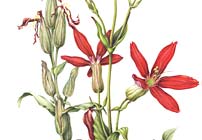 January 16 – April 4, 2010
This exhibition draws attention to plant conservation issues around the world. Curated by the American Society of Botanical Artists (ASBA), and developed in collaboration with the Smithsonian's National Museum of Natural History and the Center for Plant Conservation, the exhibition features 44 original botanical artworks of threatened and endangered plants from the United States and around the world. The exhibition and accompanying book are the result of a three-year project undertaken by artists from the United States and around the world, all members of the ASBA.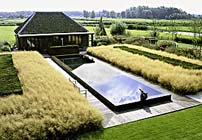 In Search of Paradise: Great Gardens of the World stretches visitors' imaginations as they embark on a sensory journey of contemporary gardens from around the globe. Featured are images of the world's great gardens from Singapore to Brazil to South Africa, captured by such preeminent garden photographers as Nicola Browne, Mick Hales and Alain Le Toquin, among others.
Support for this exhibition was provided by the National Endowment for the Arts and partially supported by the Illinois Arts Council, a state agency.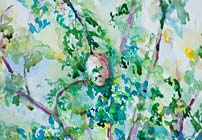 This exhibition in the Joutras Gallery of the Regenstein Center featured artwork from Peggy Macnamara's book Architecture by Birds and Insects.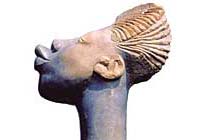 A remarkable exhibit of contemporary African stone sculpture, Chapungu: Custom and Legend, A Culture in Stone contained ninety sculptures displayed in the beautiful surroundings of the Chicago Botanic Garden and the Garfield Park Conservatory; drawn from the collection of the Chapungu Sculpture Park of Zimbabwe, Africa.
They are the work of 35 sculptors — three generations of artists — most of whom are Shona. The Shona people are the majority ethnic group in Zimbabwe and have lived in southern Africa for more than 800 years. Through the sculptures, the artists speak of their cultural traditions, religious beliefs, social concerns and everyday life. Yet they communicate the experiences and emotions common to all people.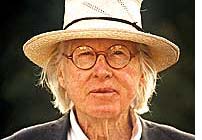 Renowned for fusing classic garden elements with a vital, modern sensibility, Dan Kiley ranks as one of the most important American landscape architects of the twentieth century. In a remarkable 60-year career, he produced public and private gardens, plazas, memorials and urban landscapes that define modern landscape architecture around the world.
Mentored by the environments of his youth — Boston's urban alleyways and New Hampshire's pristine forests — Mr. Kiley rejected Beaux-Arts formulas and the Romantic traditions of Frederick Law Olmsted. Working alongside modernist architects such as Louis Kahn, Eero Saarinen, and Edward Larrabee Barnes, he developed something new: a style of landscape architecture characterized by strong, geometric forms and fluid spaces.
From the Rockefeller Institute and the Oakland Museum to the Art Institute of Chicago and our own Garden, Mr. Kiley's designs reflect his unmatched vision for shaping nature into intense experiences of order, beauty and purity of line. The Garden's exhibit is composed of enormous photomurals that celebrate Mr. Kiley's most notable landscapes as we pay tribute to one of our greatest friends.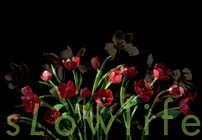 Plants are presented as complex, living beings in this multi-media exhibition developed as a collaboration among the Chicago Botanic Garden, United States Botanic Garden and Dr. Roger Hangarter, Indiana University. Time-lapse movies show plants as they respond to their environment in movements that are too slow for the human eye to register. In addition to movies, the gallery-style presentation includes photographs and original sound compositions based on plant movement.
Visit http://plantsinmotion.bio.indiana.edu/usbg/ to learn more about this remarkable traveling exhibition.