7 Fridays, May 7 – June 18, 2021, 9:30 – 10:30 a.m.
or
7 Fridays, July 9 – August 20, 2021, 9:30 – 10:30 a.m.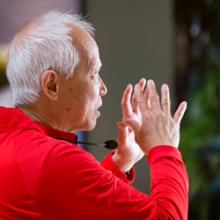 A more modern form of tai chi, Sun-Style is known for flowing movements and gentle postures. This class level is best for students new to tai chi or the Sun form, or if you would like to refresh your practice.
This class will be taught online via Zoom. All registrations must be submitted online two days before your class starts. Registered students will receive login instructions one day in advance.
Gordon Lock and Way Sun