When we decided on the theme for this year's Orchid Show, In the Tropics, what popped into the designer's head was this: (wait for it; we'll show you): Tiny islands. Tall palm trees. Splashes of color.
Designer Brian Barker, a horticulturist with the Chicago Botanic Garden, sketched his vision early last year, and Garden photographer/designer Robin Carlson added the color inside Brian's head.
Now Brian, along with the rest of the team, is bringing his vision to life at the
Orchid Show
, from February 9 to March 24 at the Chicago Botanic Garden. Also, 
Orchids After Hours
is back —on Thursdays from 4 to 8 p.m., the Show is lit for evening, and cocktails and light tropical fare are available for purchase.
New this year are selfie stations and photo ops (think street art) that put you right in the tropics in a big way. Maria Ciaccio, senior graphics and web designer, designed and painted the orange-barred sulphur butterfly art.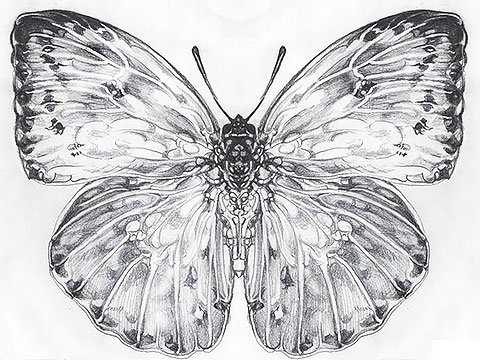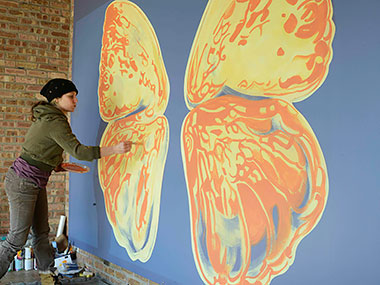 Turning our dreams into reality
When we first started dreaming up In the Tropics: The Orchid Show, we knew we had to have a boat. Not just any boat. We pictured a traditional village banca boat that might be filled with orchids on market day. As it turns out, such a boat is hard to find in the Midwest, but our dreams are not so easily quashed.  

Gabriel Hutchison, the Garden's exhibitions and programs production manager, turned to boatmaker Chuck Boyer in northern Illinois. Chuck came up with a concept and then started to build a boat of baltic birch plywood, aspen, and pine...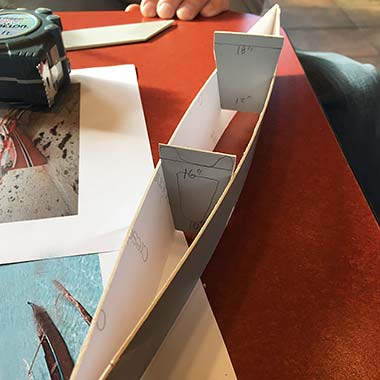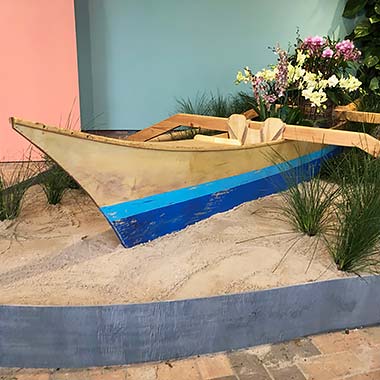 ...and, hello, dream boat.
What else says tropics?
We thought of island resorts, the kind where orchids peek out of louvers.

Based on Brian's specs, carpentry supervisor Andy Swets worked with his team, including Ross Schaerli and Mario Guererro (below), to build the louvers. They used cedar reclaimed from an old arbor at the Regenstein Fruit & Vegetable Garden...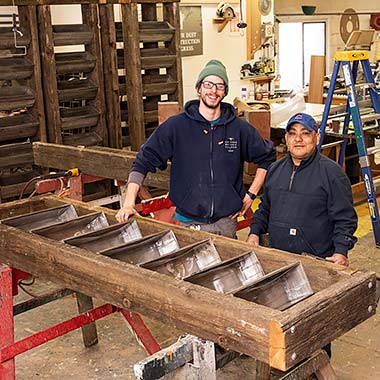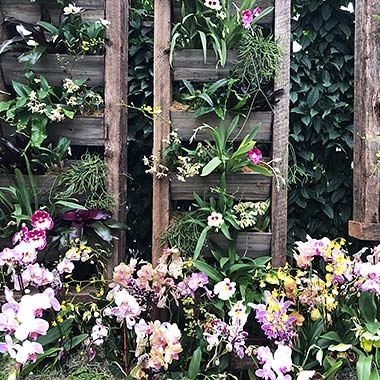 …And then we tucked in blooming orchids with a bit of mango chewing gum (kidding about the gum).
After a year of planning and daydreaming, we can't wait for you to see what we came up with and to see what you come up with in the tropics. Share your photos @chicagobotanic, #CBGOrchidShow.
Insider's tips:
Save 20 percent on a two-pack deal: Parking and two tickets to In the Tropics: The Orchid Show.
The first Orchids After Hours is on Valentine's Day and features a special menu with champagne and other treats.
Keep track of your favorite orchids in the Show. Then come back and buy them at the post-Orchid Show sale.
Plan a weekend outing: brunch and the Show.
Plan a Tuesday or Thursday outing: live music and the Show.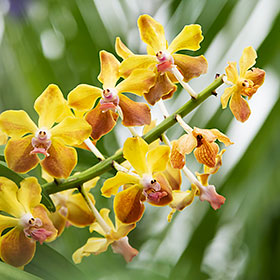 Fast facts
The tropics is home to the greatest diversity of orchids (not to mention some of the coolest species) in the world.

In the Amazon rainforest alone, there are more than 14,000 species of plants, experts estimate.

More than 70 percent of all wild orchids are epiphytes—they grow on trees or other plants.

There are orchids that smell like lilies, coconut, cinnamon...or rotting meat. They look and smell the way they do partly to win the attention of flies and other pollinators.