Fun Spots for Little Kids
Fun Spots for Little Kids
Distance: 1.34 miles Time: 1-2 hours
Download the GardenGuide App when you visit to use this tour on your phone.
---
Stop 1: Visitor Center
While you are at the Visitor Center...
Fill up your water bottles.
Take a bathroom break.
Grab a power bar or snack for later at the Garden Café.
Pick up a Discovery backpack at the Information Desk. (In each pack: two binoculars, two magnifying glasses, and a field guide. Driver's license required.)
Ask for a Bingo sticker game at the Information Desk.
---
Stop 2: Butterflies & Blooms
Step into the world of butterflies, fee applies
Butterflies & Blooms is a specially built house that hosts hundreds of butterflies from June through October. Children are charmed by the up-close sight of butterflies moving from flower to feeder, maybe even landing on you. At the Pupa Room, watch as butterflies emerge from their chrysalides, then pump up their wings for flight. Adults love it, too!
---
Stop 3: Children's Growing Garden
Home of Camp CBG and other children's programs
What does broccoli look like when it's growing? At the kid-friendly, hands-on Grunsfeld Children's Growing Garden, future gardeners can investigate vegetables and flowers up close, water the plants, and learn how to grow their own food.
---
Stop 4: Esplanade
The Garden's "front lawn"
The Esplanade is irresistible to little ones: a wide open space with the lake out front, fountains down one side, and the impressive statue of "The Sower" on the other. It's a great spot to meet up with others, to take an outdoor break, and to let the kids decide on how to enjoy the space.
---
Stop 5: Model Railroad Garden
May through October, fee applies
What kids like best about the Model Railroad Garden:
Thomas the Train
the exploding volcano (modeled after Mount St. Helens)
the geyser (Old Faithful)
the other 17 trains besides Thomas
the bridges overhead and the tunnels
What adults like best about the Model Railroad Garden:
miniature trains
miniature landmarks
miniature plants
the sight of children mesmerized by the magic.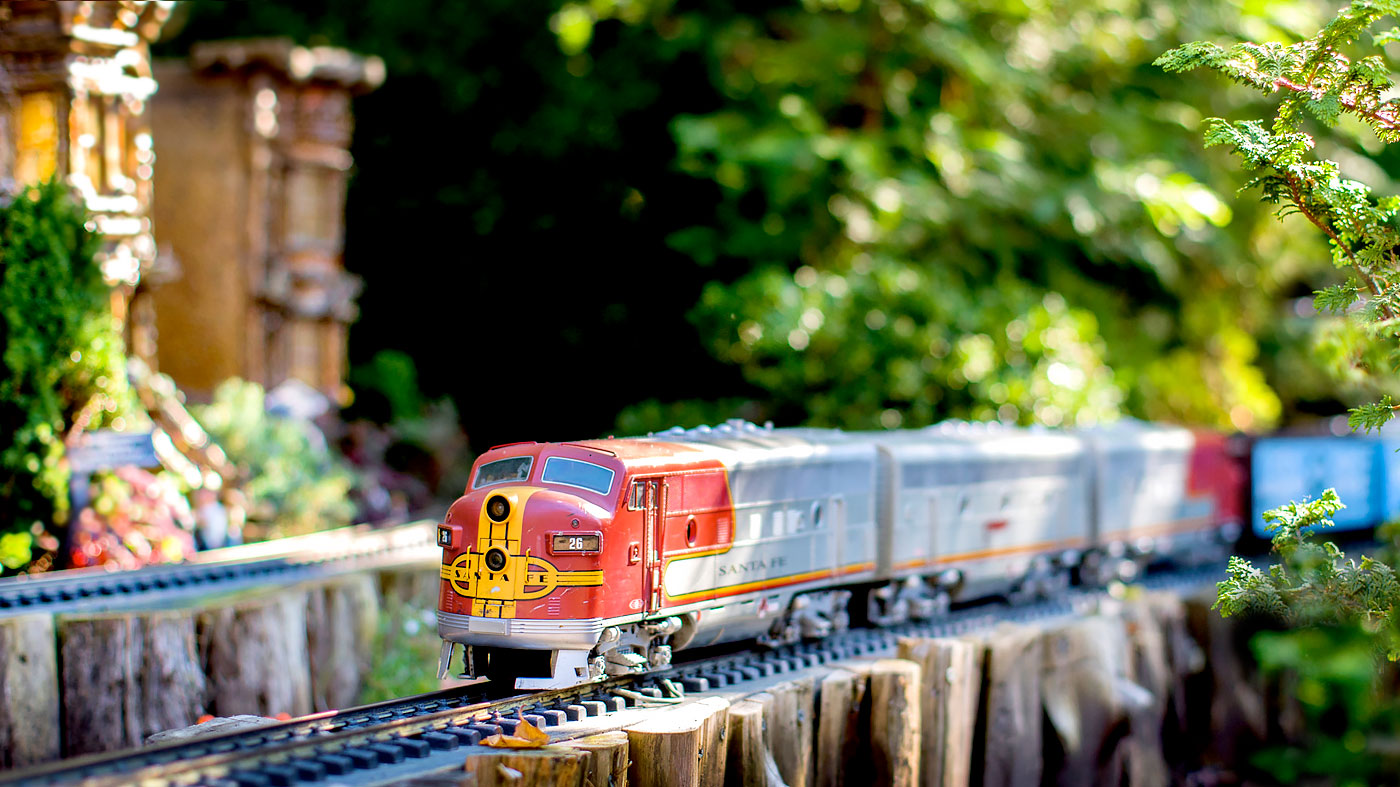 ---
Stop 6: Fruit & Vegetable Garden
Home to our most delicious plants
Kids love the enclosed glass beehive here because it lets them examine the busy world of bees up close (and safely). Tell the kids the story: Bees pollinate lots of our food—without them we wouldn't have the fruit and vegetables we need to eat. Teach that bees are gentle creatures, too—there's no need to swat at them as they buzz by. After the beehive, head out to the apple orchard, where kids can walk through an archway of apples and see them ripening on the trees.
---
Stop 7: Ice Cream
Snack time!
After an hour of exploring, nothing beats ice cream at the Rose Terrace Café in summer.