Enhance Your Visit with the GardenGuide App 2.0
Technology can enhance your next visit to the Garden! The GardenGuide app features an interactive map, tour guide, event calendar, What's in Bloom, Garden plant finder, and general plant guide, among other fun and useful things.
The app works on IOS and Android. Visitors without smartphones can also access the plant finder while they are at the Garden or at home.
Pin your favorite places, and mark your parking space to find your car instantly. Personalize your home screen to quickly view what matters most to you. Search can be customized as well.
Interactive Map
The Garden's app map enables you to pinpoint your location when in the Garden. Choose a plant, classroom, water fountain and more. Then track progress to locate your destination. Pin your favorite places, and mark your parking space to find your car.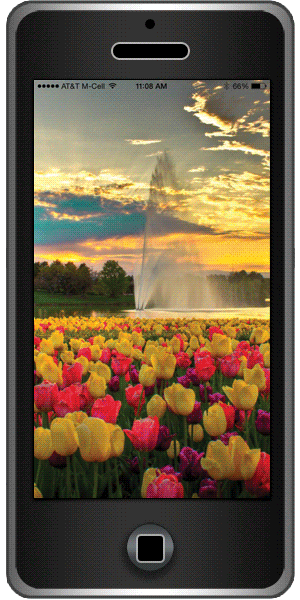 Walking Tours
Choose from different types of walking tours that each add a layer to the app map showing a specific type of walk. One walk highlights aquatic plants, and another is a photo walk showing especially good places to take pictures. A path on the map indicates where you should walk, with key information pins that can be touched for more information.
Best of all there are audio narratives by Kris Jarantoski, former executive vice president and director of the Chicago Botanic Garden.
What's In Bloom
View the plants that are currently in bloom.
Plant Finder
Type a plant name (common or Latin) to find the plant you seek. Select the plant's name, and an information pin will appear on the Garden's app map, so you can find its location relative to where you are within the Garden.
Plant Guide
Home gardeners and landscapers can access Garden plant information web pages to discover plants best suited for their needs. Search by different plant characteristics and browse the results! Share with friends by e-mail or on Facebook.