We are currently accepting applications for the Windy City Harvest Corps, a 14-week paid job training program. To apply in person please call (224) 269-0159 to schedule an appointment.
About the Program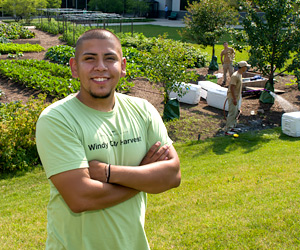 The purpose of Windy City Harvest Corps is to employ previously incarcerated individuals, and veterans in closely mentored, full-time paid job training; to support them in finding full-time, long-term employment. We work closely with organizations such as Teamwork Englewood, A Safe Haven, Cara, Chicago Commons, Community Resource & Referral Center (CRRC), The Black United Fund, Westside Health Authority and many more as well as alumni referrals. Windy City Harvest Corps recruits and employs individuals full-time through funding provided by the Chicago Department of Family Support Services.
The program is comprised of three overlapping 14-week cohorts. Harvest Corps starts the growing season in March, and finishes up just in time to learn season extension in September. To ensure participants are receiving adequate training, all Harvest Corps participants receives an Individual Employment Plan (IEP) and work side-by-side with trained supervisors of Windy City Harvest. Daily work includes but is not limited to planting, harvesting and post-harvest handling, record keeping, composting, landscaping, construction and overall workplace safety. All skills training happens at one of 13 Windy City Harvest farm sites, Monday through Thursday. On Friday, participants are engaged in the classroom for the Roots of Success-Environmental Literacy Curriculum, employment search assistance, mock-interviews, and weekly documented feedback from a direct supervisor.
Graduates of Harvest Corps receive a certificate of completion from the Chicago Botanic Garden, Roots of Success, and a ServSafe Food Handler's certificate. They have developed essential, diverse skills, and knowledge they will bring into multiple fields that include food service, horticulture, landscaping, warehousing, construction, and many more. Windy City Harvest Corps maintains close relationships with all of our employment partners.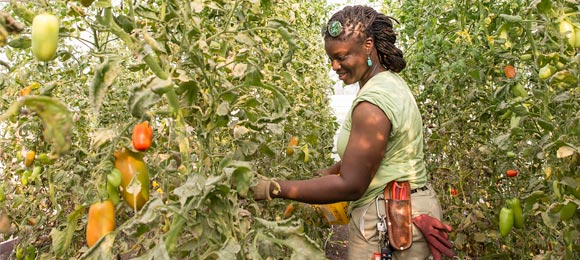 Windy City Harvest Corps successes since 2010:
Successfully placed more than 100 participants into employment opportunities in related fields
36 graduates have continued on to a work study in preparation for the Windy City Harvest Apprenticeship nine-month Certificate Program
20 have successfully completed the Apprenticeship
After graduating, 14 have gained employment in the local food industries
Read some of the Windy City Harvest Corps success stories.
How to Apply
Windy City Harvest Corps Application Process
Complete a Chicago Botanic Garden employment application and ADP Background Check Form.
Attend an interview: Applicants must sign up for an interview. Applicants must bring a rap sheet or DD214 and two references to the interview. References should be someone who will agree to support the applicant through the program, such as a case manager, after-care specialist, or mentor.
Attend an information session: to attend an information session please call Joan Hopkins at (224) 269-0159 and leave a detailed message, or email jhopkins@chicagobotanic.org for more information.
Attend a three-hour, unpaid work-shadow day: Work shadow days will be held on Thursdays, 9 a.m. to noon in the same week as the information session.
Attend orientation: Applicants chosen to join the program will be contacted to attend orientation after the approval of the ADP background check and rap sheet check.
All applicants must attend and successfully complete each step in the application process in order to be considered for the program.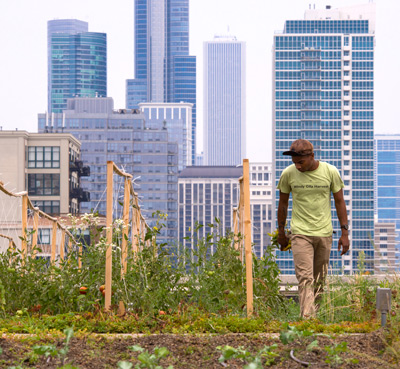 Harvest Corps Member Qualifications
Be a U.S. military veteran or have a nonviolent criminal record with no history or sex offenses
A Chicago resident
Physically able to stand, walk, bend over, and carry more than 30 pounds for long periods of time
Information Sessions
Windy City Harvest hosts information sessions for the Harvest Corps' 14-week job training program every second Monday of the month, 9 a.m. to noon at the Arturo Velasquez Institute, Room 1102, 2800 S. Western Ave., Chicago.
If you or someone you know would like to become a Windy Harvest Corps member and meet the qualifications below, please contact Joan Hopkins for more information about events and informational sessions.