About the Program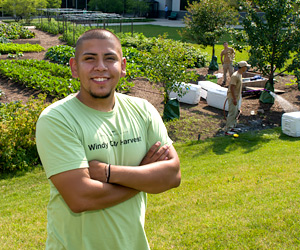 The purpose of Windy City Harvest Corps is to employ previously incarcerated individuals and veterans in supportive, closely mentored, full-time job training. Windy City Harvest Corps assists these individuals in finding full-time, long-term employment. Working closely with organizations such as Safer Foundation, RTW Veteran Center, Hand in Hand Outreach, Teamwork Englewood, the Vocational Rehabilitation Impact Center, the Salvation Army, and the Black United Fund, Windy City Harvest Corps recruits and employs individuals full-time through funding provided by the Chicago Department of Family Support Services.
The program is comprised of two separate 14-week sessions, from March to June, and June to September. Within each session, Corps participants work supervised assignments at Windy City Harvest sites around Chicago. Daily work at WCH sites includes but is not limited to planting, harvesting, composting, safe post-harvest handling, landscaping, record keeping, and construction. Every Friday, participants are engaged in the classroom exercising job-search skills, mock interviews, professional development, and Roots of Success, an environmental literacy curriculum.
At the end of Windy City Harvest Corps, graduates receive a certificate of completion from the Chicago Botanic Garden and a certificate from Roots of Success. They have developed essential and diverse skills and knowledge that they will bring into multiple fields that include food service, horticulture, landscaping, warehousing, construction, and many more. Windy City Harvest Corps maintains close relationships with organizations including Midwest Foods, SNAP Kitchen, Moore Landscaping, and Eataly, by sending successful graduates for full-time employment.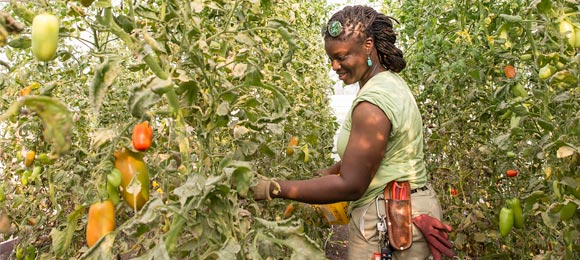 Since 2010, Windy City Harvest Corps has
successfully placed more than 70 participants into employment opportunities in related fields;
sent 18 graduates to continue on a work-study basis in preparation for the Windy City Harvest Apprenticeship nine-month Certificate Program; and
successfully placed more than 18 graduates into our Work-Study Apprenticeship Program.
Read some of the Windy City Harvest Corps success stories.
How to Apply
Windy City Harvest will be hosting information sessions for the Harvest Corps 14-week job training program every second Monday of the month, 9 a.m. – noon at the Arturo Velasquez Institute 2800 S. Western Ave., Room 1102.
If you or someone you know would like to become a Windy Harvest Corps member and meet the qualifications below, please contact Joan Hopkins at Windy City Harvest's Facebook page for more information about events and informational sessions.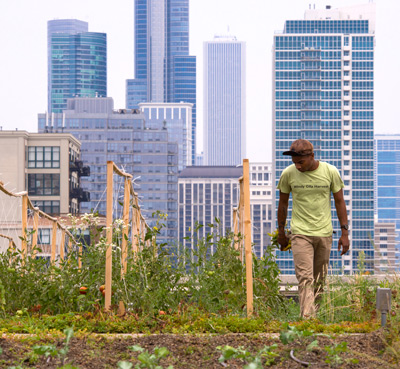 Harvest Corps Member Qualifications
Nonviolent criminal record, or a U.S. military veteran
Chicago resident
Physically able to stand, walk, bend over, and carry more than 30 pounds for long periods of time.
Windy City Harvest Corps Application Process
All applicants must attend and successfully complete each step in the application process in order to be considered for the program.
Attend a Windy City Harvest Corps information session that will provide an overview of the 14-week program.
Participate in a three-hour work shadow in which applicants' work performance will be evaluated by staff.
Participate in an interview with the Windy City Harvest Corps coordinator and WCH staff.
Complete new-hire paperwork for the Chicago Botanic Garden. Applicants have the following documents by the first day of work: state ID/driver's license; Social Security card; birth certificate.