Corps at Work
Windy City Harvest Corps Program Success Stories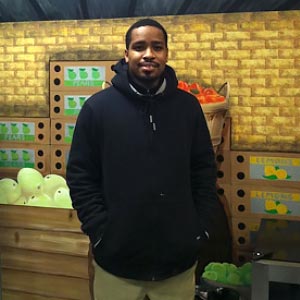 Burrell Robinson
WCH Corps, 2015
Burrell Robinson remembers applying for Corps and telling his interviewer, "All you have to do is give me a chance. I'll make it through the whole program and make you proud." He kept up his end of the bargain, not only graduating from Corps in 2015 but continuing on to complete the Windy City Harvest Apprenticeship while simultaneously working full-time at Midwest Foods. He says all the hard work was worth it because of the knowledge and experience he gained at Windy City Harvest. He feels that Corps is an extremely valuable opportunity for people with justice-involved backgrounds. Corps gives people opportunities to reconnect with their communities and learn new skills. He not only gained technical skills in urban agriculture but also developed a strong work ethic, discipline, and a belief that "whatever you do, you always have to make progress." Currently, he applies those qualifications to his job in quality control at Schulze and Burch Biscuit Company. He sees promising opportunities for learning and growth there, and he credits Windy City Harvest for helping him to develop the food safety skills and mindset to succeed in this new role.
Artema Plunkett
WCH Corps, 2018
Artema Plunkett describes his experience with the Windy City Harvest staff as great. "The Corps program gave me stability and took my mind off my problems," he said. "Before I came to Windy City Harvest, I didn't even know how to turn on a computer. They helped me in areas I didn't even know I was weak in; they helped me out with computer literacy and job-searching skills. I started out on the construction crew for the aquaponics system at the Farm on Ogden. I had never heard of aquaponics, never knew what it was, so building that system and working with all the different tools was extremely interesting and educational. I also learned how to build raised beds, how to run a garden, how to grow vegetables in many ways and anywhere. I think I have accomplished what they wanted someone to accomplish from this program: being a successful person, changing my eating habits, learning more about sustainable agriculture. Besides giving me a job and a steady source of income, it gave me training in so many new skills. This program worked for me tremendously. It has been life-changing for me."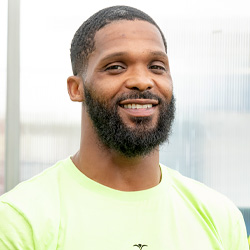 Laquantis Davis
WCH Corps, 2018
Laquantis Davis describes his involvement with Windy City Harvest as a lifestyle. Completing the Corps, Apprenticeship, and Incubator programs has changed his relationship with food and encouraged him to share his knowledge with others to improve health outcomes in his community. Currently, he operates his own farming business through the Windy City Harvest Incubator program, growing produce on 1/8 of an acre of land. His dream is to one day own and operate a farm-to-table café, with produce grown outside and herbs grown inside using an aquaponics system. He also hopes to start a halfway house and offer a curriculum modeled after Windy City Harvest that introduces veterans and Muslim communities to farming practices and healthy eating.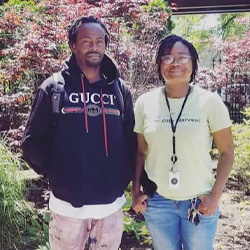 Terrance Armstrong
WCH Corps, 2019
Terrance Armstrong's dream is to share his newfound passion for agriculture by starting his own farm and using it to educate others. As a mentor at UCAN, he feels that many of the youth he works with could benefit from learning to grow their own food. He sees urban farming as an opportunity to create jobs for people who need them while also passing on valuable knowledge on how to survive and strengthen communities through food production. Before entering the Corps program in 2019, Terrance had no experience with farming. He says it was an "awesome feeling" to gain this new knowledge and to find himself in a field that he loves and can see himself committing to in the long term. He is determined to start his own farm, "however many steps and however long it takes" so that he can pass on the skills he has learned at Windy City Harvest to the next generation of urban farmers.