Explore Our Natural Areas
Natural areas are diverse communities of interacting species responding on their own to a site's unique topography, geology, and climate. The Garden's natural areas are managed by ecologists to support, showcase, and better understand the unique and diverse natural history of our region. In most of our natural areas, we allow natural processes to operate, using management techniques like prescribed burning and invasive species control to support the widest diversity of native species possible. We also encourage and support research, and are dedicated to monitoring to assess long-term change and impacts of our management efforts.
Each of the Garden's natural areas is unique. Some have soil that was never plowed and now hosts an exceptional diversity of native plant and animal species. Others are on engineered soils where ecologists are working to re-create different habitats that were once common in the Chicago region.
---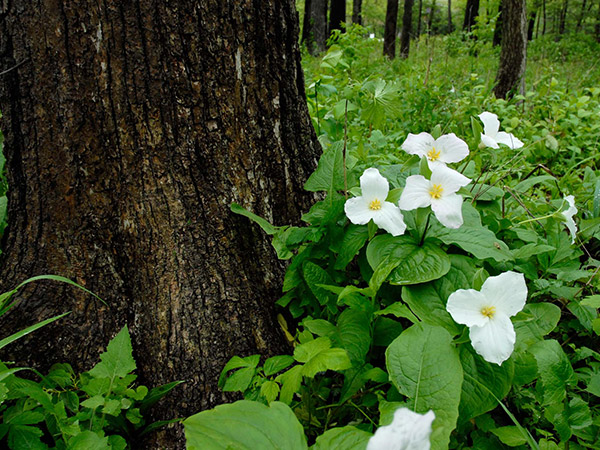 Woodlands
Since 1988, ecological restoration in the 100-acre McDonald Woods has transformed a formerly degraded oak woodland remnant into a natural treasure. It is home to five community types and a startling amount of plant and animal diversity. When restoration efforts began, most of the site was severely degraded, with little reproduction of dominant canopy trees, depauperate herbaceous layer, significant gully and surface erosion, and abundant exotic invasive species. Several factors contributed to this degraded condition: fire suppression, habitat fragmentation, high density of deer, past land use history, and the invasion of exotic species. Our ecologists, along with dedicated volunteers, have worked for decades on repairing and restoring this woodland habitat. In 2013, these efforts were recognized with a "Gold Accreditation" from the Chicago Wilderness Excellence in Environmental Restoration Program. Additionally, we have used these same approaches to restore our Plant Conservation Science Center Woods and Lake Cook Natural Area into small (only a few acres) but valuable natural areas that support diverse native species.
Garden ecologists have conducted extensive surveys of the organisms present in McDonald Woods, identifying thousands of plant and animal species, including several never documented before in the state of Illinois or even new to science. Important research also takes place in McDonald Woods, and care is taken to minimize disturbance to this extremely sensitive habitat.
Our woodlands are managed by Managing Ecologist Matt Evans and ecologist Jim Jabcon, as well as a woodland restoration technician. Ecologist emeritus Jim Steffen led this work from 1988 until his retirement in 2021; he continues to investigate the diversity of micromoths and leaf miners in McDonald Woods.
---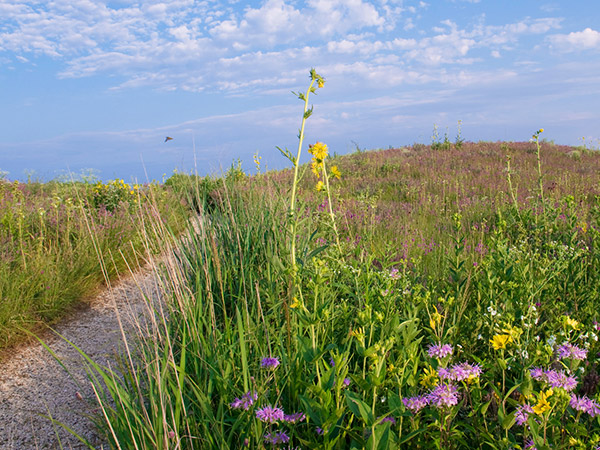 Prairie and River Corridor
Dixon Prairie, our 15-acre prairie re-creation, was begun in 1982 and is home to six prairie communities: mesic and wet prairies, gravel hill and sand prairies, a prairie fen, and bur oak savanna. It is one of the longest-running efforts to re-create prairie habitat on heavily disturbed and engineered soils, providing a unique setting to understand the challenges and opportunities likely to be faced by future restoration practitioners. The Skokie River Corridor demonstrates how natural processes and native plants can be used to enhance urban waterways. It comprises a 1-mile long reach of the Skokie River and an adjacent 22-acre floodplain and upland. In the mid-1990's we began using innovative vegetative techniques with native plants to help stabilize streambanks and create native plant habitat. The Corridor now supports 200-plus native plant species, carefully chosen by our ecologists, that withstand the river's flashy hydrology of flooding and quick draw-down, as well as the Garden's challenging urban soils. We maintain species lists and monitor change in our plant communities over time, and conduct research to understand and attempt to overcome challenges when re-creating soils to support different prairie and floodplain habitats. Managed by Senior Managing Ecologist Joan O'Shaughnessy and Ecologist Jim Jabcon, as well as seasonal Ecological Restoration Technicians.
---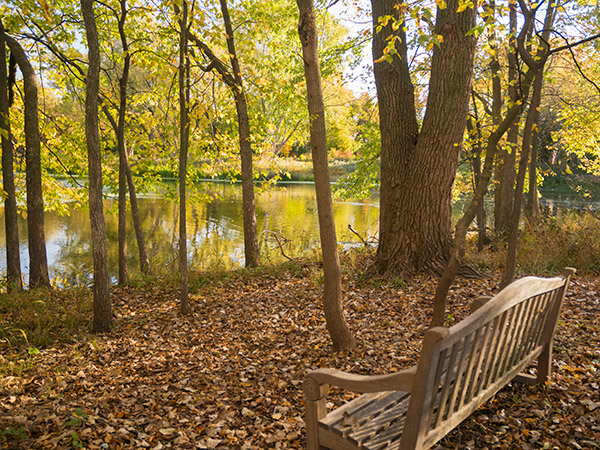 This 12-acre reserve contains aquatic, prairie, and woodland habitats, and was restored by Garden ecologists between 2009 and 2015, removing invasive species and replanting native plants to provide critical habitat for the region's bird species. We maintain a plant species list for the Reserve and are currently working on a monitoring plan to track change over time. Birds found in the Reserve are also a part of the Garden's master bird list. Managed by Ecologist Jim Jabcon, Managing Ecologist Matt Evans, as well as the Woodland Restoration Technician.
---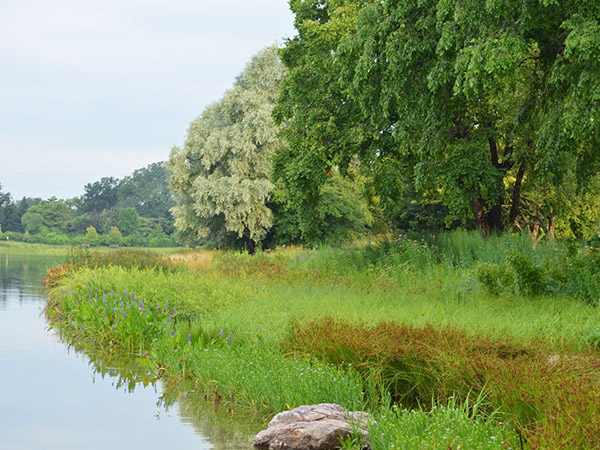 Since 2000, more than three-fourths of our shorelines have been restored using bioengineering techniques and nearly half a million native plants (representing 240-plus species) to stabilize shoreline soils, increase resilience to flooding, improve water quality in our six lakes, and provide habitat for wildlife. The native plants in our shorelines weave our natural areas and formal gardens together (see them on display at Kleinman Family Cove, Rainwater Glen, and around Lakeside Gardens and the Shida Evaluation Garden. We maintain a plant species list for our shorelines, monitor fish and turtles in our lakes, and are working on a monitoring plan to track change over time and inform our efforts to manage invasive species. Managed by Managing Ecologist and Curator of Aquatics Peter Nagle and Ecologist Val Cichy, as well as a seasonal Harvester Operator, and seasonal Shoreline and Aquatic Plant Maintenance Technicians.