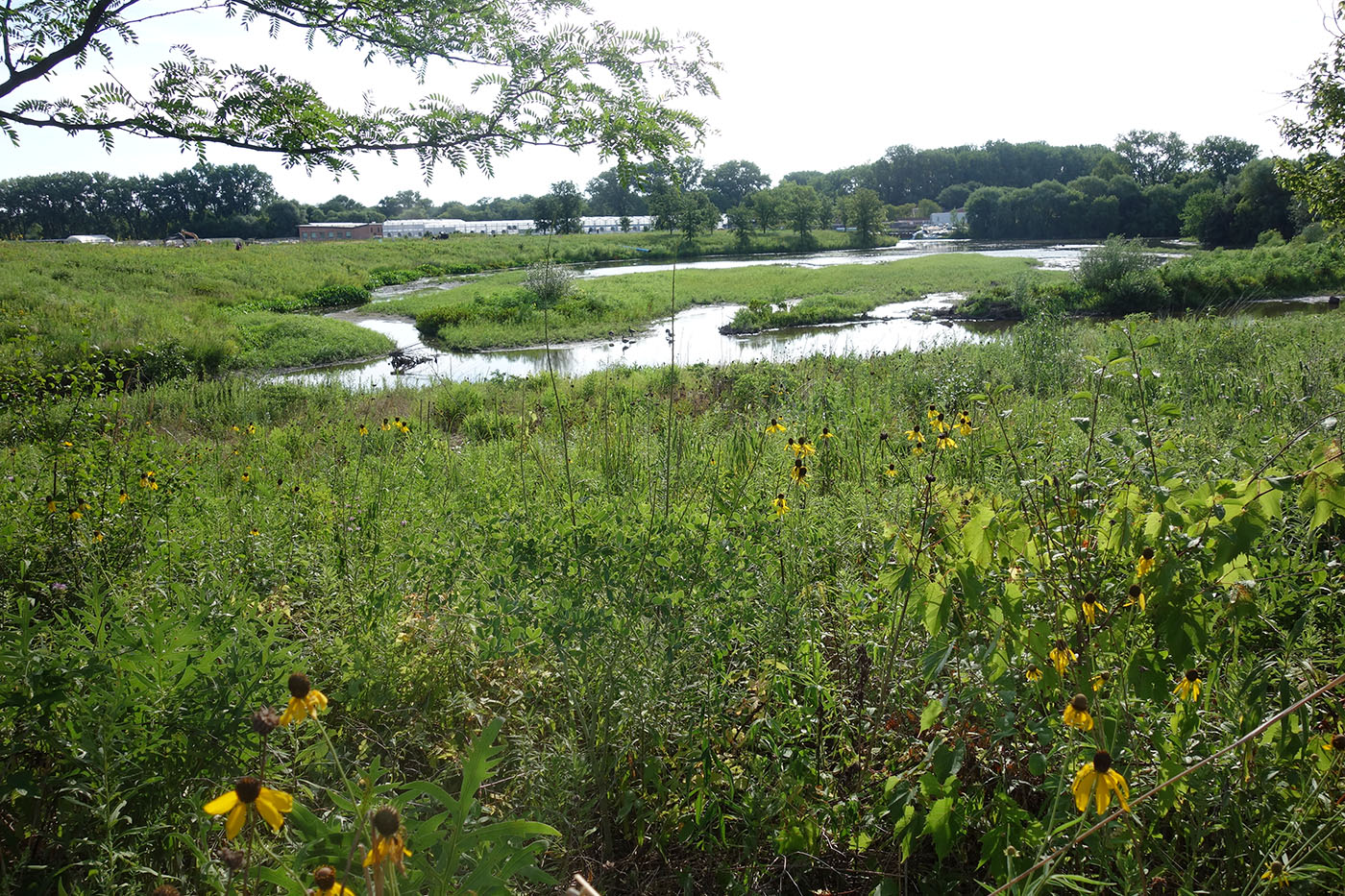 The one-mile stretch of the Skokie River, which runs through the Chicago Botanic Garden, is one of the Garden's four natural areas and is a demonstration site offering natural methods to enhance urban waterways.
Once a meandering stream that was part of a larger complex of marsh, sedge meadow, and wet prairie, in the early 1900s, the Skokie River became a drainage ditch. Though no longer able to function as they once did, highly engineered waterways like the Skokie River often remain valuable natural resources. A Garden project seeks to enhance part of the stream channel that flows through the Garden's western perimeter to develop habitat, increase biodiversity, and improve water quality, while at the same time showcasing river enhancement techniques and serving as a living laboratory to study human-built riparian corridors. Twenty-two acres adjacent to the river have been devoted to this effort.
Portions of eroded stream banks have been bolstered with woody plants. Along the river, floodplain wetlands, upland prairie, and oak savanna-woodland also are being established. Approximately 200 species of native herbaceous plants are thriving. Fast-growing species such as cottonwoods (Populus deltoids), along with remnant Garden horticulture trees, form a woody backdrop on the Garden's western edge as slow-growing oaks—primarily bur oak (Quercus macrocarpa)—reach maturity.
In the river's floodplain (portion of the river that overflows its banks), Garden scientists have discovered many sedges, grasses, and forbs (wildflowers) that tolerate prolonged flooding and drought conditions. The highly invasive species, Reed canary grass (Phalarus arundinaceae) equally tolerates such conditions. Garden scientists continue to explore and study methods for managing this species and expanding the floodplain community's native flora.
On the south end of the Skokie River, mudflats have formed where the river opens up from a channel to a lagoon. Here, the river's velocity slows down, depositing sediment from upstream. Over time, sediment has built up above the water line in the shallow lagoon. Initially, no vegetation grew on the exposed soils, creating mudflats, which are an ideal habitat for shorebirds during migration. Continued sediment accumulation on the mudflats eventually allowed vegetation to grow. We now manage these mudflats to control invasive species like purple loosestrife, and to keep aggressive species like sandbar willow from crowding out other species.
Compacted, engineered soils here and in places such as the Dixon Prairie challenge the establishment of native plants. Garden scientists are studying the uplands of the river to determine how soil disturbance can affect our ability to create native grassland communities, in particular tall grass prairie.