Nature Preschool
Where the whole child is shaped by the natural world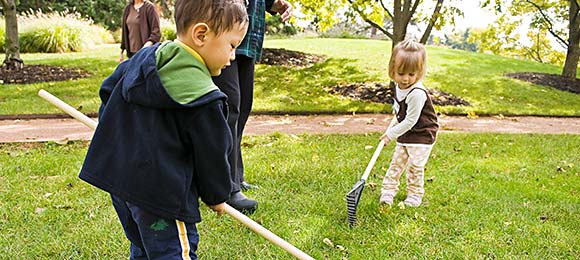 The Chicago Botanic Garden Nature Preschool, a nature-based, developmentally appropriate preschool, provides a unique learning experience for your 3- to 5-year-old. The classrooms are on the new Regenstein Learning Campus in plant-based indoor and outdoor classrooms designed for early childhood. Children regularly use the Nature Play Garden, a multisensory discovery garden, which invites the sort of nature play so essential to instilling an appreciation of plants and the natural world. Classes also explore various areas of the Garden to complement learning units during the school year. We have access to the Garden, not only to explore and learn, but to meet the very dedicated group of working scientists, horticulturists, and staff members who serve as resources for children as they learn about the world and make the connections that lead to discovery. Children will gain an understanding of the value of plants, wildlife, and natural habitats that sustain our world while preparing for kindergarten. The curriculum includes math, science experiences and experiments, language and vocabulary, art, music and movement, building, and environmental awareness, related to each child's social, emotional, and physical development. The preschool operates from September through May, observing school breaks and holidays.
How is a nature-based preschool different from a traditional preschool?
The natural world is the catalyst for the curriculum
Daily time spent outdoors in all weather (approximately half of the class time) allows for discovery in an ever-changing environment
Meaningful outdoor experiences and kindergarten readiness are in the context of nature
Discovery-based learning and a hands-on approach to education
Allows time for children to observe, explore, discover, and then reflect in various learning activities
Contact: Ann Halley, coordinator, early childhood programs (847) 835-8238.
Calendar for 2017–18
Seeds (age 3): September 5, 2017, to May 17, 2018
Seedlings (age 4): September 6, 2017, to May 18, 2018
Calendar for 2018–19
Seeds (age 3): September 4, 2018 – May 16, 2019
Seedlings (age 4): September 5, 2018 – May 17, 2019
Stems (ages 3 – 5): September 4, 2018 – May 16, 2019
Nature Preschool is an Associate Member of The Alliance for Early Childhood.