The Victorians had the right idea. They embraced all sorts of gardens—moon gardens, cottage gardens, fragrant gardens, fern gardens, carpet beds with annuals planted in intricate patterns, and many other styles. They were smitten by flower beds that focused on using only one color, such as blue, pink, or in the case of moon gardens, all white. They organized plants around an idea, something you can do in your garden or even in a container. Theme gardens can reflect a passion or hobby, whether it's cooking or attracting butterflies. They can help children discover nature. And…creating a theme garden is just plain fun.
Here's a look at some popular planting themes.
Moon Gardens
Who could resist a garden at dusk that's shimmering with white flowers? That's when the moon garden or all-white garden comes to life. Mysterious and ethereal, the moon garden begins to glow when the intense reds, oranges, blues, and purples of other flowers fade into the night. Perhaps the most famous white garden is that of Vita Sackville-West, an English writer who lived at Sissinghurst Castle in Kent, England. By the 1950s, she had filled it with white-flowered roses, peonies, irises, hydrangeas, Japanese anemones, and many others.
The annual moonflower vine (Ipomoea alba) is a signature flower for the moon garden. The twining vine produces 6-inch-wide trumpet-shaped blooms that twirl open at dusk. It's a nocturnal relative of the morning glory. Tobacco flower (Nicotiana sylvestris) produces densely packed heads of nodding white trumpets that release a sweet fragrance at night. Get your moon garden glowing by selecting a spot near a patio, porch, or deck where you can enjoy it on a summer evening. Start with a small area—moon gardens are typically planted in intimate spaces. You can plant a moon garden container and place it by the door to greet you or your visitors in the evening. Select plants with white or pale yellow flowers. Silver, white, or variegated leaves will also brighten the garden at dusk.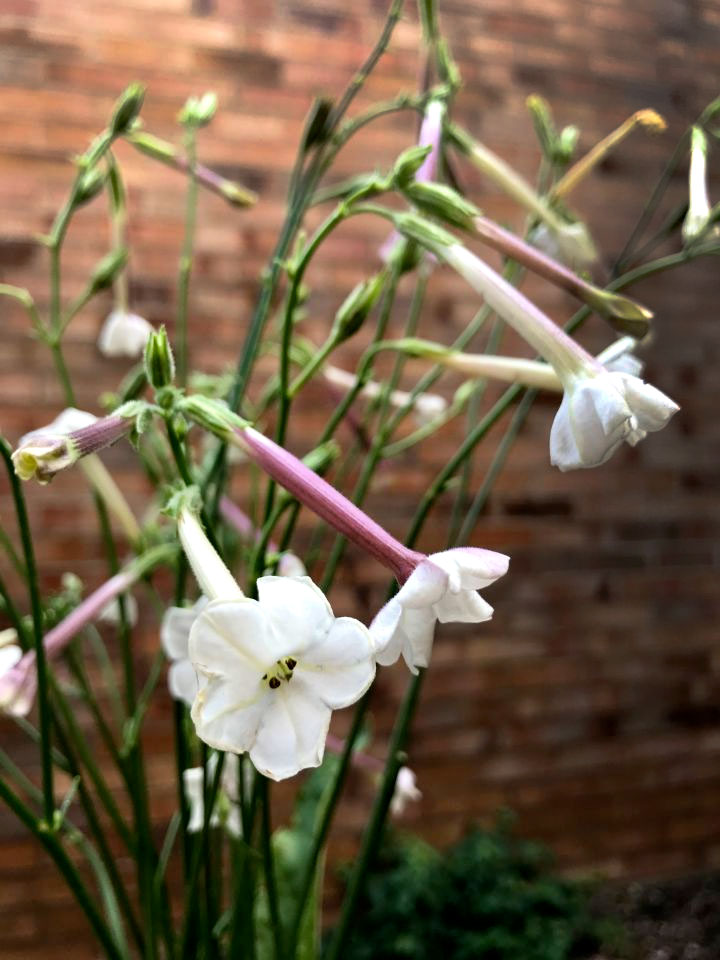 Butterfly Garden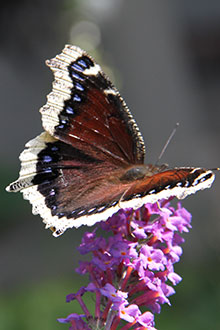 Of all the creatures that visit our gardens, butterflies are certainly the most exotic and magical. On warm summer days, they sail from one flower to another in search of nectar. In sunlight, the shimmering wings of the violet-spotted charaxes appear iridescent. And while the large, brightly colored swallowtails and painted ladies tend to grab our attention, there are countless smaller species—colorful coppers, crescents, checkerspots, hairstreaks, skippers, metalmarks, blues, and others roughly the size of a thumbnail—that are just as fun to attract and to watch.
A butterfly garden is simply one that offers nectar for the adults and certain plants for their caterpillars. Nectar is a sugar-rich liquid that butterflies, bees, and other pollinators rely on for energy. Each species of butterfly requires specific plants for its caterpillars to eat. Monarchs, for example, will only lay eggs on milkweed (Asclepias) plants. No other plant will do. The colorful swamp milkweed (Asclepias incarnata) and butterfly milkweed (Asclepias tuberosa) are well-behaved perennials for the sunny garden. Learn more.
Pollinator Garden
Many fruits and vegetables are pollinated by wild native bees, flies, wasps, beetles, moths, or butterflies. You can help these important insects thrive by planting pollinator-friendly native plants, such as Liatris, Echinacea, Rudbeckia, Monarda, showy goldenrod (Solidago speciosa) and other sun-lovers. The spring-blooming spotted cranesbill (Geranium maculatum) grows in shade and its flowers feed many types of pollinators when they wake up from winter dormancy. Among the insects attracted to the plant's floral nectar is the tiny mining bee (Andrena distans).
Stir-fry Garden
If you like to stir-fry, you can grow some of the ingredients in the ground or in pots. Edibles in the stir-fry garden include green onions, peppers, tomatoes, summer squash, radishes, carrots, lemon grass, and many Asian greens such as pak choi, Chinese cabbage, and mustard greens. You'll need a spot with full sun and well-drained soil for these edibles.
Fragrant Garden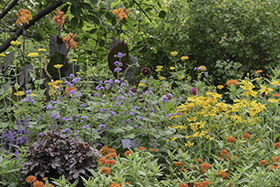 Victorian gardeners treasured scented flowers and you can enjoy them, too. Dozens of annuals, perennials, bulbs, vines, and shrubs offer sweet or spicy scents. Beginning in spring, hyacinths and daffodils fill the air with honey-scented blooms. Viburnums, lilacs, mock orange, and lilies-of-the-valley soon follow. Clove-scented carnations, sweet alyssum, sweet peas, roses, and lilies continue to perfume the air through summer, and in fall, sweet autumn clematis cloaks fences and arbors with flowers that smell like almond and vanilla.
Salsa Garden
You can grow many of the ingredients used in salsa, such as scallions, garlic, mild or hot peppers, shallots, plum tomatoes, tomatillos, cucumbers, oregano, and cilantro. The possibilities are endless. Learn more.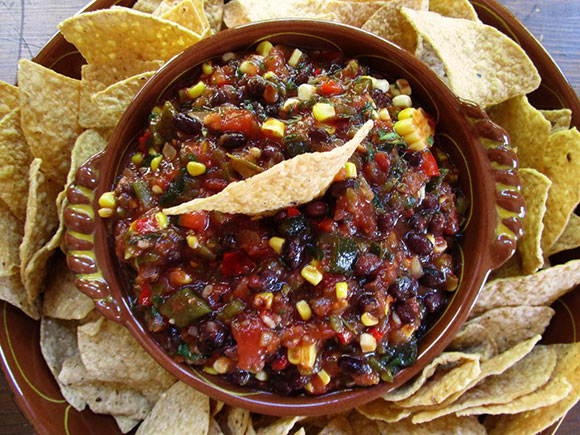 If you grow herbs, you likely have an herbal tea garden ready for picking and sipping. Mint leaves work particularly well in tea. (Never use a plant part unless you know it is safe to ingest.) Most teas made from leaves, petals, and flowers are prepared by infusion. Infusion allows the oils in the herbs to be released gently; if the herbs are boiled, the oils evaporate. Bruise freshly picked herb leaves by gently crushing them in a clean cloth or in a sheet of wax paper. This helps release the aromatic oils.
For each cup of tea:
1 teaspoon dried herbs (or 3 teaspoons freshly picked herbs)
1 cup boiling water
Rinse a teapot with boiling water (to heat it), then dry it thoroughly. Place the herbs in the pot, pour in boiling water and allow the mixture to steep for 5 to 10 minutes, or until the delicate flavors are released. Strain and serve.
Cocktail Garden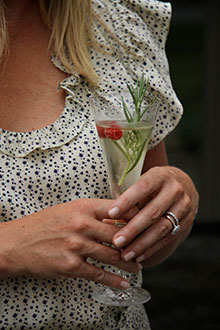 Mix your own adult beverages by adding herbs or fruit from your garden. For an alcohol-free beverage, substitute fruit juice. You can find many garden edibles—mint, rosemary, lemon grass, basil and even garlic cloves—that make their way into expensive martinis. But you'll save money by growing your own. Here's one example.
Cucumber Martini:
2 ounces vodka
¼ of a small diced cucumber
Dash of simple syrup
Garnish: slice of cucumber
Muddle cucumber in bottom of a shaker. Add ice and remaining ingredients and shake. Double-strain into a chilled cocktail glass. Add garnish. Take a seat in your garden and enjoy.
---
Nina Koziol is a garden writer and horticulturist who lives and gardens in Palos Park, Illinois.