Plant People: Conversations with Garden Staff
Karen Segura  
Manager, Science Career Continuum
Karen Segura, who is also a student in the joint graduate program in plant biology and conservation through Northwestern University and the Chicago Botanic Garden, is paving the way for the next generation of scientists. We talked with her about what it really means to be a researcher, why conservation requires diverse thinkers, and her advice to her students.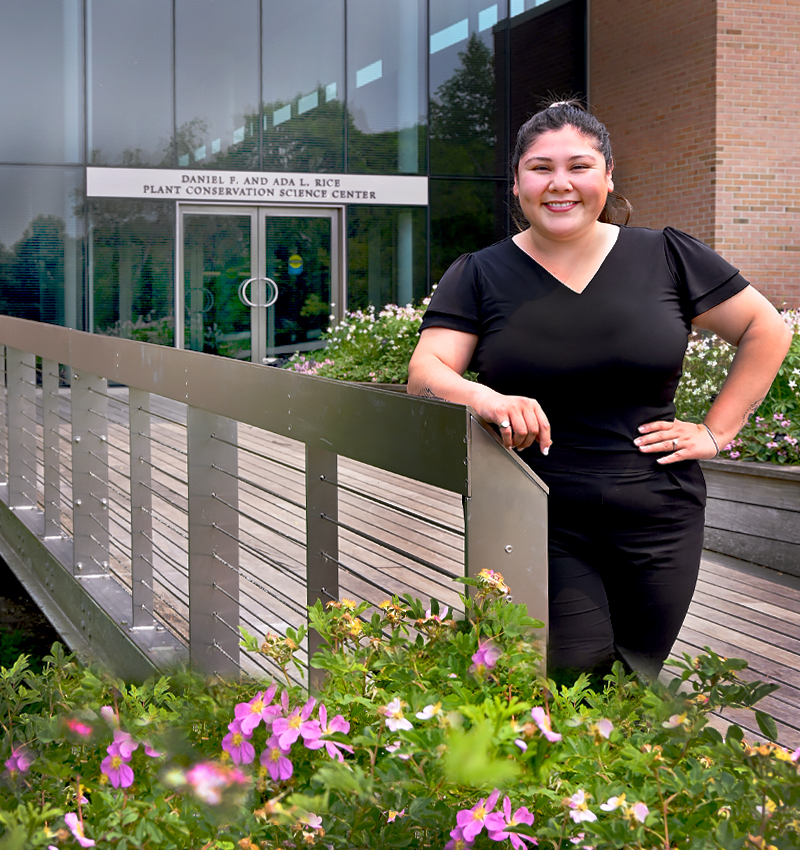 Years at Chicago Botanic Garden: 2 years

Grew up in: Chicago—proud Chicago Public Schools alum!s

Favorite place at the Garden: Daniel F. and Ada L. Rice Plant Conservation Science Center

Favorite plant at the Garden: Milkweed; her graduate research focuses on milkweed and monarch butterflies
How would you explain your role with the Science Career Continuum?
Our programs expose students to environmental science and support the next generation of environmentalists. I work with 6th grade through high school seniors; we take 60 Chicago Public Schools students each summer [for our Science First and College First plant science immersion programs]. That's 60 kids who fought really hard to be in something like this, out of hundreds of applications. That tells me there is a need out there.
What drew you to this career path?
I have always loved research, before I even knew what it was called. I knew I liked being outside, I liked collecting data, and I liked answering questions that didn't have answers.
I went to college because I wanted to answer those questions, but I had a really hard time. On top of being bilingual and having to master two cultures, two languages, I have ADHD, and that posed different challenges at school. I always felt there was no one that looked like me, and no one that struggled like me. I felt like everywhere I went I heard 'You need to get straight As, do really well, be a top caliber student.' But throughout my graduate experience, I realized that is absolutely not true. Everyone can do science; you just have to ask the right questions. I want to help students who felt like me when I was growing up.
Latino Conservation Week is July 15 to 23, 2023. What has your experience been as a Latina in conservation science?
Tough and exciting. Here in the States we have leagues to go; we make up a very small percent in this field of science. But that means the sky's the limit when it comes to being part of that world.
I think people are ready for change. And I say it all the time—it's not just about 'am I Latina' or am I [any specific identity]; it's about diversity of thought.
Why is it so important to see diversity in the field of conservation science?
The environmental issues we face today have racist roots. An example is climate change; we're all affected by environmental changes, but the people who face the brunt of it are people of color living in segregated communities. When you look at smog in Chicago, communities in south and west Chicago—where more factories produce output—have it way worse.
We all need to fix it. We need to come together with the knowledge we have of our environments, of our backgrounds, and of our communities to put forth action. We can only combat it by being open to the fact that we have different thoughts, different creativities.
What are the goals of the Science First and College First programs at the Garden? 
The overall purpose is to diversify STEM [science, technology, engineering, and math], and to increase STEM Identity and college persistence for our students. But the number one goal at its core is to support our young environmentalists. All the students in this program are connected to nature in their own unique ways.
And our children are still in fact children; they should be enjoying it. It's academically challenging, but it's also important to let kids grow.
Any words for young people who are entering the field today? 
I tell my students to be gentle with themselves; this isn't a race. Students who have had challenging backgrounds may have imposter syndrome that never goes away. Pretend you're talking to little you. What would you say to yourself at 4 or 5 when you made a mistake? It's okay. Try again.
What do you like most about your job? 
Absolutely my number one favorite thing is the impact it has on the students. There's not a week that goes by that my students, both alumni and current, don't contact me. That tells me they're building a cohort, they feel comfortable. We're establishing that STEM Identity; they see themselves as scientists. [I hear things] like, 'I never thought I was gonna do research and now I'm going to MSU in biology!' They feel seen. Let's keep that going.
Learn more about the Science Career Continuum: 
chicagobotanic.org/research/continuum
Jason Toth

            
exhibits horticulturist

Chicago Botanic Garden staff members play roles as diverse as the plants that call our space home. In honor of The Orchid Show: Magnified, open through March 26, 2023, we chatted with one of the people who see the show through from vision to reality. Jason Toth is the Garden's new exhibits horticulturist, and this year's Orchid Show is his first—bringing a new perspective to a beloved experience.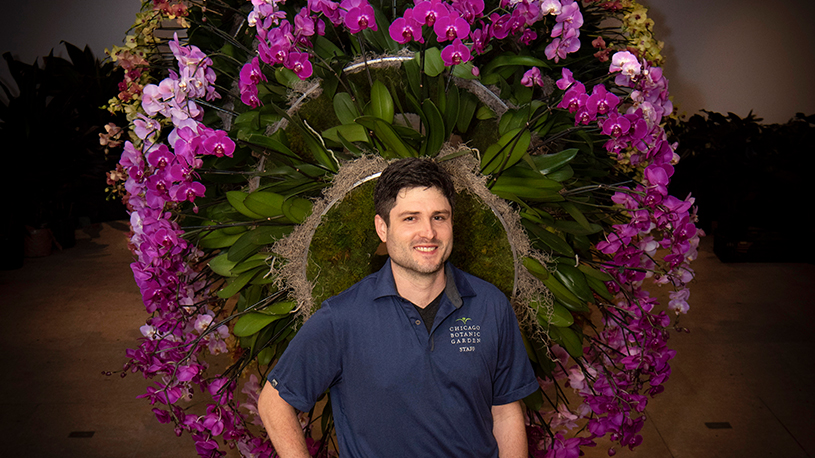 Years at the Chicago Botanic Garden: Less than 1; started full-time in July 2022

Originally from: Detroit metro area

Favorite place at the Garden: The Waterfall Garden

Favorite plant(s) at the Garden: Sarracenia, or trumpet pitcher plant
How would you explain your job?
My specific job—exhibits horticulturist—involves designing and setting up temporary plant displays. It can be as short as a weekend display or as long as the Orchid Show, which is six weeks long. For example, I do the plantings in the Regenstein Center's Krehbiel Gallery and in the Garden View Café. The annual themes [Love in Bloom this summer] are also under my purview.
What's an early memory you have of connecting with the natural world?
Working in the yard with my mother when she was recently divorced, bonding with her son independently.
What started you on your career path?
Originally I went to school for music, but I knew at the end of that curriculum that I wanted to work with plants. It's hard to explain why, other than the sentimentality of working outside with family. I just knew that I wanted to do something with an artistic angle, something that had scholastic substance, and being able to work with my hands—those were kind of the three elements I was focusing on. And horticulture hit all those marks.
So I took a couple of side jobs, working at a nursery and for a vendor company for big-box stores delivering and maintaining plants. That got me started understanding what it's really like, and feeling that I could spend the rest of my life doing it. I went back to school after that and got a degree in ornamental horticulture and greenhouse studies. My first true professional horticulture gig was at Nicholas Conservatory in Rockford. Then I worked for the Chicago Park District as an outdoor gardener until I landed a job at Garfield Park Conservatory designing their flower shows and maintaining those plants. I started at the Chicago Botanic Garden in 2022.
What was it about exhibits horticulture specifically that drew you in?
I think it was the thought of using plants as an artistic medium. Creating an environment, an interactive place to appreciate plants. And the idea of nurturing something, seeing it grow…it was just appealing to know that you have an art form that's never done, because it's always growing. So it's a gift that keeps on giving in terms of being able to pour yourself into a project.
When it comes to the Orchid Show, where do you even begin in terms of conceptualizing what you want the show to look like or feel like?
When I started here, the book was pretty open to do something new and unexpected, because there were no expectations in terms of what it was going to look like. So I was really excited about creating things that have more of a sculptural nature and are a little more minimal.
I wanted to go big [for this year's show]. The idea came up that we'll derive inspiration from the orchid itself, pull elements of the orchid and examine them and blow them out of proportion. That's how Magnified came about. We're creating close-looking moments, big moments, and playing off of everything that you can glean from a magnifying lens, like magnification elements and sleek design.
Is there a particular installation you've been excited about? Not to make you choose favorites, or anything…
I'm really excited about the rings in the Joutras Gallery: Halo [the name of the installation, a series of concentric rings that grow in dimension]. Some people are calling it Stargate because it looks like Stargate [from the TV series]. It's a very simple idea, but just seeing an eight-foot-radius circle planted with orchids all around, in a gallery room that's not even eleven feet tall—it's monumental. Seeing things done that haven't been done before, there's a novelty to it, and a wow factor.
What's your favorite aspect of putting something like this together?
There's a dance that we have to dance; it's a blend of design and improvisation. Orchid growers can only provide specimens that are blooming at that particular two-week time, so there is a certain amount of chance involved with availability. And shipping [the orchids] in from California, Florida, Hawaii—I have pictures sent to me, but I don't see any of the plant material in person before it arrives. I work with what's provided, and there's a lot of art in that process.
What makes our Orchid Show special?
The Orchid Show is a big deal because of its place in the season. It's a refuge when we're getting through the last hurrah of winter. So that in itself is enough of a reason for the Orchid Show to be as on-demand as it is, but it's also a testament to what the Garden has done to make these shows interesting year after year. We take a very theatrical approach, creating displays that are theme-driven.
When visitors come through Magnified this year, what do you hope they experience or take away from it?
I hope they have fun! I hope we provide moments for all ages, whether it's appreciating the orchid with the sense of maturity it takes to examine a flower for however long, or a young person who … can experience things through new lenses, literally and figuratively. I want it to be as much an art piece as it is an experience.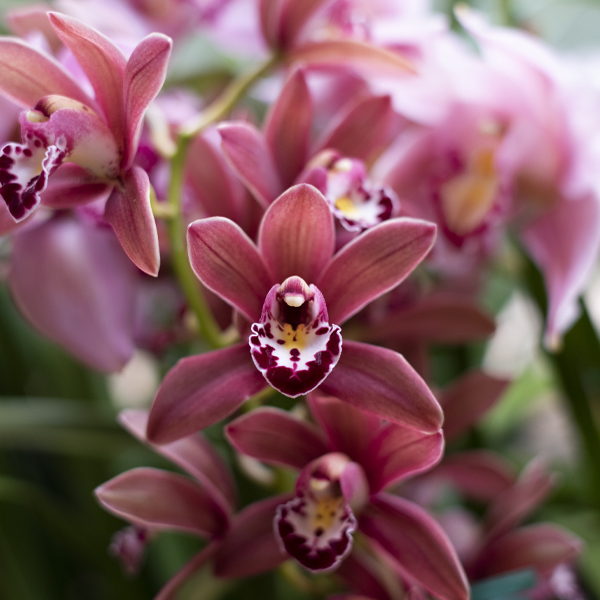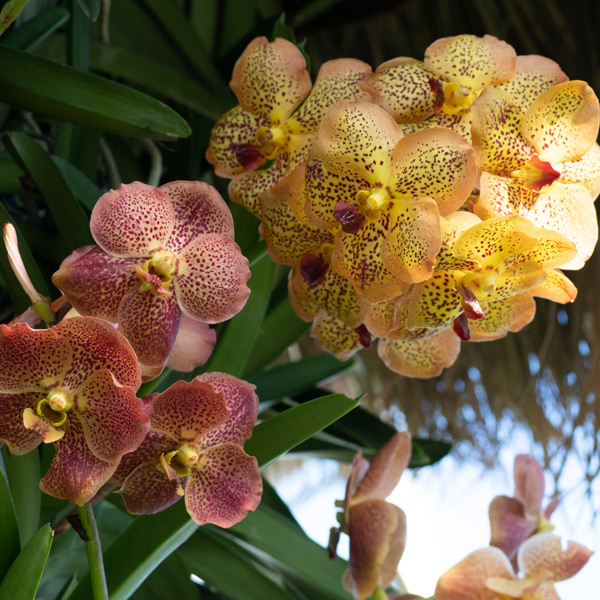 Catch the Orchid Show: Magnified through March 26, 2023.
---


Cathy Thomas

            
Plant Propagator
Chicago Botanic Garden staff members play roles as diverse as the plants that call our space home. And in growing their career, each staff member has also grown a personal connection with the nature they support.
---
Years at the Garden: 31

Years as plant propagator: 22

Originally from: Montana

Favorite place at the Garden: The Dixon Prairie

Favorite plant(s) at the Garden: Hellebores and redbud trees
What exactly is a plant propagator?
I start plants, either by sowing seeds or by doing cuttings, to support all the different programs at the Garden. So when [horticulturists and other Garden staff] decide what plant they want, my job is to start that plant and get the little seedlings, the baby plants, ready to pass off to the growers.
What's an early memory you have of connecting with the natural world?
I grew up in Montana in a mining town. In the early 1900s when the mining was at its heyday and there wasn't any thought of environmental consequences, the pollution was so bad that grass didn't grow. When I was growing up it wasn't that bad, but there still wasn't the interest in gardening like there is in areas like Chicago. We went on a trip to [the United Kingdom] and went to a botanic garden. I think it was in Scotland, along the coast. Compared to Montana, it had a lot of tropical plants and it was really lush. I was just amazed.
What started you on your career path, and what made you want to continue?
When I was in college in Montana, I studied horticulture, but I had no idea what I wanted to do with it. Then I came out [to the Chicago Botanic Garden] for a year-long internship. I didn't end up going back to college—I stayed. I did eventually finish my degree, but in horticulture the hands-on experience is so important.
I started as a grower. Then I worked in our nursery as a supervisor for a couple years, then moved into propagation, which is what I always wanted to do.
What prompted you to study horticulture in the first place?
I started college in education, but I decided I really didn't want to be a teacher. So then I was like, I like plants, I'll try horticulture.
I was good at science in school, and I remember having a teacher say, you're good in science, you should be a teacher. Why didn't they say, you're good in science, you should be a scientist?
What is it about your work that you like so much, that drew you in?
I like figuring out how to get the plants to grow. In the past, [Garden staff] would go to Siberia or the Republic of Georgia, countries that have similar environments to Chicago, and collect a lot of seeds and bring them back. It might be a maple, but it's a different type than we've grown here, different than I can find any information on, so I try to figure out how to get it to grow. We're trying to mimic nature.
It's really fascinating, the survival mechanisms that plants have come up with. I walk through the Dixon Prairie and I have seeds stuck on my clothes, because they've figured out that's how to distribute themselves. That's stuff that I find interesting, all these natural mechanisms plants have come up with to germinate at the right time, to make it through the conditions they have to make it through until it's the prime time or place to germinate.
What's something that you want people to know about the work you do?
The key part that our department and propagation play in so many different parts of the Garden, so many different programs. Like for Camp CBG, when the kids are taking home this little plant—this is where it starts.
---
Title:
Marketing & Editorial Content Writer