2 Tuesdays, May 11 and May 18, 2021
6 – 7 p.m.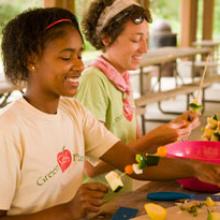 Individual rate: $25
Organizational rate (4 attendees): $75 
Are you interested in learning more about how to work with youth in an urban agriculture or school garden setting? Would you like to know more about structuring a youth development program centered on sustainable agriculture and food systems during the summer or school year? Please join the Windy City Harvest Youth Farm staff for a day of focused learning. We will discuss incorporating standards for social and emotional learning, giving feedback to students, and common challenges faced in youth programming.
This two-session event will include an overview of our program structure and curriculum; how to foster a safe environment in which students of all abilities can grow, including implementing team-building activities; setting shared standards; providing student evaluations and feedback; and celebrating successes.
This workshop is a two-part series that will take place live, online. Individual and organizational registration rates include both sessions.