Windy City Harvest Apprenticeship
About the Program
The Windy City Harvest Apprenticeship program is offered annually from last week of January through the third week of October, and applications for the program are due in the fall.
This program is a hands-on, technical training in sustainable urban agriculture offered in partnership with the City Colleges of Chicago. Students receive a combination of classroom, lab, and field experience at the Arturo Velasquez Institute (AVI) greenhouse and at Windy City Harvest farm sites, complemented by a 12-week paid work experience at a Windy City Harvest (WCH) farm or partnering urban-farming operation.
 
Eligibility Requirements:
Eligible to enroll in the City Colleges of Chicago (no account holds)

Follow all City Colleges of Chicago Health and Safety Guidelines regarding COVID-19 (must be fully vaccinated by August 1, 2022 for Chicago Botanic Garden fall term internship employment)
 
Graduates of the program will receive three certificates:
Certificate in Sustainable Urban Agriculture
Chicago Botanic Garden

Advanced Certificate in Sustainable Urban Horticulture
Richard J. Daley College

Certificate in Environmental Literacy
Roots of Success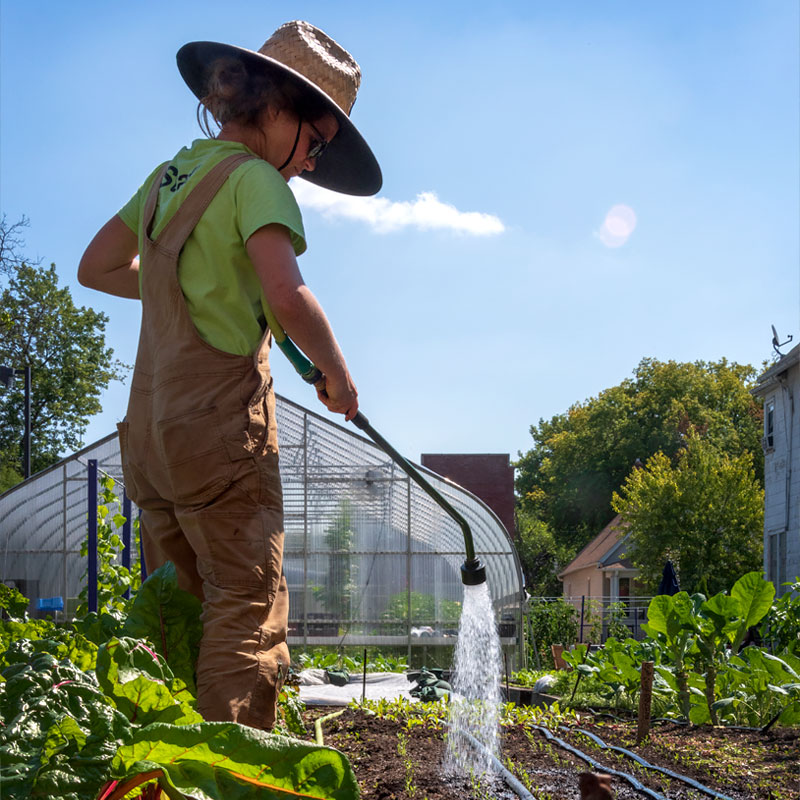 Graduates work across Chicago and beyond as leaders in urban agriculture. Alumni have worked at organizations such as Garfield Produce Company, Gardeneers, Big Green, Gotham Greens, Enlace, TCA Health Care, Christy Webber Landscapes, The Organic Gardener, and Heartland Alliance. Apprentices have also gone on to start their own businesses including Dirt Doll LLC, Your Bountiful Harvest Family Farm, Field and Florist, Planted Chicago LLC, MycoFloral Farm, Cedillo's Family Farm, The Roof Crop, Big Delicious Planet, The Talking Farm, City Lights Urban Farm.
Quick Links

See the Farms

Meet the Crew Members

Work Study Program

Contact Staff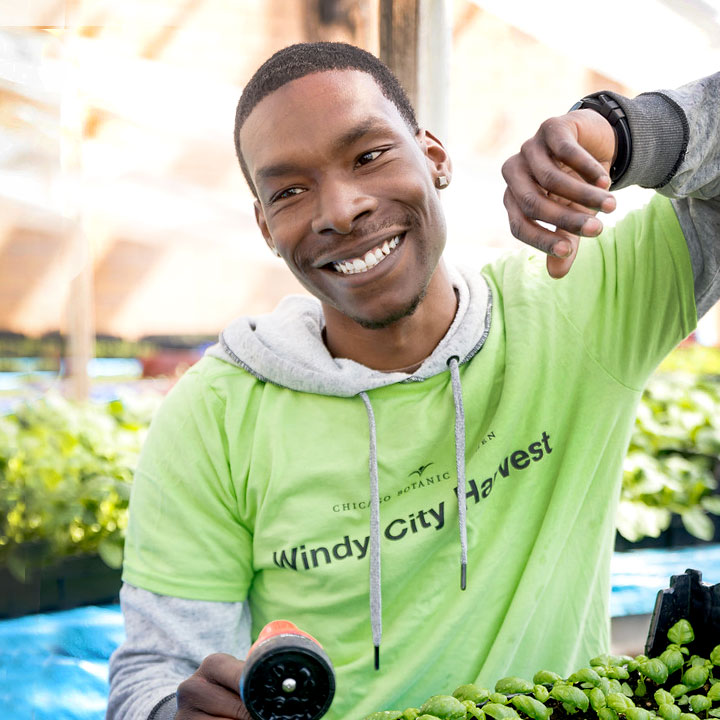 Program Components
The core curriculum focuses on annual vegetable production, using hands-on, plain language, and a team-focused approach. Students are trained in greenhouse and raised-bed production, soil science, plant healthcare, food safety, and more throughout the Apprenticeship program. Instructors are qualified educators and guest speakers, including full-time Windy City Harvest staff members who have deep experience in particular aspects of sustainable growing and marketing.
 
Curriculum is based on the following:

Roots of Success
In addition to their core curriculum, Apprenticeship students students also use the Roots of Success Environmental Literacy program. This course is particularly useful for training young people and adults who need additional information and work-readiness skills. Developed by Dr. Raquel Pinderhughes (San Francisco State University) for people coming out of incarceration and unemployment, the award-winning curriculum engages students by making learning relevant, building on prior knowledge and experience, and connecting education to employment and further learning in green career fields.

Work Experience
After four months of classroom and growing instruction, Apprentices are assigned to a 12-week paid work experience, starting the first week of August at a farm site where they get relevant experience and close supervision. Job placements have included the Chicago Botanic Garden's Regenstein Fruit & Vegetable Garden, Big Delicious Planet restaurant, Resource Center's City Farm operation, Growing Solutions Urban Farm, Heartland Alliance's Farmworks, Growing Home, and Gary Comer Youth Center, as well as various Windy City Harvest production sites. Apprentices are paid hourly for 30 to 37.5 hours per week and get regular check-ins from Windy City Harvest staff. Fridays are a non-paid 6 hour class focused on professional development, field trips, and IPM management. The paid work experience is a critical part of the program model and allows Windy City Harvest to develop and strengthen working relationships with many local commercial and nonprofit operations that are part of the Chicago-area food hub.
---
Any Questions?
Contact: Sam Cline, Apprenticeship Instructor