How often have you heard that the true lilies (Lilium) are either difficult to grow or are not well adapted to the Midwest? Fortunately, these are merely myths.
Lilies are wonderfully diverse and can thrive here with some attention to their culture and selection. They give continuous bloom in your garden from late May into early September; range in height from a diminutive 4 inches to a towering 8 feet; produce flowers from 1 inch across to as large as a dinner plate; dazzle in colors of white, pink, yellow, orange, and red to violet, and with all sorts of freckles, lines, and spots to entertain your brain; and fill your garden with fragrances spicy, sweet, or exotic.
The key to growing lilies is simple: give them plenty of sunshine and good air circulation, and deep, well-drained soil. Incorporate well-composted leaf mulch into your clay soil to improve drainage as well as add nutrients. A top layer of mulch on your flower beds will protect your lily bulbs from winter cold and summer heat. Lilies—like daffodils and tulips—grow from bulbs, which are best planted in early to mid-autumn or in spring. A good rule of thumb is to plant lilies with twice as much soil above them as the width of the bulb; a 2-inch bulb should be planted with 4 inches of soil above it. Bulbs can go deeper in a sandy soil where drainage is not an issue.
If you have poorly drained soils, or find your garden overrun by voracious rabbits, then lilies may not be for you. Otherwise, plant some lily bulbs this autumn and then enjoy the show next year.
---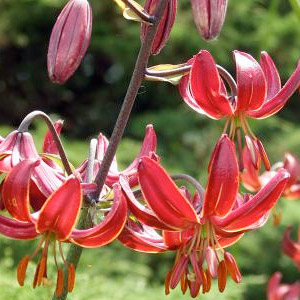 May Blooms
We can grow an amazing diversity of lilies in the Midwest, with a different group on display each part of the growing season. In May, the elegant martagon lilies, among the most shade adapted, proudly show off their small Turk's-cap flowers above handsome whorled foliage on 3- to 4-foot stems. The selection 'Claude Shride' is a well regarded martagon.
---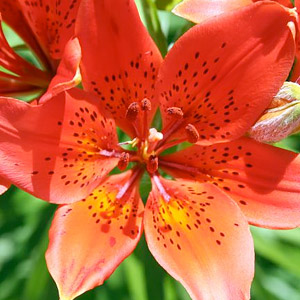 June Blooms
June welcomes a parade of Asiatic hybrid lilies and their parent species. Try the species L. concolor or L. dauricum, with their upturned flowers in orange, or the recurved glossy orange- to red-flowered L. pumilum. If hybrids are more to your taste, L. 'Latvia' will dazzle with its dense speckled pattern in violet to the center of upright, yellow flowers. Or consider 'Tinos', with flowers in alabaster with centers of red and yellow. Lilium lankongense hybrids, such as 'Karen North', produce taller flower stems with downturned Turk's-cap flowers; unusual for Asiatics, these hybrids may be slightly fragrant.
---
July Blooms
Next in the parade in July are the towering trumpet lilies, growing readily to 6 feet tall and producing (not surprisingly) trumpet-shaped flowers in white, gold, and pink to violet. Flowers are deliciously fragrant. This group is susceptible to late spring frosts, so plant the massive bulbs deep to delay emergence. Try the species L. regale (white with a golden center), or hybrids such as 'Midnite' (violet) or 'Tropical Isle' (yellow with a flame blush). One delightful species, L. henryi, begins in late July to produce Turk's-cap flowers in orange or yellow on arching stems that can reach an incredible 8 to 10 feet in height. Trumpet lilies crossed with L. henryi produce the Aurelian hybrids, which bloom slightly later than the trumpets and bear flowers that are trumpet-, bowl-, or starburst-shaped. Good selections include the indestructible 'White Henryi' (white with a gold center) and the vibrant yellow 'Louis XIV'.
---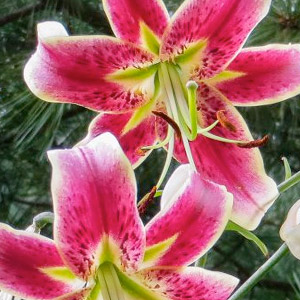 August Blooms
Most exotic of all are the relatively recent Orienpet hybrids, which combine the stature and vigor of the trumpets with the spicy fragrance and late bloom of the Oriental hybrids. Two classics with recurved raspberry red-colored flowers are 'Black Beauty' and 'Scheherazade'. For incredible fragrance, try 'Silk Road'/'Northern Carillon' (white with large raspberry centers), or the coolly elegant 'Conca D'or' (cream with lemon yellow centers). Completing the parade in mid- to late August is the species L. speciosum, with recurved flowers in white, pink, or cerise—also spotted and whiskered and often sweetly fragrant. The selection 'Uchida' is often the last lily to bloom.
---
Resources: The regional Wisconsin-Illinois Lily Society hosts an annual show, two bulb sales, and a winter lecture series at the Chicago Botanic Garden. The international North American Lily Societyproduces several excellent publications, and hosts an annual show as well as a seed exchange.