It's a Girl: Flowers Climb the Baby Name Lists
As proud gardeners, we are thrilled to announce the arrival of flower names as a fresh trend on the best baby name lists. 
While Lily, Rose, and Daisy have been perennial list favorites, Violet has just cracked the top five on Nameberry.
What's behind the trend? Celebrities, for starters. When Gwyneth named baby Apple a dozen years ago, some scratched their heads. Fast forward to 2012, and Blue Ivy Carter (Beyoncé's first) sounded just right.
Media has played a role, too. Harry Potter author J.K. Rowling surely knew her flowers: Harry's mother was named Lily and his aunt, Petunia—and support characters that pop up are named Pansy, Lavender, and Poppy. And then there was Downton Abbey, with its worldwide audience that sighed with happiness when Lady Edith named the baby Marigold.
Speaking of England, behind today's trend is an even earlier, Victorian-era trend rooted in the language of flowers. This is a topic near and dear to the Garden's heart, as an amazing gift of 400 books related to the Language of Flowers was donated to the Lenhardt Library in 2015. 
An exhibition at the Lenhardt Library, Language of Flowers: Floral Art and Poetry, examined some of the rarest of those volumes—we're especially enamored of the 1852 Lexicon of Ladies' Names, with their Floral Emblems. Ask the librarian to show you books where you'll find these beautiful names for girls (and boys) and their language of flowers meanings.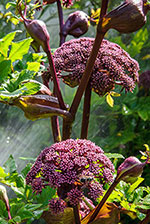 Angelica gigas
Angelica: Inspiration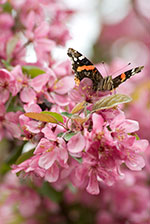 Malus 'Adams'
Apple: Temptation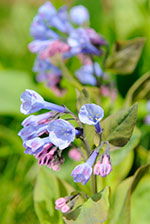 Mertensia virginica
Bluebell: Constancy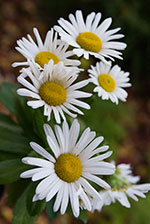 Leucanthemum × superbum ('Darling Daisy')
Daisy: Innocence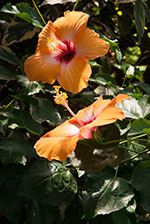 Hibiscus 'Mrs. Jimmy Spangler'
Hibiscus: Beauty always new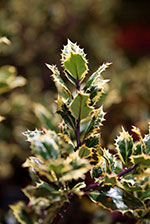 Ilex aquifolium 'Monvila' Gold Coast™
Holly: Foresight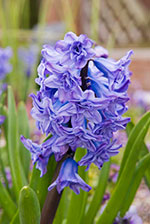 Hyacinthus orientalis
Hyacinth: Sport, game, play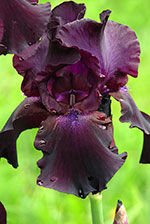 Iris 'Superstition'
Iris: Message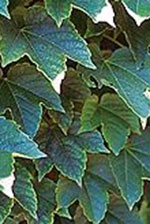 Parthenocissus
Ivy: Fidelity, marriage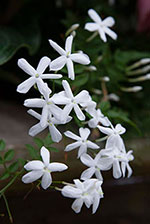 Jasminum polyanthum
Jasmine: Amiability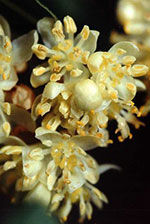 Laurus nobilis
Laurel: Glory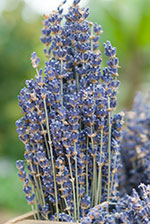 Lavendula
Lavender: Distrust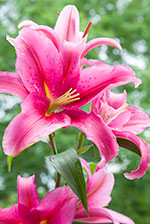 Lilium 'Acapulco'
Lily: Majesty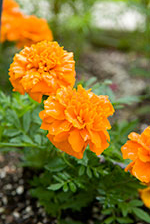 Tagetes patula 'Janie Deep Orange'
Marigold: Grief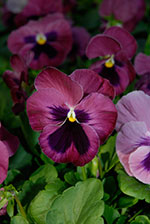 Viola × wittrockiana 'Matrix'
Pansy: Thoughts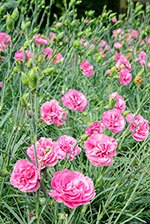 Dianthus hybrida 'Valda Louise'
Pinks: Boldness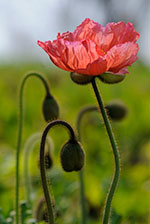 Papaver sp.
Poppy: Consolation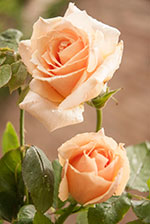 Rosa 'Medallion'
Rose: Love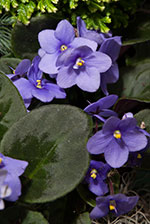 Saintpaulia ionantha
Violet: Faithfulness
Don't like the idea of an associated flower meaning? You can always choose Flora, Fleur, or Blossom. Or just stick with Sweet Pea as a nickname, because, girl or boy, what baby isn't a "delicate pleasure"?
What About the Boys?
Sweet William (Dianthus barbatus) meant "gallantry" and Rocket (Eruca sativa) connoted "rivalry" in the language of flowers, but names for boys are few in the world of blooms. Expand into the wider world of plants and a few more names emerge: Sage, Forest, Ash, Bay, Glen.
What other nature-related names for boys can you think of?