Annual and Perennial Care Checklist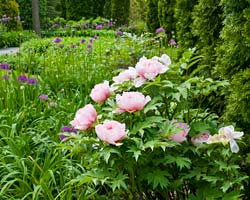 When cutting peony blossoms to bring indoors, remove as few leaves from the plant as possible. Remove spent blooms after they are finished flowering.
Remove spent blooms of annuals and some perennials to encourage new flower formation. Stake tall perennials and continue to tie annual and perennial vines to supports. Continue to apply repellents to emerging summer-blooming lilies, if rabbits and deer have been a problem in the past.
Fertilize annuals in containers, baskets, and window boxes with a quarter-strength balanced fertilizer every seven to ten days. Always water the plants before adding liquid fertilizer.
Fertilize bulbs with a 9-9-6 slow-release fertilizer if you did not do so at planting time. Mark the spots with small stakes to repeat fertilizer application in the fall (when plants are not visible).
Continue to remove yellowing leaves of summer-flowering bulbs.
Tall, floppy plants such as chrysanthemums, asters, and tall sedums can be cut back by as much as half or pinched to regulate their height.
Sow seeds of biennials, such as hollyhock, directly into the garden this month for next year's bloom. Mark the area carefully to avoid accidentally disturbing the seeds.
Monitor plants, especially succulent the new growth, for insects. Infested plants can be hosed down to remove small insect populations. Don't apply chemical treatments if ladybugs or other predator insects are present.
Mite activity often increases in hot, dry weather. Symptoms include stippled foliage which can be removed from plant. Refrain from applying chemical miticides which will also kill beneficial mites and increase mite populations. Consider releasing predators such as ladybugs or praying mantis to consume unwanted mites.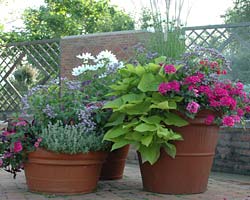 To promote a second, late-summer flower show, cut back, shear, or remove flower spikes from the following early blooming perennials: catmint, geraniums, salvia, and delphiniums.
Annuals in containers and hanging baskets may require daily watering during hot or windy weather. Continue to fertilize container plants with half-strength balanced liquid, but avoid applying in the heat of the day or during long, hot dry spells. Always water plants before fertilizing.
Remove spent flowers or seedheads of daylilies immediately to conserve plant energy.
Monitor foliage of densely planted annuals and perennials that might show fungal attacks due to cool, damp weather earlier this season.
Continue to pinch out new growth of tall sedums, asters, and chrysanthemums until the middle of the month.
Stake tall plants, if necessary, by tying with soft nylon ties.
Continue to guide clematis vines and all other soft-stemmed vines to their supports.
Make note of empty spots in borders that might benefit from planting summer-flowering bulbs next year.
Seeds of perennials can be sown directly into the garden at this time. Note their location to avoid accidental "weeding" next spring.
If necessary, dig and divide Oriental poppies as their foliage yellows and dries. Always plant poppies in sunny, well-drained areas. Avoid moving them, if possible. Since poppies fade out by midsummer, plant annuals or later-blooming perennials in front of them to conceal their unattractive yellowing foliage.
The lush greenery that grew abundantly during a rainy spring might become a target for insects. Monitor closely but avoid drastic action or strong chemicals until insects are correctly identified. Many, like aphids, will go away with a strong stream of water from a hose. Aphids have many natural enemies and are rarely cause for harsh pesticides. When in doubt, visit Plant Information at the Chicago Botanic Garden.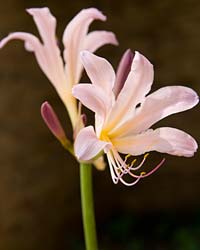 Continue to deadhead annuals and perennials to encourage additional flowers.
Allow certain dried flowerheads to remain standing for fall and winter interest, including astilbe, coneflower, globe thistle, and others.
Remove yellowed or dried stems and flower stalks of lilies by gently pulling them from the underground bulbs.
Place small stakes in the garden bed where tulips, narcissus, lilies, alliums, and other fall-planted bulbs will go.
Water container gardens as needed. Continue to feed container plants with quarter-strength liquid balanced fertilizer twice a month.
Consider adding to garden beds garden chrysanthemums, asters, or other fall-flowering plants to further extend the flowering season. Many greenhouse-grown mums are not hardy and will not survive over the winter. The earlier the mum is planted in your garden, the greater the chance of survival over winter. Mulch newly planted perennials immediately.
Remove yellowing daylily foliage or leaves that are browned and spotted. Green leaves must remain on the plant to continue to manufacture food. Deadhead individual flowers to keep plants looking tidy.
Daylilies can be divided and replanted or new plants can be installed at the end of this month. Peonies can be planted at the end of this month and into early fall.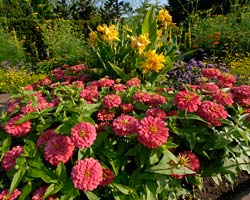 Continue to deadhead both annuals and perennials to encourage additional flowers.
Return of cool weather is a good time to refresh annual containers with cool-season favorites such as pansies, ornamental cabbage and kale, chrysanthemums, or fall-blooming asters. Asters and mums purchased in bloom this month are usually greenhouse-grown and not necessarily hardy. To increase their chances of making it through the winter, plant them directly in garden beds, rather than containers, early this month so they can establish their roots for a good four to six weeks before frost. Water well and mulch plants right away.
Do not cut back perennials until their leaves and stems have lost all green color.
Daylilies and peonies can be divided or planted early this month. Water well to encourage healthy root development. Peonies should be planted so that the buds or eyes are no deeper than 2 inches below soil level. If planted too deeply, they will fail to flower.
Make final selections of spring-blooming bulbs but don't plant any until later in October and November.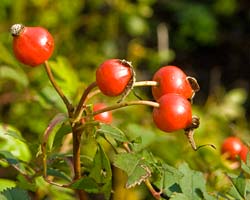 After a killing frost, remove annual plant material from your garden and add it to your compost heap.
Any soilless mix from window boxes or containers can be discarded or kept aside for one more year. If used for a second year, mix equal parts old mix with fresh soilless mix.
Clean and sterilize containers before storing over winter.
Do not mulch your perennial garden area until the ground has frozen hard later in November.
Begin to plant spring-blooming bulbs. Mulch area after planting. If rodents, deer, or rabbits have been a problem in the past, consider planting varieties of the following pest-resistant bulbs: ornamental onion, grape hyacinth, fritillary, narcissus, windflower, winter aconite.
A few weeks after a killing frost, lift and store tender bulbs. This might be as late as November. Cut back above-ground foliage and stems of cannas and dahlias to 4 to 5 inches. Gently lift up tubers using a pitchfork. Shake off excess soil and dry tubers in a warm dry place. Do not separate the mass of tuberous roots at this time. When dry, place labeled tubers in cardboard boxes lined with newspaper and filled with barely moist wood shavings, peat moss, or vermiculite. Store between 40 and 50 degrees in a darkened room. Check periodically to be sure tubers haven't rotted (throw away) or begun to dry out (sprinkle gently with water).
Tuberous begonias can be dug in the same fashion. Remove all foliage and stems and place in a cardboard box lined with newspaper and filled with barely moist wood shavings, peat moss, or vermiculite. Store tubers in dark room between 45 and 55 degrees.
Caladium bulbs are lifted and stored like tuberous begonias.
Gladioli corms are dug, dried, and stored between 35 and 40 degrees in paper bags or open-weave mesh bags.
Tuberose planted in the garden should be dug up and have its foliage removed, then stored in a pot with very dry soil in a darkened warm room. Those planted in containers can be moved straight to storage after cutting back the darkened foliage and stems.
Winterize aquatic gardens. Hardy water plants may remain in ponds as long as they don't freeze.
Protect small ponds from freezing by covering them with thin plywood sheets and layers of mulch or shredded leaves. Or install a pond heater to keep the water surface from freezing. If a thin layer of ice forms on the water surface, pour hot water on the ice to melt it. Banging on ice can hurt fish.
Remove tropical water plants, cut off all foliage and flowers, and store tubers in an indoor aquarium where the water remains 55 degrees or in moist sand in a bucket at 55 degrees.f hardware cloth tacked into the soil three inches away from the trunk.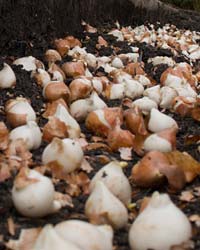 Continue to plant hardy spring-flowering bulbs early this month if weather and soil conditions permit. After planting, broadcast a 5-10-5 fertilizer over the soil surface and water well. If rabbits, rodents, or deer have been a problem in past, consider planting varieties of the following pest-resistant bulbs: ornamental onion, grape hyacinth, fritillary, narcissus, windflower, or winter aconite. Some gardeners recommend lining the planting hole with ½ inch of sharp sand or gravel before setting in bulbs. These products help deter rodents from digging.
Cut to the ground all remaining dried perennial material not intended for winter interest. Add to your compost pile.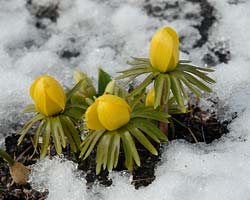 Look for early spring-blooming bulbs (sometimes beneath the snow or ground cover). If necessary, divide clumps of old, nonblooming bulbs or fertilize with a 5-10-5 granular fertilizer now and again in fall. Mark the spots with small stakes for locating next fall.
Gently press back any perennials that heaved out of the ground over the winter. Mulch those plants with several inches of shredded material.
As days warm up, gradually pull back mulch from around perennial crowns.
Remove dead leaves from perennial clumps taking care not to injure emerging new leaves.
Cut back to the ground all perennials and ornamental grasses that were left standing for winter interest.
Prune back to 12 inches stems of autumn-flowering clematis vines.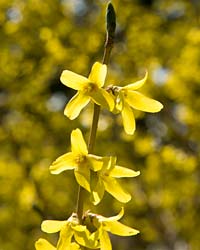 Plant perennials, hardy ornamental grasses, and roses. When planting bare-root roses, soak the roots in a bucket of water for several hours before planting. Be sure to choose a full-sun site before digging the hole. Remember that as soon as tall trees leaf out, full-sun areas can become partly shaded.
Divide mature summer- and fall-blooming perennials when they are 4 to 6 inches tall. Do not divide day lilies (September), Oriental poppies (July), or iris (late July) at this time.
Fertilize spring-flowering bulbs with a granular 5-10-5 or 10-10-10 mix as new green growth emerges or when they finish flowering. Remove spent flowers but allow foliage to wither completely before removing. Divide clumps of older bulbs in need of rejuvenation. Replant in sunny spot and water in well. Bulbs prefer locations that are not heavily watered during their summer dormancy. Therefore do not overplant perennial bulbs with summer annuals.If botrytis blight or bud blast was a problem with peonies last year, spray newly emerging plants with an approved fungicide when the plants are 2 to 4 inches tall. When peonies reach 10 inches, stake or hoop them to support their blossoms. Avoid overhead watering. If fungus persists, consider relocating peonies to a more open, full-sun site. Move plants in the fall.
If weeds were a problem last year, spread a pre-emergent weed control over lawn as weather and temperature permit. Alternatively, consider hand-pulling weeds or spot-treating weeds after they emerge with a post-emergent weed control. Serious infestations often require several treatments to control the problem.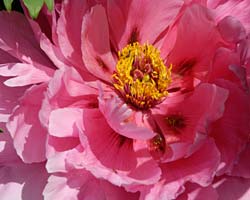 Stake tall perennials before they reach 6 inches. Begin to regularly pinch back fall-blooming perennials such as chrysanthemums, asters and tall sedums. Pinch once a week until the middle of July. This promotes stocky growth.
Continue to direct the growth of perennial vines on their supports. Climbing roses should be encouraged to develop lateral, flower-bearing canes.
Continue to check peonies for botrytis blight or other foliar fungal problems. Peonies that suffered from botrytis or bud blast last year should be sprayed regularly, starting when the plants are between 2 to 4 inches tall. Cage or provide support for peony blossoms when the plants are 10 inches tall.
Let spring bulb foliage yellow and wither before removing it. The leaves manufacture food that is stored in the bulb for next year's growth. Even braiding the foliage of daffodils can reduce the food production of the leaves.
Spray emerging lily shoots with antirodent spray if rabbits and deer have been a problem. Be sure to reapply after rainfall.
Monitor all annual plantings in window boxes and containers. On warm, windy days, hanging baskets will require water every day. Always water the soil thoroughly before adding dilute quarter-strength fertilizer to containers. Terra cotta pots will dry out faster than plastic. Consider incorporating water-conserving granules into container soil.
Plant tender water lilies and lotus when the water temperature is over 65 degrees.
Plant summer- and fall-flowering bulbs such as Asiatic and Oriental lilies, dahlias, peacock orchids (Acidanthera), cannas, tuberous begonias, caladium, crocosmia, freesia, gladioli, montbretia, and calla lilies.