Shinrin-Yoku (Forest Bathing)
森林浴
Forest bathing, sometimes called forest therapy, gives us the opportunity to slow down our mind and body and connect with the forest. The guide presents "invitations," or suggestions to participate in various activities designed to deepen the nature connection throughout the walk.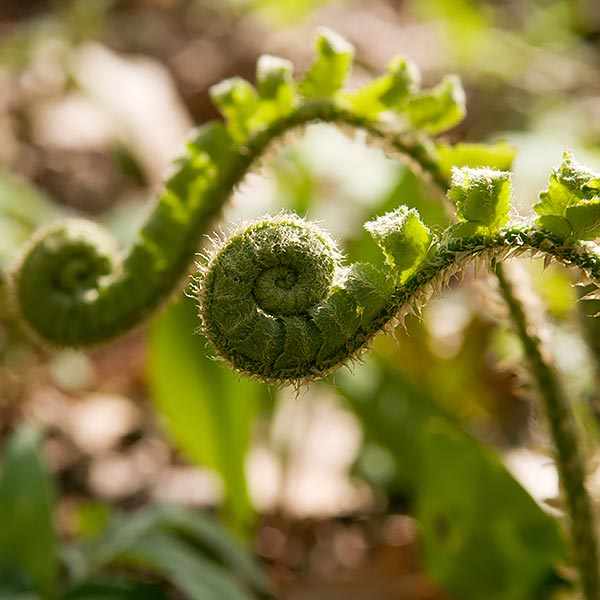 Those who contemplate the beauty of the earth find reserves of strength that will endure as long as life lasts.... There is something infinitely healing in the repeated refrains of nature—the assurance that dawn comes after night, and spring after winter.
—Rachel Carson
I went on my first forest bathing walk clutching my phone in the bottom of my pocket. I was worrying about my sick kid at home and was unable to relax. People had been telling me for years that I needed a vacation—but that was just not an option. I had read about shinrin-yoku (Japanese forest bathing) in a professional social work journal years before but couldn't find anything in my area until recently, and even than I had to drive almost an hour to get there. The commitment of commute time plus a three-hour walk seemed to be completely unreasonable but I was determined to do it anyway, and I've never looked back.
It took me three invitations (suggested activities) on that first walk to unclench my phone and three more guided walks to be able to let go. I was incredibly fortunate to get the last spot in a guide-training program that I was sure I wouldn't be able to complete, but I did. Now I know that forest bathing can be done wherever there is a forest. I believe that forest bathing, forest therapy, mindful nature walks, or whatever name you use, is for everybody. I have seen wonderful results for people who just want to recapture some of the peace and playfulness of time in nature.
In the early 1980s, Japan developed a wellness program in nature, shinrin-yoku, as a healing practice meant to curb the country's mental-health crisis. Translated, this is forest bathing, meaning immersing all of your senses in the healing forest. Forest bathing is now a common practice in Japan and a growing practice in many other countries, including the United States.
What exactly is forest bathing? Well, it's not exercise or hiking or learning the Latin names of plants.
Forest bathing incorporates several elements. The guide will present invitations—suggestions to participate in various activities designed to deepen your connection with the forest. You may choose to accept the invitation or not. There is no right or wrong. Participants are asked to follow what feels right. There is time to be alone and time to share thoughts with other participants, and the walk ends with a tea ceremony with tea plants foraged from the land.
Walks are very slow and usually cover less than half a mile in the three-hour time frame. They are designed to be accessible for just about everybody. I think they are a great way to introduce people to nearby nature experiences and to encourage older adults to continue outdoor activities.
Forest therapy can be done year-round with preparations made for weather. In the summer, this could mean having iced tea instead of hot tea and providing bug repellent. In the winter and early spring, proper clothing, small blankets, hand warmers, and seat pads or chairs can make for an excellent experience. I love fall walks, not just for the color, but because the life/death cycle adds to the invitations offered and because the woods are a little more open so it's easier to find places to explore that are slightly off-path.
What forest bathing offers is a chance to slow down your mind and body and to be present with yourself and with the forest life around you.
---
Sally Peterson is a certified nature and forest therapy guide and clinically licensed social worker who teaches forest bathing at the Chicago Botanic Garden.