May 25 – August 18, 2013
Joutras Gallery, Regenstein Center
Celebrating the intersection of art and agriculture, Art of the Heirloom showcases original works commissioned by the Hudson Valley Seed Library for their annual Art/Seed Pack collection.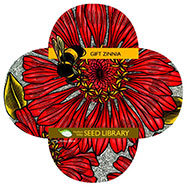 The exhibition features works in a variety of media and styles such as oil painting, paper, collage, encaustic, colored pencil, and printmaking. Exhibiting artists range from the undiscovered to the up-and-coming to the world renowned. Each work of art becomes a unique seed pack.
As seed savers, we know how to tell an heirloom seed's genetic story. Grow it! But what about a seed's cultural story? Artists are cultural seed savers, selecting which kernels of beauty, color, and form they hope to keep alive and pass on for future generations. The artwork on the seed packets of the Hudson Valley Seed Library celebrates the importance of genetic and cultural diversity in our gardens.
Artworks: Brilliant Beet Blend by Bill Rybeck, Gift Zinnia by Nancy Blum, and Echinacea by Gabe Brown.
This summer's plant giveaways at the Regenstein Fruit & Vegetable Garden feature some heirloom/open-pollinated varieties:
May
Johnny-jump-up viola
June
Speckled Roman tomato
July
Marjoram
August
Crimson King basil
September
Merlot heirloom lettuce
Partial funding is provided by the Harriet Kay and Harold R. Burnstein Fund for Exhibits.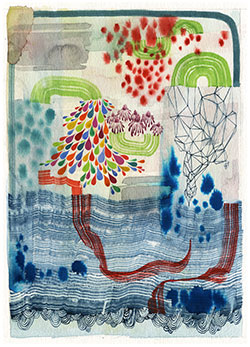 Visit the exhibition and continue your experience with a class!
Click here to browse a complete selection of classes at the Garden.
Painting Seasonal Vegetables in Watercolor – Level 1
6 Fridays, June 7 – July 19
1 – 4 p.m. (no class July 5)
Growing Vegetables and Herbs
6 Tuesdays, June 18 – July 30
6:30 – 8:30 p.m.
1 Saturday, July 13,
9 a.m. – noon (offsite)
Herbs: Foliage and Flowers
Tuesday, July 16
10 a.m. – noon
Painting Seasonal Vegetables in Watercolor – Level 2
5 Fridays, August 2 – 30,
1 – 4 p.m.
Tomato Canning Workshop
Wednesday, August 28
10 a.m. – 2 p.m.
Earth's Bounty: Organic Farm and Lunch Experience
Thursday, August 29
10 a.m. – 3 p.m.
Back to Basics: Jelly and Jam
Tuesday, September 24
10 a.m. – 2 p.m.

Here at the Chicago Botanic Garden, we take seed preservation seriously. Seed banking—conserving and storing species away from their original habitats—enables plants to escape threats imposed by destructive habitat changes including urbanization, climate change, invasive species,overharvest, and pollution. The seeds may then be used for research and, as the need arises, to restore native plant communities.
Click here for more information on seed banking at the Garden, or visit the Daniel F. and Ada L. Rice Plant Conservation Science Center in person.