On a typical day in the Butterflies & Blooms exhibition, you will see our butterflies flying, sunning themselves, or resting in the foliage.
If you happen to come to the exhibition just after a rain shower, and the sun is shining, it's your lucky day, because love is literally in the air.
I remember one day in the exhibition when the weather was lousy. It had been raining all morning. While the volunteers and I huddled around in our ponchos, the butterflies were fine, hanging out in the trees, awaiting the sun. Around noon, the rain finally stopped and the clouds parted, saturating the exhibition with hot, bright sunshine. The exhibition had become a steamy hothouse. At that moment, almost every one of our 200-plus butterflies started flying. They had been waiting all morning for this.
The air in the exhibition was laced with pheromones from many different butterfly species, driving the males into a frenzy. I looked around and watched as male butterflies slammed into one another as they were in hot pursuit of a lone female. Even when two butterflies paired off, there would be a jilted male who wouldn't give up trying to separate them by trying to knock the pair apart.
I was stunned at the variety and complexity of the courtship dances and rituals being displayed. A pair of Junonia iphita, or chocolate pansy butterflies, would fly to about 5 feet, at which point they would descend in a perfect interlocking spiral, straight down until they hit the ground. They would repeat this courtship ritual over and over again. Another incredible display was the Graphium agamemnon, or tailed jay butterfly.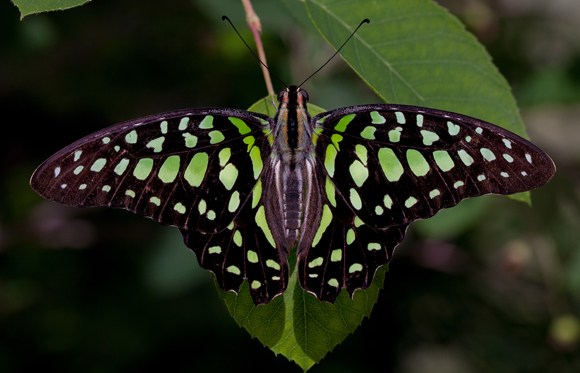 Tailed jay (Graphium agamemnon) butterfly by Anne Belmont
One tailed jay would fly in a straight line, while a second one (assumedly the male) would rapidly orbit around the first one, sort of like the moon orbiting the earth as it flies through space. This little trick just blew me away. I then noticed butterflies were mating in midair. One butterfly would do the flying, while the other would be hanging precariously below. This stunt was made possible by the male's "claspers." These claspers work exactly as they sound: they grab hold of the female, making sure that they remain together.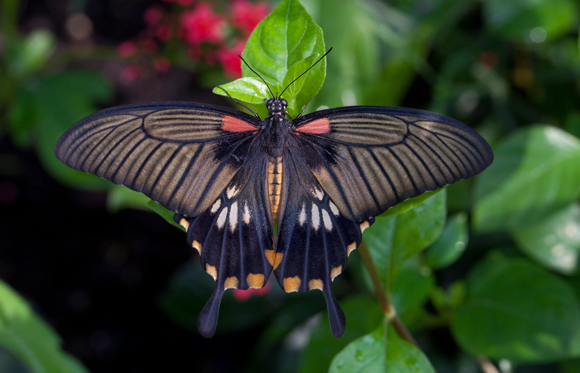 Great yellow mormon (Papilio lowi) butterfly by Anne Belmont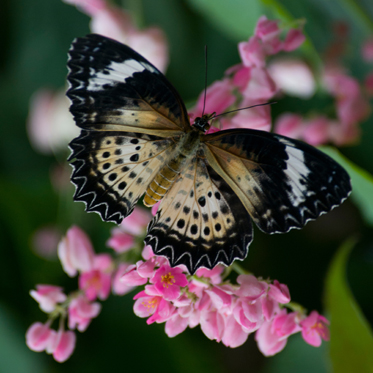 Leopard lacewing (Cethosia cyane) butterfly by Robin Carlson
There were many more amazing acts of nature going on during this incredible spectacle. Some butterflies would attempt to mate with a different species. Sometimes males would try to mate. I even spied a trio of butterflies interlocked, forming a tangle of wings pointing in every direction. Two were a pair of Papilio lowii, or yellow mormon butterflies, while the interloper was a Cethosia cyane, or leopard lacewing. Now I thought I had seen it all. These butterflies were making human relationships seem tame. Visitors were enjoying the show, too. They would say, "This is supposed to be a 'family' exhibit!"
Females who had already mated or just weren't impressed by the males would sit on a leaf with their wings spread and their abdomens held high in the air. This made mating impossible.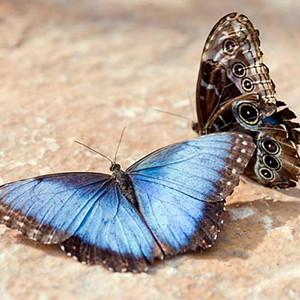 Blue Morpho (Morpho peleides) by Bill Bishoff
Then, I saw something really baffling. To this day, lepidopterists know very little about the courtship of everyone's favorite butterfly, Morpho peleides, the blue morpho. It started when one blue morpho clung to the netting of our enclosure.
Next, almost a dozen other morphos came over and began to form a very tight swarm around the morpho hanging on the netting. The group formed a writhing cloud around the butterfly on the netting, bumping into each other and circling around the individual. I did not see any of them pair off and mate. They just danced frenetically around the center morpho.
Was the center morpho somehow the only female, and all the males were simply trying to mate with her? I doubt it. We usually have an even ratio of males to females in the exhibition. Perhaps the center morpho acted as a beacon, releasing pheromones so that her kind would gravitate toward her designated "mating area" and mate with one another. She was the orchestrator of the ritual, silently sitting and directing her kin to carry out their biological imperative.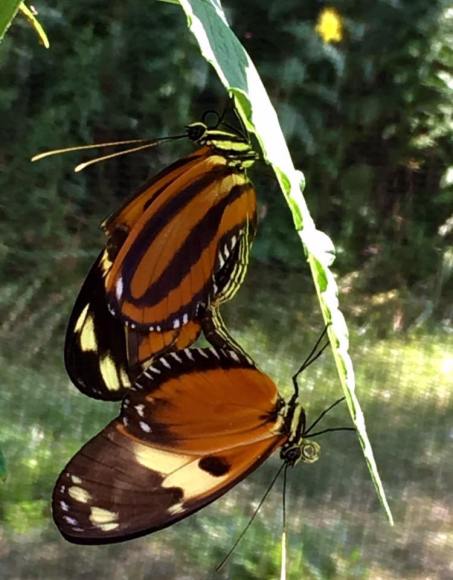 Large tiger longwing (Lycorea cleobaea) butterflies mating in the exhibit; photo by Jill Emas Davis
The moral of the story is this: run to the butterfly exhibition if it has recently stopped raining. You might get a chance to see some amazing butterfly mating behavior.