Taking Chicago's farm scene by storm, one carrot at a time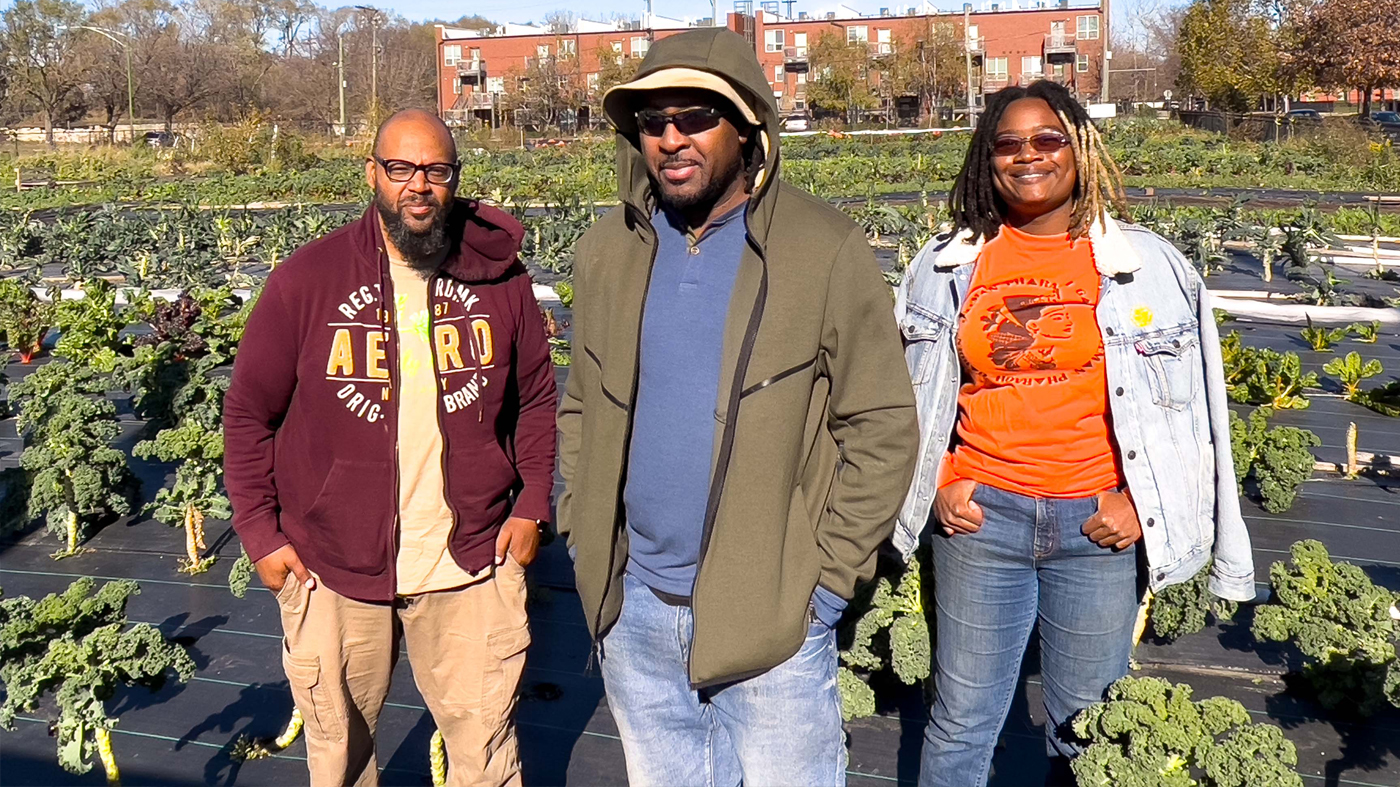 From left: Smith, Willingham, and Coleman at Windy City Harvest's Legends Farm, where they each have Incubator plots.
Natasha Coleman started at Windy City Harvest's Youth Farm in high school because she was a "tomboy at heart" who wanted to get her hands dirty. Deshawn Willingham started in the Corps program because he needed a job—then from day one, he fell in love with "how resilient and amazing nature is." Clarence Smith's family has farmed for generations in Michigan and Mississippi; Windy City Harvest programs "brought him back to his roots," and helped him discover that he has a knack for the business side of farming.
Put these three Chicagoans together, and the Big Three—their nickname for themselves—fit together like "perfect puzzle pieces," according to Coleman.
Over the past few years, each of them has built a thriving urban agriculture business utilizing plots at Windy City Harvest's Legends Farm in the Bronzeville neighborhood of Chicago. Now they're poised for their next adventure. The three are joining forces with their own 20-acre farm in Chicago Heights, which they're currently calling Big Three—and thanks to a hard-earned Good Agricultural Practices (GAP) certification, their impact is set to scale up quickly.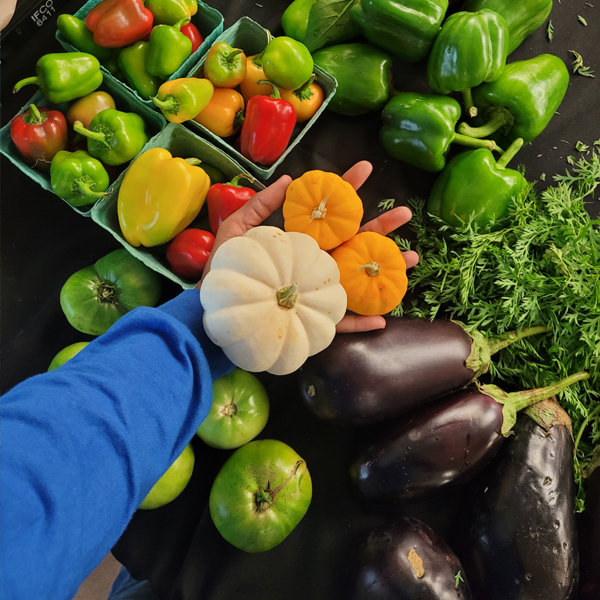 Produce from the Big Three's Incubator plots at Legends Farm.
Coleman said it's the combination of their unique skill sets that created a recipe for success. "Clarence, he's a pastor [with a broad network]. Deshawn is really handy—he's the smarts when it comes to farming and trying new things. And I bring the education and training piece—I'm really good when it comes to working with people."
They've also enjoyed a supportive network of peers and mentors through Windy City Harvest. The Chicago Botanic Garden's urban agriculture initiative offers a continuum of paid programs to support farmers like the Big Three as they find their niche in the urban agriculture world, including full-time Apprenticeships that offer hands-on training in sustainable urban agriculture.
"I call [the Apprenticeship] like having a baby," said Rosario Maldonado, small farm business manager for Windy City Harvest and a former Apprentice herself. "It's pretty intense." It's also competitive; Windy City Harvest receives about 150 applications each year for a maximum of 25 Apprenticeship slots.
By the time someone completes the full range of Windy City Harvest programs, they typically have upwards of two years of direct farming experience; at that point they can choose to apply for an Incubator plot through Windy City Harvest. That's how Pharaoh Garden (Coleman), One Family Farms (Smith), and Chicago Urban Farm Solutions (Willingham) wound up working side-by-side at Legends Farm, and how they started selling their own produce at farmers markets and to wholesalers like Midwest Foods.
Making the next leap from an Incubator plot to an independent farm can be a tough transition to navigate, thanks to limited land access in the Chicago area and the complexities of securing financing. The Conservation Fund makes farm ownership more accessible by purchasing farmland through their Working Farms Fund and placing it in a land trust for protection, then leasing it to farmers like the Big Three. Coleman, Smith, and Willingham will pay into a savings account for five years until they have a down payment and can purchase their farm directly from the Conservation Fund. But meanwhile, they have immediate access to the land.
Between their freshly minted 20 acres and their Good Agricultural Practices certification, the trio has all the ingredients to become major players in Chicago's urban agriculture scene. Institutions like schools, hotels, and wholesalers require that farms they do business with have a GAP certification, and with theirs in hand, the Big Three have already landed a major contract with University of Chicago Dining. Now they're investigating additional contracts that will allow them to hire more people, farm more land, and distribute more high-quality produce.
"We're pretty sure [Windy City Harvest and the Big Three] are the only urban farms that are GAP certified in the city—it's an intimidating process," Maldonado said. "Most people don't go for it, which makes sense. But Clarence and Deshawn saw the opportunity."
"It's about setting an example," Willingham said. "Four years ago, I didn't think this was possible. I know a lot of small farmers in the city who want to scale up but don't think there's an opportunity. We're checking off a lot of the boxes: You can get a contract with a wholesaler. You can get a large plot of land to scale up. You can get a GAP certification."
It goes well beyond acting as a guidepost. When Windy City Harvest program graduates build their own successful businesses, they create new jobs in sustainable farming, bringing more Chicagoans into the field. They also create an influx of hyperlocal, sustainable produce for local communities; they price their produce low at markets so it's tenable for community members to purchase from them.
There's also the environmental impact, cutting down on shipping costs by keeping food in the city where it's grown.
"With us, you have hyperlocal foods, instead of bringing in a trailorload of romaine from California that we're shipping to a supermarket somewhere, and it may last a week," Smith said. "Getting it from [the Big Three], you can get it in a day and it lasts three or four weeks. It tastes different because it doesn't have any pesticides, it's organically grown and chemical-free. It makes a big difference."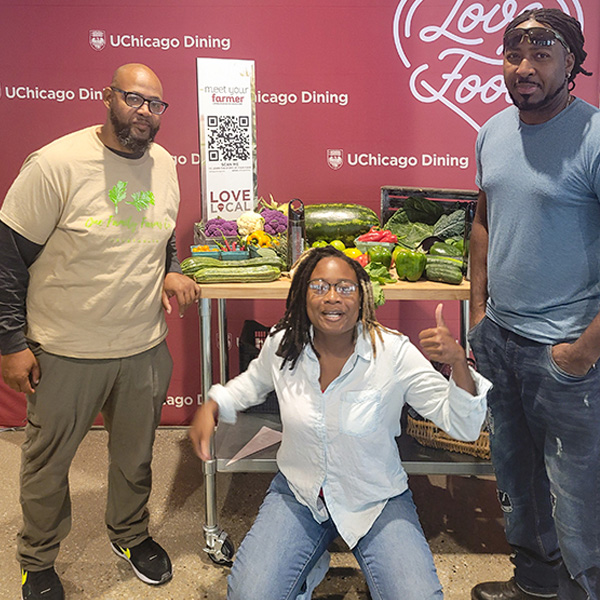 From left: Smith, Coleman, and Willingham celebrating their contract with University of Chicago Dining.
In the name of keeping their food local, Smith is constantly seeking opportunities to build partnerships that make the Big Three's produce available to more Chicagoans, such as partnerships with Women, Infants, and Children (WIC), the Greater Chicago Food Depository, and more.
Right now, the Big Three are preparing to build a greenhouse at the new farm and taking measurements for spring 2023 planting. They'll start by farming just a portion of the acres they have available to meet demand for the partnerships they already have underway, knowing that as they develop new relationships, demand will increase. They will ultimately farm the full 20 acres—and beyond. Smith is already looking to acquire more land, which would allow the Big Three to significantly increase their food's presence in Chicago markets, schools, wholesalers, and nonprofit programs. Coleman also plans to use their new farm to offer a robust education program, helping community members learn about food and how to grow it.
"[The land in Chicago Heights is] just a training ground for five years down the road," Smith said. They've come a long way, but the dream only gets bigger from here.
---
Title:
Taking Chicago's farm scene by storm, one carrot at a time