Chicago artists have been busy in their studios creating installations with uplifting messages to welcome visitors to the Chicago Botanic Garden's Lightscape.
Matthew Hoffman's 12-foot-tall sculpture celebrates the word JOY: "the expression of love, comfort, and happiness when we're with the ones we love."
Tanner Woodford's Pride & Promise—2020 Heritage Christmas Tree boasts hundreds of six-point stars, like those on the Chicago flag, that "represent the pride and promise we feel in our community and home."

And Michael Young's Night Birds, with their neon-lit feathers and abstract style, "aims for a sense of emotional connection—harmony, growth, energy—and simultaneously promotes unity while remaining personally meaningful to each viewer."
How they found their inspiration is as varied as the artists.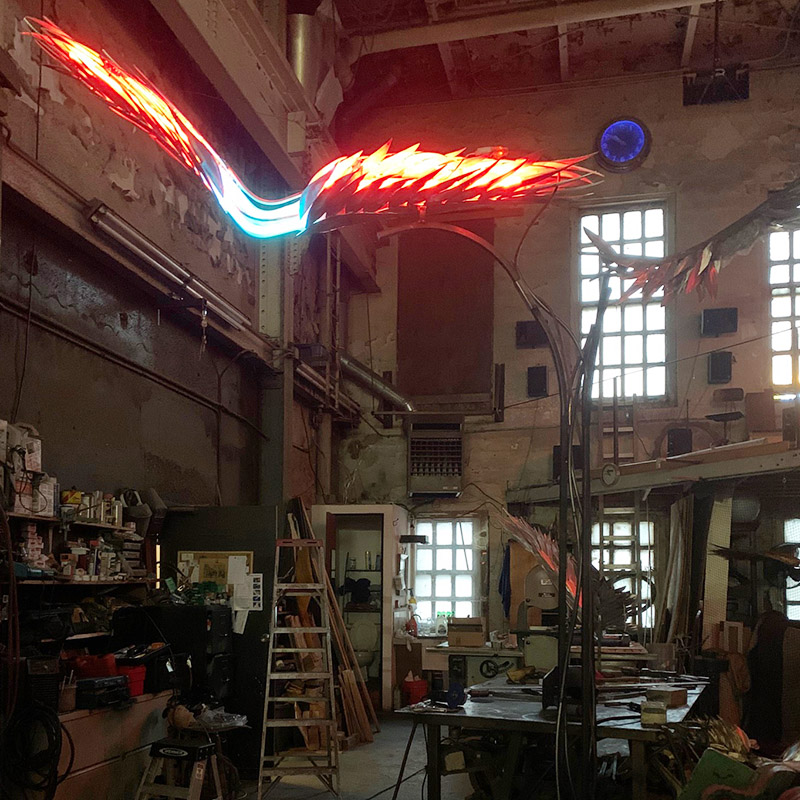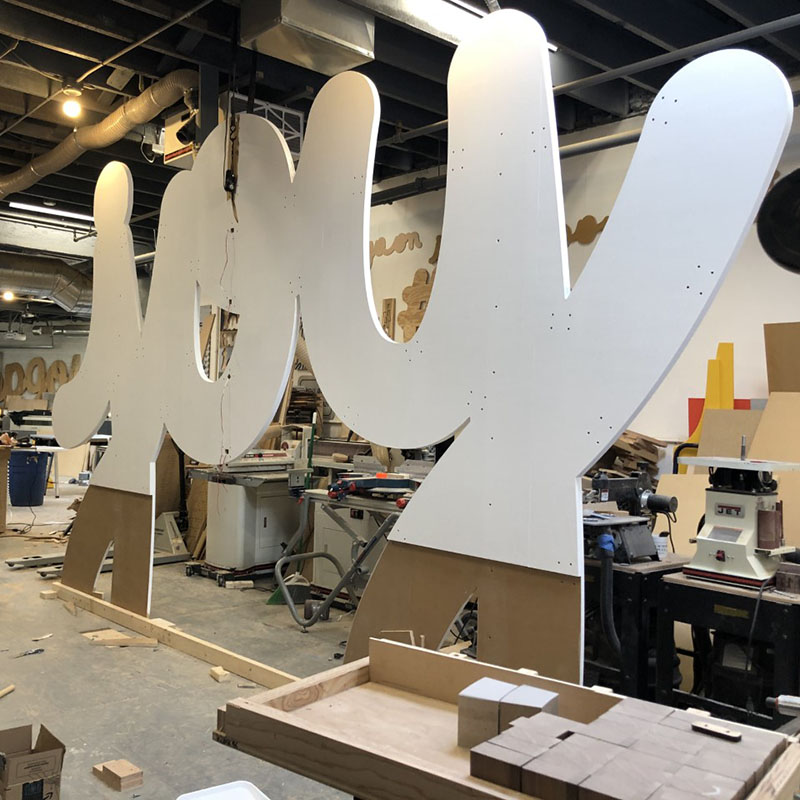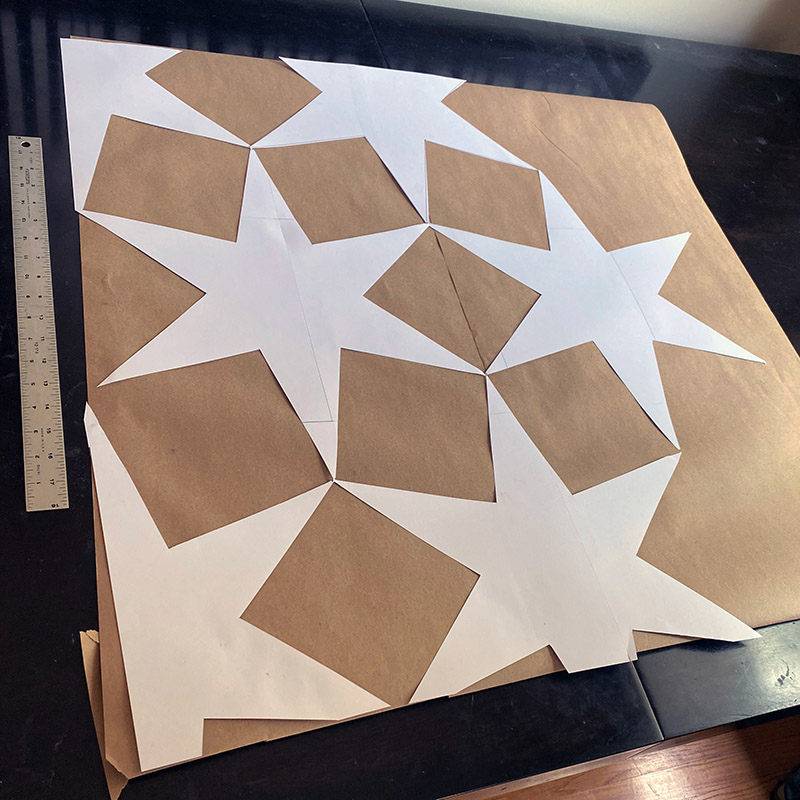 "Hope and joy are my favorite holiday words," said Hoffman, an artist-designer and custodian of the You Are Beautiful project. "It's about spending time together, looking at all the ways we have to celebrate, and creating a piece into a scale where it would have that moment of awe."
His challenge? Choosing joy over hope. "I love both words. But hope only has one "p" stem and joy is really nice because it had two big feet at the ends of it and joy won out."
Based on Hoffman's cursive handwriting, the installation of aluminum and outdoor plywood will have a running LED light on the outside edges. While it looks like a single strip, it's made of 6,250 LED modules within the strips. "We try to make things look really simple and elegant even though they're pretty complex."
Envisioning a 35-foot tree with hundreds of stars prompted Woodford to study buildings outside his apartment and to cut out paper stars of various sizes to determine the project's scale. "It felt whimsical in the moment," said the Design Museum of Chicago's founder and executive director. "It felt like the best place to start."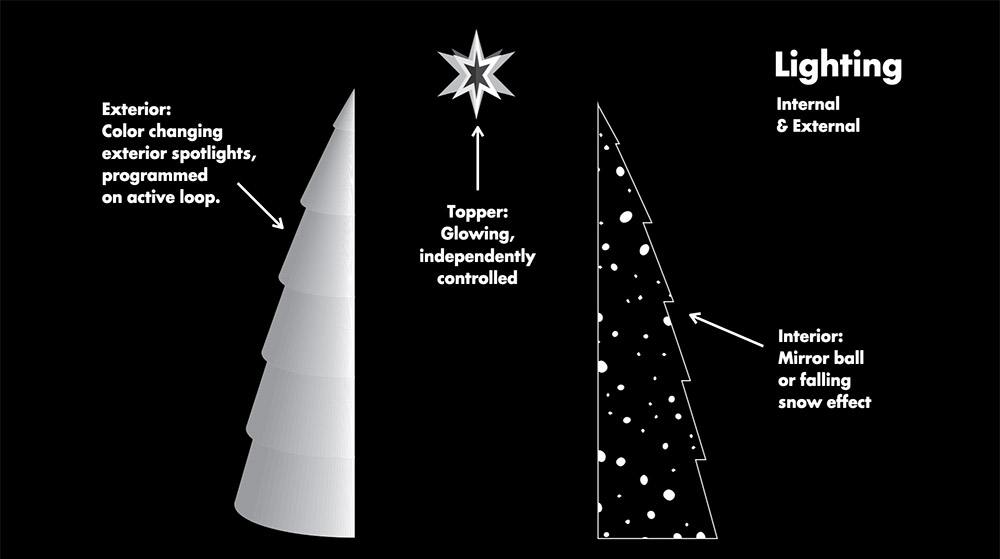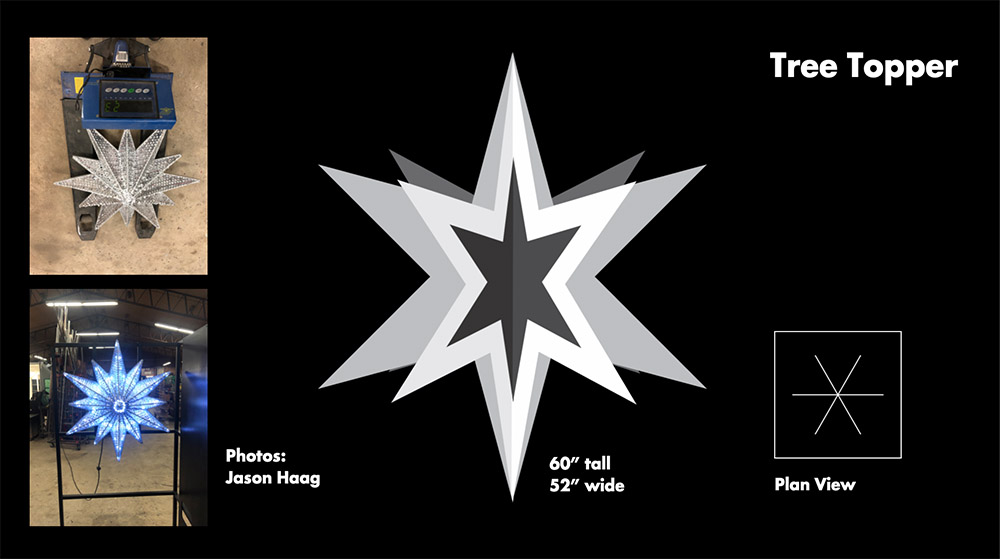 The tree, topped with a 5-foot-tall Chicago star, is made of stacked rows of mirrored and matte-finished stars. Each row is affixed to a circle of varying diameters to create a cone, with stars loosely attached so they move with the wind. "Mirrored stars will reflect everything surrounding the tree, including the people you came with...I love that you'll be able to see yourself in it."
Woodford, known for murals and exhibitions, said the Pride & Promise tree is a first and "full of hope for the future that we really need right now. It's also something that's for Chicago. What's more Chicago than the star?" Young hoped to catch the spirit of flying and flight when he created glowing birds with metal wings that could swoop down from the sky, rustling tree leaves.
"Each piece takes about a month to make. I go through positioning each feather and repositioning until I feel it's right," said the artist, who works in aluminum, bronze, stainless steel, and light. "I make the neon that lights the birds' feathers as well. I have a neon shop in my studio," he added. "To my knowledge, there are no forms of lighting I haven't used."
Young, who specializes in public sculpture and light-based works that can be found in the Smithsonian National Air and Space Museum and at major corporations, said his challenge involved "creating a stand for each wing that enabled the piece to float. I'm really happy with the way they worked out."
Don't miss these and other inspiring installations at Lightscape. Get your tickets today. chicagobotanic.org/lightscape