Tuesday, September 17, 2019
10 a.m. – noon or 6:30 – 8:30 p.m.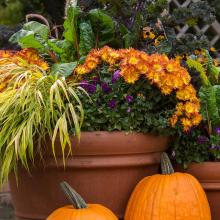 Take a Garden walk to view the Garden's fall containers. Then create a cool-season mixed container with a variety of plants suitable for a full-sun or partial-shade location. Your container may include annuals, perennials, herbs, decorative foliage, cool-season vegetables, ornamental grasses, a decorative vine, and gourds. Please bring gloves.
Kathryn Deery, Chicago Botanic Garden
Classroom 4, Learning Center