Fabulous Fall Foliage and Flowers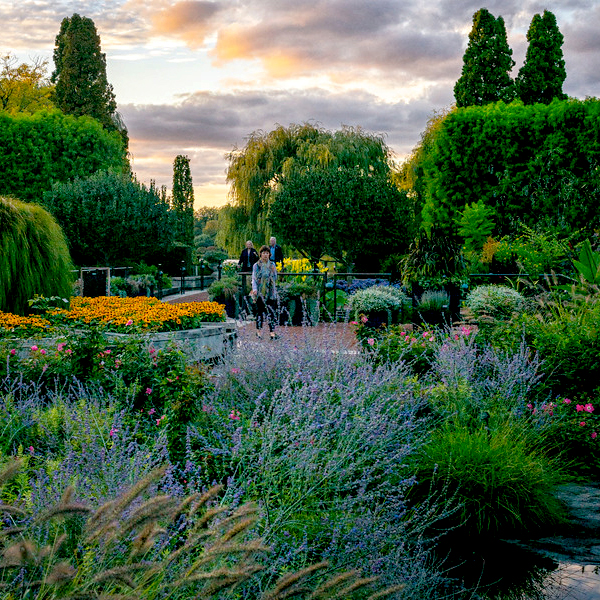 As we move into autumn, the Garden's floral fireworks are something to behold. Thousands of annuals are putting on a show throughout the display gardens. That's in addition to the trees, shrubs, and vines that will soon don yellow, red, and russet cloaks. The 15-acre Dixon Prairie features more than 250 species of native plants, including richly colored late bloomers like ironweed and goldenrod as well as the airy seedheads of switchgrass and big bluestem. It's time for a leisurely stroll to see the changes taking place each week.
It wouldn't be fall without chrysanthemums. Near the Visitor's Center, striking Pumpkin Pie Orange mums rub elbows with Intenz Classic celosia, Japanese forest grass, asters, Autumn Colors black-eyed Susan, Prince fountain grass, violas, ornamental cabbages, and coral bells.
Saffron crocus, Fordhook Giant Swiss chard, Flamingo Pink mums, and Strawberry Blonde calendula share the spotlight in the Graham Bulb Garden with 120 blue-flowered Mystic Spires Improved salvia, a pollinator and hummingbird favorite. The Helen and Richard Thomas English Walled Garden boasts more than 20 types of mums, Finesse verbena, and many popular succulents.
Stroll across the bridge and into the Regenstein Fruit & Vegetable Garden, where hundreds of mauve and blue ornamental cabbages, onions, radishes, red and green leaf lettuce, and spinach grow with Natacha chicory, Dragon carrots, Karina peas, Candy Orange snapdragons, and Bright Lights Swiss chard.
Sunset Kiss calibrachoa, Mega Caramel heuchera, ferns, and primulas crank up the color and texture outside the Regenstein Learning Campus. A whopping 1,290 Ruby Ruby rudbeckias are the highlight in the Heritage Garden, where their double daisy flowers attract migrating monarch butterflies. Watch for other butterflies and honey bees at the spiky flowers of Fairy Queen salvia, Disco Red marigolds, and Monaco Orange snapdragons.
The Grunsfeld Children's Growing Garden is a delight with more than 500 violas, including Ruby & Gold Babyface, Sunrise, and Delta Cool Water Mix. Their tiny abundant flowers join purple, red, and orange ornamental peppers, Golden Sweet peas, and tricolor sage. The Model Railroad Garden: Landmarks of America features trains running on 1,600 feet of track. There, you'll find Mauve Swan River daisies, Gandalf and Hobbit crassula (jade plants), Chick Charms sempervivum, Molten Lava oxalis, and mesclun mix lettuce.
There's so much more we could describe to entice you—on Evening Island, the Esplanade, the Krasberg Rose Garden, and the spectacular Circle Garden—but why not simply come and see for yourself.