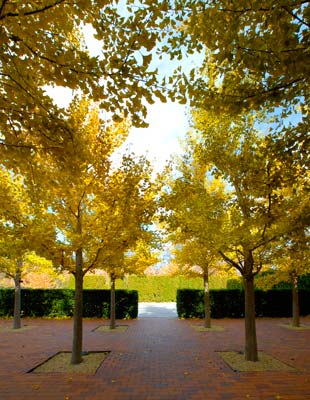 Fall is a glorious time to visit the Garden! Not only are the annuals, perennials, vines, trees, and shrubs at the peak of their growth, but each individual garden has been planted with extra horticultural "wows," enhancing plants that are still in bloom. Don't miss this cool-season tribute to fall color!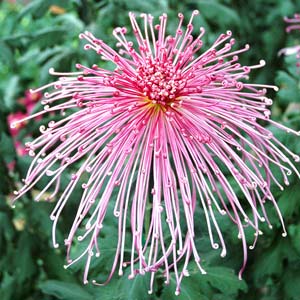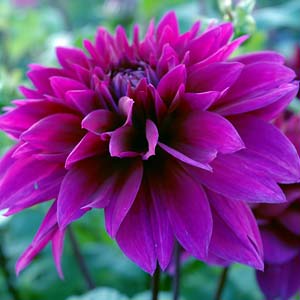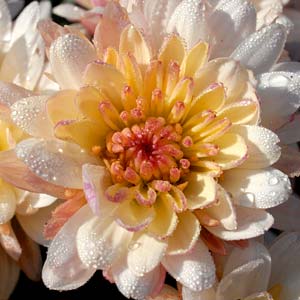 Welcoming beds at the Lake Cook Entrance and Gatehouse feature asters highlighted by bronze daisy mums. The overhead hayrack on the Greene Bridge, a fall Garden tradition, will be filled in October with Vernal Falls, a cascading bronze mum. Stone walls on Malott Japanese Garden feature cascading white Snowfall mums and yellow Megumi mums, both anemone types.
Heritage Garden contains 27 large mum ball containers featuring Atomic Orange and Babylon Bronze, accented with trailing silver licorice plants. Framing the Esplanade waterfront are 34 mum ball containers with Castor Yellow, Flamingo Pineapple, Harvest Bronze, Stellar Red, and Maia Coral mums. More than 2,300 cuttings were used to create this display.
Under the elm trees sit 48 mum ball containers created with 2,500 plants of Emberglow Orange. "The mum balls are always a spectacular show," said Tim Pollak, outdoor floriculturist for the Garden. "It is a treat to see the large containers of autumn colors, especially when the leaves of the Elm trees turn yellow."
The Circle Garden has been enhanced with mums, asters, cabbage, and kale, while the Crescent shines with 1,380 red, yellow, and orange mums. The randomly planted varieties include Tabitha, Bedazzled Bronze, and Olga Yellow mums.
In the Regenstein Fruit & Vegetable Garden, 1,300 colorful Swiss chard plants include Flamingo Pink, Northern Lights, Orange Fantasia, Argentata, Five Color Silverbeet, and Rhubarb Red. Also, look for Redbor kale, Bronze Giant chrysanthemum, and Red Giant mustard. The entry beds herald the cool-season with Megaton cabbage under-planted with 1,300 plants of fragrant, Clear Crystal White sweet alyssum. Hanging baskets have been refreshed with pansies and kale.
The Bulb Garden holds surprises for all. New plantings feature red Minngopher chrysanthemums and Orange Duet violas tinged with purple and orange.
Evening Island's sweeping strokes of tone and texture can be admired from across the Great Basin or by walking right through the plants themselves. Grasses, roses, fall-blooming perennials with flowers, cones, seed heads, plants with giant foliage, blue asters, and bluebeards form rivers of color in constant motion when autumn winds blow.
There is no garden or natural area more at its peak in October than the Dixon Prairie. Save time for a special autumn walk through time and history in this natural landscape.
Experience thousands of golden moments this season!