Tomato Talk
A Full Season of Tomato-Growing Information
Health benefits and nutritious recipes for fresh tomatoes
Looking for a nutritious snack? Four ounces of fresh tomato has only 15 calories. That half cup provides 20 percent of the daily recommended amount of vitamin C and 15 percent of vitamin A. What it doesn't have: fat, sodium, or cholesterol.
Try these fresh tomato recipes as you begin to harvest tomatoes:
Green Bean and Cherry Tomato Salad with Herb Dressing
1 1/2 pounds slender green beans, trimmed, cut into 2-inch pieces
3/4 cup chopped seeded tomatoes
1/3 cup extra-virgin olive oil
2 tablespoons balsamic vinegar
2 garlic cloves, minced
1 teaspoon dried oregano
1/4 cup chopped fresh
Italian parsley
1 cup halved cherry tomatoes
Cook beans in large pot of boiling salted water until crisp-tender, about three minutes. Drain. Transfer to bowl of ice water and cool. Drain well. Place in large bowl.
Mix next five ingredients in small bowl; stir into beans. Season with salt and pepper. Garnish with parsley and cherry tomatoes.
Makes eight servings.
Rustic Summer Squash Galette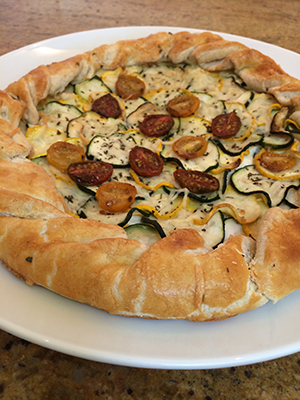 For the dough:
2 cups all-purpose flour
1 teaspoon kosher salt
1½ sticks chilled, unsalted butter, cut into pieces
¼ cup ice water (or more, as needed)

For the filling:
1 zucchini, cut into ¼-inch discs
1 yellow squash, cut into ¼-inch discs
1 tablespoon fresh thyme, finely chopped
2 teaspoons fresh rosemary, finely chopped
Salt and pepper
½ pint cherry tomatoes, halved
1 tablespoon olive oil
¾ cup ricotta cheese
1 teaspoon fresh lemon zest
½ cup shredded Parmesan cheese
1 large egg, beaten
Flour for dusting
For the dough:
Put the flour, butter, and salt into a food processor and pulse to combine. Mixture should resemble course meal with a few butter chunks remaining. Transfer mixture to a bowl and drizzle in ¼ cup ice water. Mix with a fork, adding more ice water by the tablespoon as necessary, just until the dough comes together. Lightly knead the dough until there are no more dry spots, but do not overwork. Wrap the dough in plastic and chill for at least two hours.
For the filling:
Preheat oven to 400 degrees. Line two baking sheets with parchment paper and lightly grease. Place the zucchini and yellow squash coins on one pan and sprinkle with half of the thyme, rosemary, salt, and pepper. Roast the squash until tender, seven to ten minutes. Remove and let cool. Toss the tomatoes with the olive oil, salt, and pepper, and put face up on the other baking sheet. Roast in the oven until lightly browned, 15 to 20 minutes. Remove and let cool.
To assemble:
Roll out the dough on a lightly floured surface to about a 12-inch diameter round and about 1/8-inch thick. 
Combine the ricotta and lemon zest, and spread the mixture over the galette, leaving a 1-inch bare strip along the edge of the dough. Shingle the zucchini and squash over the ricotta, then scatter the tomatoes over the squash. Sprinkle the Parmesan and remaining thyme and rosemary over the galette. Bring the edges of the dough up and over the filling, overlapping as needed, to create a border of about 1½ inches.
Brush the edges with the egg wash, and bake until golden brown, about 15 to 20 minutes or until edges are golden brown. Remove galette from oven and let cool for five to ten minutes on a cooking rack. Cut galette into desired pieces and serve.

Recipe by Michael Schulte
Executive chef, Culinary Landscape, Chicago Botanic Garden
Roma Tomato Bruschetta with Purple Basil
2 cloves garlic, minced
2 teaspoons balsamic vinegar
½ teaspoon kosher salt
¼ teaspoon fresh cracked pepper
½ cup fresh purple basil, chopped
3 tablespoons olive oil
6 roma tomatoes, diced
2 garlic cloves (to rub on bread)
8 slices Italian bread, sliced about 1-inch thick
2 tablespoons grated parmigiano-reggiano cheese
Whisk together the garlic, balsamic vinegar, salt, pepper, and basil. Drizzle in the olive oil and whisk. Add the tomatoes, and let the mixture sit for 20 minutes at room temperature. Toast the bread. Rub one side of each slice with the whole garlic cloves. Place the slices on a cookie sheet and top them with the tomato mixture. Sprinkle the cheese on the slices and broil them until the cheese melts.