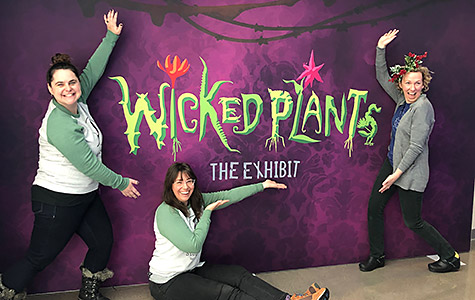 Conservation scientist Becky Barak, Ph.D., and assistant professor at the University of Michigan-Flint, Rebecca Tonietto, Ph.D., designed and implemented a science communication workshop at Bell Museum at the University of Minnesota.

The workshop covered multiple techniques for communicating science, including using a storytelling approach to share science in an effective and memorable way.

Drs. Barak and Tonietto are among the co-founders of Plant Love Stories, a project that collects and shares stories about the ways in which plants affect our lives. While at Bell Museum, Barak and Tonietto partnered with museum experts for a spotlight science event at the Museum. The event connected Plant Love Stories with Wicked Plants, a visiting exhibit based on the book of the same name by Amy Stewart. This public-facing program included a live storytelling event featuring student speakers, table activities, and an opportunity for museum visitors to share their plant love stories.

"Stories help build connections between people. We were excited to help workshop participants communicate their science though stories" said Barak.

The events were held December 13 & 14 at the Bell Museum in St. Paul, Minnesota. The Wicked Plants exhibit continued through January 5. Barak and Tonietto are both graduates of the Plant Biology and Conservation Program, a collaboration between the Chicago Botanic Garden and Northwestern University.