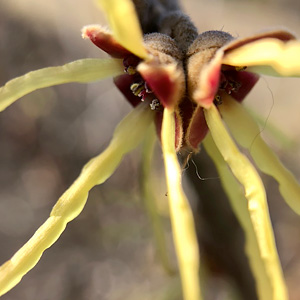 As gardeners develop an appreciation of native trees and shrubs, many become more willing to try these plants in their own landscapes. The unusual features of the witch hazel family make it an excellent choice for such adventurous gardeners. Witch hazel offers yellow and red fragrant flowers blooming at unconventional times; the ability to thrive in moist, claylike soil; good fall color, and tolerance of sunny or shady conditions.
Witch hazels can be seen growing in the wild in colonies along streams, in lowlands, and along riverbanks from Wisconsin and Quebec south to the Gulf Coast states. They have large, simple, toothed leaves on multiple, crooked branches that form a rounded outline in the landscape.
Witch hazels are quite effective as backdrops, hedges, and screens or as specimen plants in more open areas. Their upright-spreading shape encourages the underplanting of ground covers or early spring bulbs. Witch hazels tolerate city conditions better than most native shrubs.
While witch hazels can be showy in three seasons, certainly their fragrant flowers that bloom in fall and winter are of primary interest. Some can be the earliest shrubs to bloom, with their blossoms emerging while the brown seed capsules from the previous year are still attached to the branches, while some can be the latest, waiting until October.
Seasons of Blooms