Garden centers are packed with delightful goodies to adorn flower beds and borders. But sometimes it's simply fun—and money-saving—to create your own garden art. Can't paint a picture or draw a straight line? No problem. If you garden, you are an artist. After all, you "paint" your garden with plants and flowers.
There are plenty of unused household items that can be transformed into pots, plant stands, trellises, and more. It just takes a little imagination. You may not have to look beyond your closets, shelves, basement, attic, or garage for things that you can transform into outdoor art. And there are always resale stores with plenty of inexpensive items.
Paint It
If you have old, tired-looking plant pots, arbors, or patio furniture—resin, metal, wood, or plastic—give them a new life with durable paint. The local hardware or big-box store has sprays and cans of paint designed for outdoor use. Many paints now come in an assortment of wild colors—mauve, purple, yellow, red, violet, and blue—and include primer, so only one coat may be needed. This allows you to create your own special color theme to tie everything together. For example, if you paint your patio furniture blue, consider using blue on pots, trellis panels, or arbors.
Reflect It
Have an old mirror that you're no longer using? Secure it to the side of a wall or fence and let it reveal other parts of the garden. Placed in a shady site, the mirror will lighten things up.
Group It
Not using those old colorful bowling balls? Recycle them as garden globes and place them so the finger holes are on the bottom. Stagger them in a border or in a row alongside a path. Place some on birdbath pedestals to add height. Unlike glass garden globes, you won't worry about them shattering.
Recycle It
How about those old salt-and-pepper shakers or knick-knacks? Free them from the china or kitchen cabinets and repurpose them as container ornaments. Remove the stopper in the bottom and put a wooden dowel rod in the hole, gluing it in place. Pop the new ornament-on-a-stick in a pot or amongst the flowers. Resale shops are a great source for these inexpensive, winsome items.
Drill It
Have an old bundt cake pan or copper gelatin mold that you never use? Drill a few holes in the bottom, spray paint it a fun color, plant it with annuals or succulents and place it on your patio table for a fun look. Just about anything can hold plants—a pan, coal scuttle, watering can, ice bucket—as long as it has drainage holes in the bottom.
Stage It
When that old wooden ladder has seen better days, recycle it as a plant stand in the garden. Paint it and plant some flowering vines at the base to scramble up.
Repurpose, Recycle, Reuse
There's a fine line between fashionable or whimsical outdoor art and what some might consider strange odds and ends plunked down among the plants.
Get crafty
Paint your garden with your own creations. Classes at the Garden's Regenstein School can teach you to make beautiful mosaics like these below made by Gloria Ciaccio.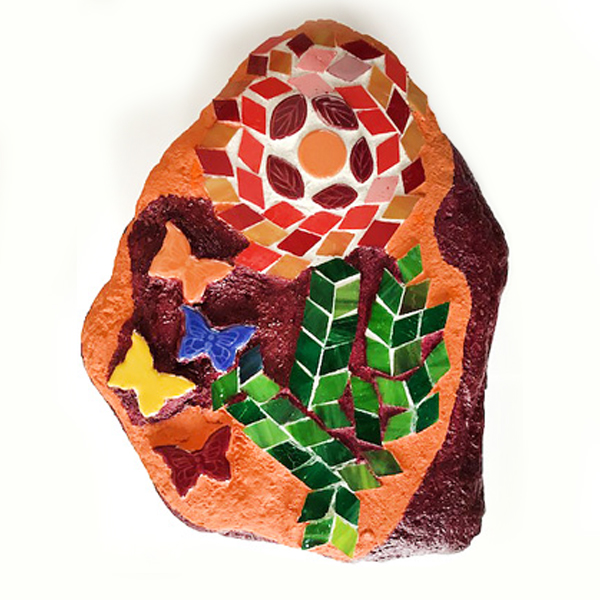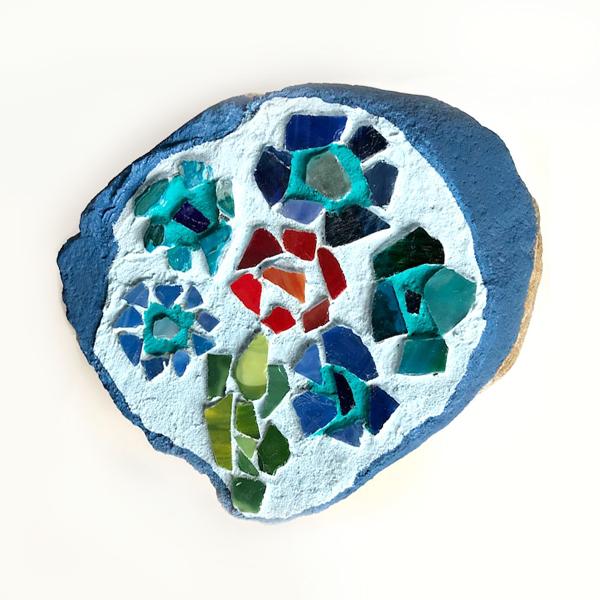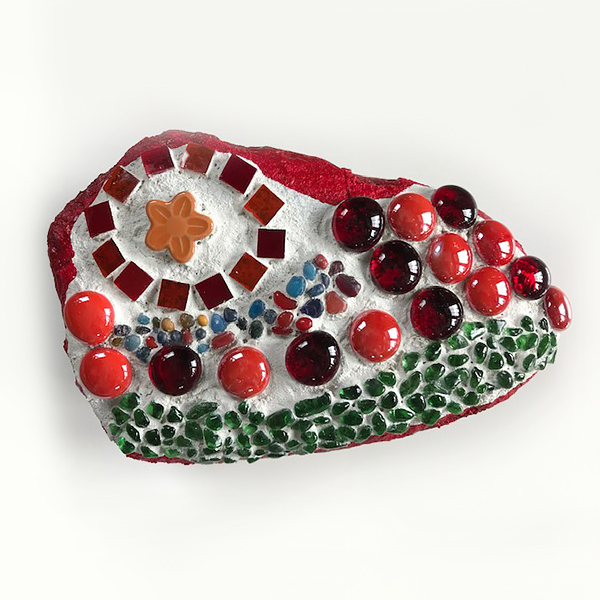 ---
Nina Koziol is a garden writer and horticulturist who lives and gardens in Palos Park, Illinois.