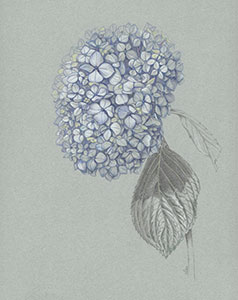 Annual Student Botanical Arts Exhibition
November 15, 2019 – January 5, 2020
Drawn from Nature is an annual botanical arts exhibition that features selected artwork by students and instructors of the Joseph Regenstein, Jr. School of the Chicago Botanic Garden. Learn about botanical art classes or the Botanical Art Certificate program offered by the Regenstein School.
Eligible Students
Open to all students in the botanical arts programs offered through the Joseph Regenstein, Jr. School of the Chicago Botanic Garden that have participated in at least one botanical art class at the Regenstein School within the calendar years of January 2016 – August 2018.
All students must provide an email address for future show communications
Submission Requirements
Each student may submit up to 3 pieces only.
Framed artwork size is not to exceed 22" x 28"
Acceptable media is an original work in pen & ink, watercolor, pencil, acrylic, oil, carbon dust, or pastel and must be a botanical subject or landscape
Please note that submissions are subject to a selection process, not all entries will be chosen or displayed.
Registration and Submission Procedures
All student artists will need to register and submit entries for the 2018 show by Monday, July 30, 2018. No entry materials will be accepted after this date.
There is no fee associated with registration
Please do not submit original art work for the selection process; submissions should be in the form of a color photocopy, high quality digital photograph, or digital scan of the work. Please remove your work from the frame and glass before photographing. The photograph of your artwork will be used in the 2018 online gallery, so please provide thoughtful composition and a high-quality image.
Submissions may be submitted via post, email, or electronic form any time after registration, but no later than Monday, July 30, 2018.
Hard copy submissions may also be mailed to:

Chicago Botanic Garden
c/o Carissa Ilg
1000 Lake Cook Road
Glencoe, IL 60022

Please have all pieces notated for submissions as follows below.
No entry submissions will be returned.

Your name
Title of the piece
Botanical name, if applicable
Media
Actual size as framed
Contact information (phone and email)
Assessments are made in mid-August and students are notified via email by early September.
Once artists confirm their accepted submission(s) no changes to submission information can be made.
Installation Requirements
All pieces for the show must be framed and wired for hanging; D-rings are preferred.
Saw-tooth hangers will not be accepted.
All frames must be clean and in presentation condition for the show.
No frames with arms on the back for table displays or frames that are ornate or metallic will be accepted.
Frames should be simple in design and mats neutral in color.
All art must be labeled on the back of each frame as follows:
Exhibition artwork must be delivered to the Joutras Gallery on Monday, September 24, from 9 a.m. to 7 p.m. If you cannot bring in your work personally, please make arrangements to have this done for you.
Selling Guidelines and Closing Procedures
Please inform us before the Student Botanical Art Exhibition opening whether you are interested in selling your art piece and we will provide you with the contact information of interested buyers.
Any piece sold must remain in the gallery until the closing of the exhibition. 
All pieces should be picked up directly from Joutras Gallery on Monday, October 22, between 9 a.m. and 6 p.m.
Artists will be solely responsible for connecting with the individual buyer to determine the purchase and transfer of their work. Any purchaser pick-ups after the exhibition closes will be up to the artist to arrange.
The Chicago Botanic Garden and/or student docents will collect buyer inquiries and provide the artist with contact information so the artist can negotiate the sale. Potential buyers will be directed to the Regenstein Information desk when a docent is not on the premises.
All artists are responsible for arrangements to pick up their submissions in a timely manner. If artwork is sold independently, artists or their representative should be present on the designated artwork pick-up date if a buyer is picking up a sold piece at this time.
The primary purpose of the Student Exhibition is to provide both a unique opportunity and a quality space for students of all levels to present their work. Students will have the opportunity to docent the exhibition on a volunteer basis.
Use of Images
Any image submitted may be used for Chicago Botanic Garden marketing and promotional purposes. This use may include publications, printed materials, advertisements, or electronic media. Copyright and all other rights remain that of the artist.