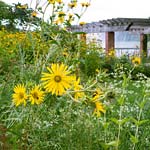 Why Best for the Midwest is Best for the Planet
Think twice before you plant those flowers! Are they a native species that promotes healthy habits for plants and animals, or could they be an invasive species? The Chicago region has a diverse and naturally rich range of ecosystems—wetlands, prairie, woodlands—that have been changed over time by human activities like landscaping. In urban environments like the Chicago area, landscaping with invasive plants has contributed to natural areas becoming fragmented and disconnected, causing natural processes to break down. Active restoration and land management can protect biodiversity and help conserve and restore the health of natural habitats for the people, plants, and animals that depend on them.
Native and Invasive Species
Native plants are those flowers, grasses, shrubs, and trees that are indigenous to a geographical region of North America prior to European settlement. Invasive species like buckthorn, reed canary grass, and garlic mustard are those that, when introduced to a new location, either intentionally or accidentally can spread prolifically, competing with native species for resources and eventually dominating the landscape. Some invasive species were, or still are, popular ornamental plants used in landscaping.
Because plants form the base of our food web, these invasives potentially can wipe out not only native plants, but the animals that rely upon them. Much of the restoration work in our area focuses on getting rid of these invaders so that we are not left with a monoculture. Much of our research in the Garden and in our Midwest region is studying how habitat degradation, invasive species, and other disturbances change plant and animal diversity and processes. One finding here at the Garden's McDonald Woods revealed that replenishing diverse native plant species actually helps lock CO2 into the soil, rather than allowing it, and other greenhouse gases, to escape into the air.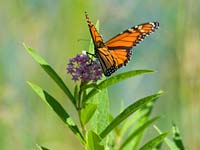 Choose the Best Plants for the Midwest
Help restore native habitats by choosing to landscape with native plants best suited to our region. Landscaping in the likeness of nature can bring many benefits. Being naturally suited for an area, native plants require minimal maintenance and watering once established. Native landscaping practices help to combat global warming by reducing carbon dioxide (CO2). How? One way is through limiting the use of lawn equipment. In addition, native plants help to reduce the amount of CO2 in the atmosphere by taking in CO2 and storing the carbon in the body of the plants, roots, and soil.
Many native plant species are pest-resistant and perennial or self-seeding biennial plants that return year after year. In general, landscaping with native plants can help you save time and resources while creating a beautiful lawn or garden. When it comes to planting flowers, creating floristically diverse areas can attract birds and wildlife in search of shelter and food. For example, sunflowers attract a variety of songbirds, while black-eyed Susans attract butterflies.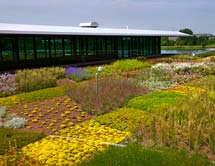 Finding Inspiration at the Chicago Botanic Garden
The Daniel F. and Ada L. Rice Plant Conservation Science Center features a green roof that demonstrates the Garden's commitment to plant conservation. Combining practical benefits with aesthetic appeal, the Green Roof Garden serves as a living laboratory for staff and classroom for visitors. The Ellis Goodman Family Foundation Green Roof Garden South features plants that are indigenous to the Chicago area and the United States. The Josephine P. & John J. Louis Foundation Green Roof Garden North displays plants that are great for green roofs as well as native plants that can be used in green roofs.
The Dixon Prairie is a re-creation of six distinct prairie ecosystems that once existed in the Chicago area. Walking through these prairies, visitors see that plants share space with a wide variety of wildlife, which make wonderful and interesting sounds, shapes, and sights in the garden. With more than 300 plant species attracting diverse animal species such as tiny spiders and large migrating birds, the prairie is an example of how biodiversity promotes healthy plant, animal, and insect populations.