Practical, Educational, Beautiful
The Daniel F. and Ada L. Rice Plant Conservation Science Center features a green roof that underscores the Garden's commitment to plant conservation. Combining practical benefits with aesthetic appeal, the Green Roof Garden also provides an opportunity for research and education, serving as a living laboratory.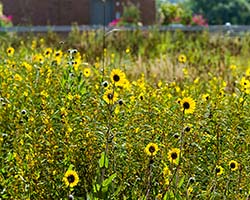 The Plant Science Center's Green Roof Garden serves as an outdoor classroom for thousands of Garden visitors annually; the 16,000-square-foot green roof is accessible to the public via a grand staircase, and an overlook with interpretive panels educates visitors about all aspects of rooftop gardens.
Two distinct areas serve specific functions: the Ellis Goodman Family Foundation Green Roof Garden South features regional and national native plants, many of which are not currently used as rooftop plants; the Josephine P. & John J. Louis Foundation Green Roof Garden North features a mix of plants known as good green roof plants, plus native and exotic plants that have potential for green roof use. Generally, the plants are sun loving, drought tolerant, have a shallow root system, and can withstand windy conditions.
Check out our blog articles on the green roof garden.
How the Science Works
Green roofs are becoming increasingly popular, but little research has been done to determine which plants are best suited for this extreme environment. The Garden's evaluation of plants atop the Daniel F. and Ada L. Rice Plant Conservation Science Center is the largest, most encompassing such trial in the country.
Approximately 40,000 plants representing 200 different species and cultivars are currently under evaluation within three different soil levels (four, six, and eight inches deep) on the 16,000-square-foot green roof. All of the plants are scientifically evaluated for effectiveness in the semi-intensive roof garden environment.*
This living laboratory is outfitted with equipment to monitor soil moisture, wind and light levels, and temperatures in the various layers of the plantings. Scientists monitor plant health, aesthetics, and survivorship of plants, ultimately recommending plants that are low-maintenance, absorb water and nutrients from rainfall (lessening runoff into storm sewers), and cool the building below (lessening energy use), while providing an aesthetic retreat.
Plants' performances in 30 characteristics are tracked for a minimum of four years before staff assess their suitability. Results are shared through the Garden's Plant Evaluation Notes, a publication distributed broadly to gardeners and horticultural professionals, and through horticulture and gardening magazines and educational classes and symposia. Successful plants will be promoted to the green roof industry, both locally and nationally, to ensure that the most appropriate and sustainable plants are used for this unique environment.
How the Beds Work
The planting beds consist of several layers, beginning with a waterproofing layer, two layers of hard foam insulation, a root barrier fabric, a drainage tile to allow water to drain away from the roots, a filter fabric to keep the growing media from clogging the drainage holes, and growing media as the top layer. Plants are grown in a semi-intensive media—a gravel-like soilless mix especially formulated for roof gardens. Lighter and more porous than soil, it allows water to drain quickly, reducing the weight load on the roof.
Making it possible
The Green Roof Garden at the Plant Science Center was made possible by the generous support of the Ellis Goodman Family Foundation and the Josephine P. & John J. Louis Foundation. Operational support was provided by the Woman's Board of the Chicago Horticultural Society facilitates research into which plants are best suited for growing in green roof gardens throughout the Midwest and in similar climates worldwide.