Unexpected Signs of Spring
Sometimes spring just doesn't want to arrive. Sometimes it can't wait to burst forth with flowers and foliage and make everything look fresh and new. A delayed spring, while frustrating to some, can give us time to appreciate some things that might otherwise be overlooked by the flashier signs of spring.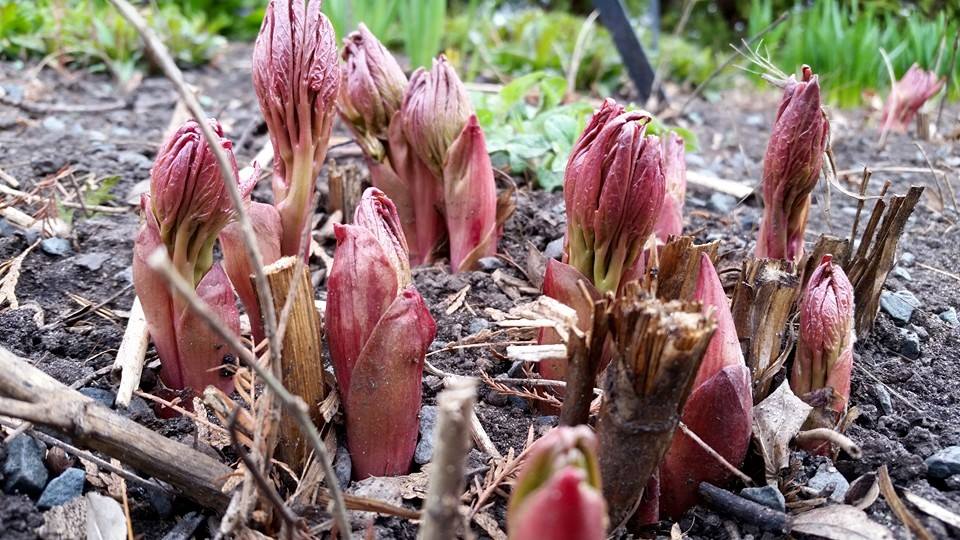 Red Charm peony buds (Paeonia 'Red Charm') look like alien asparagus pushing their way out of the ground in the Farwell Landscape Garden.
Cooler temperatures may slow growth for most plants, but they also allow for richer colors to develop. These peony stems have a deep burgundy color that is highly ornamental in an otherwise empty bed. Eventually these will grow out into large bushy plants with showy red flowers, but for now we can enjoy the unique form of the new growth.
Many geranium varieties also feature beautiful new growth in the spring. Geranium 'Blue Sunrise' in the Dwarf Conifer Garden has gorgeous bright green foliage in the summer, but in the spring it has stunning orange and red new growth that almost looks like flames coming out of the ground. Having plants with vibrant new growth can give your garden a whole new dimension. Imagine how bright blue Scilla siberica would stand out against the geranium, or how lush a planting of soft pink Chionodoxa lucillae 'Pink Giant' would look among the hellebores. It's almost as though you're getting two different plants for the price of one when you have such distinctive spring growth.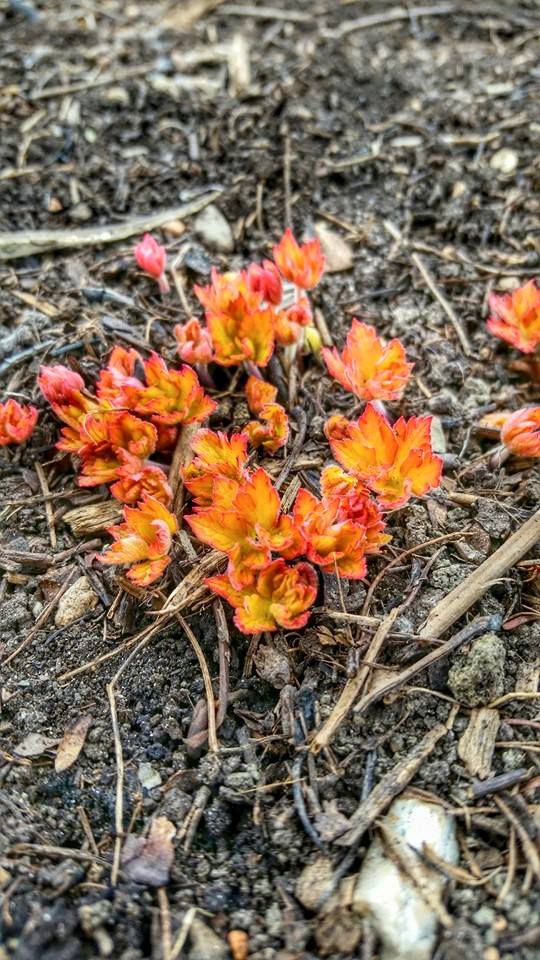 New growth doesn't have to be dull! These Geranium 'Blue Sunrise' have new growth that looks like flames coming out of the ground.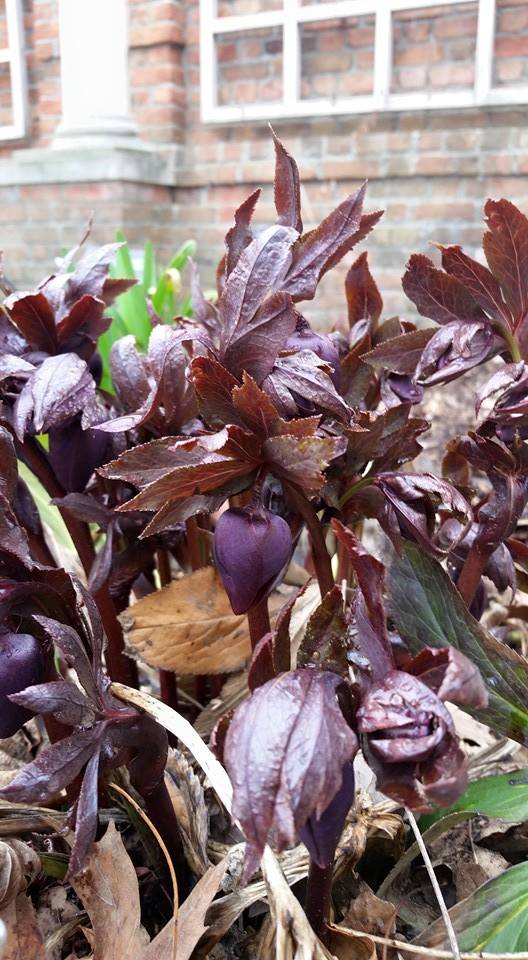 A Helleborus x hybridus 'Blue Metallic Lady' in the Thomas English Walled Garden sports new growth that is almost showier than its flowers.
Of course, since it is spring, there are plenty of flowers to see. Many people associate spring with bulbs, but there are some other unusual plants in early spring too. Petasites japonicus spends the summer looking like a rhubarb that has aspirations to take over the world. However, in the spring, it graces us with patches of inflorescences that look like bright green cabbages. Nestled inside of the "cabbages" are clusters of lime green flowers that will gradually elongate into a short spike of tufty white flowers. They're not the showiest flowers ever, but they have a clean, bright color that really makes them pop against the dark soil of the hillside in the Waterfall Garden.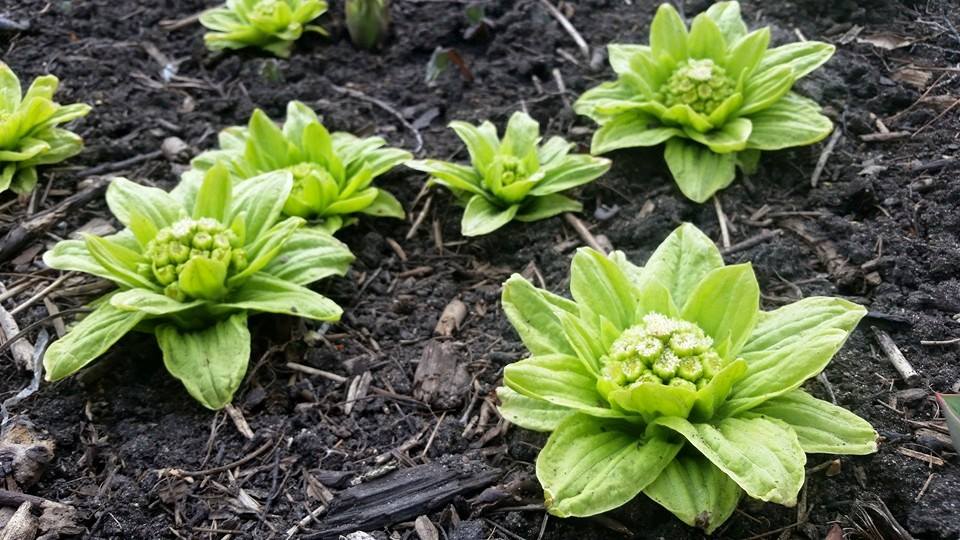 Petasites japonicus has rather unusual spring blooms.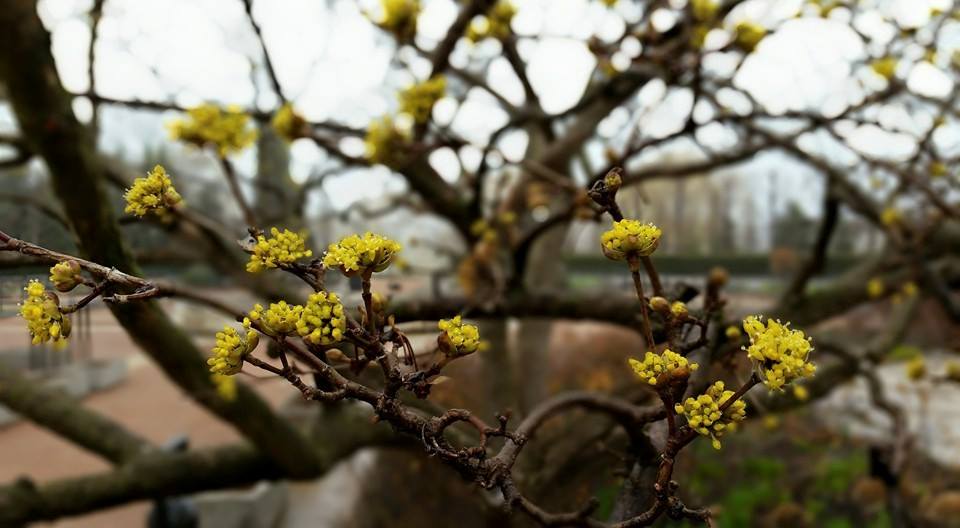 Cornelian cherry (Cornus mas) provides a gentle pop of spring color during a sometimes dreary time of the year.
And finally, the cornelian cherry trees (Cornus mas) in the Heritage Garden provide a soft glowing yellow that is a much gentler burst of color than the more common forsythia that can sometimes be almost gaudy with the intensity of its colors. During a time of year when so much is happening, it's sometimes nice to have plants that allow your eyes to rest and regroup before moving on to the next batch of vibrant, eye-catching color.