If you ever find yourself grumbling over the dandelions that make their home in your lawn, or staring angrily at the purslane popping up in your vegetable garden, I have a suggestion for you: make a salad.
You may be familiar with the concept of foraging for weeds. I first became interested in the subject in college, when I realized that free food was everywhere once you knew where to look. (The reality soon set in that most of this "free" food was actually growing on lawns and private property.) Whenever you forage weeds and wild plants you have to be careful that what you take isn't getting sprayed with herbicides—which is why I recommend only harvesting weeds from your own yard, or places you know have uncontaminated soil (and aren't sprayed). It's also very important to know exactly what you're eating. Sometimes weeds have look-alikes that can be upsetting to the stomach or downright deadly. Others, of course, you can easily recognize from a distance, like yellow wood sorrel.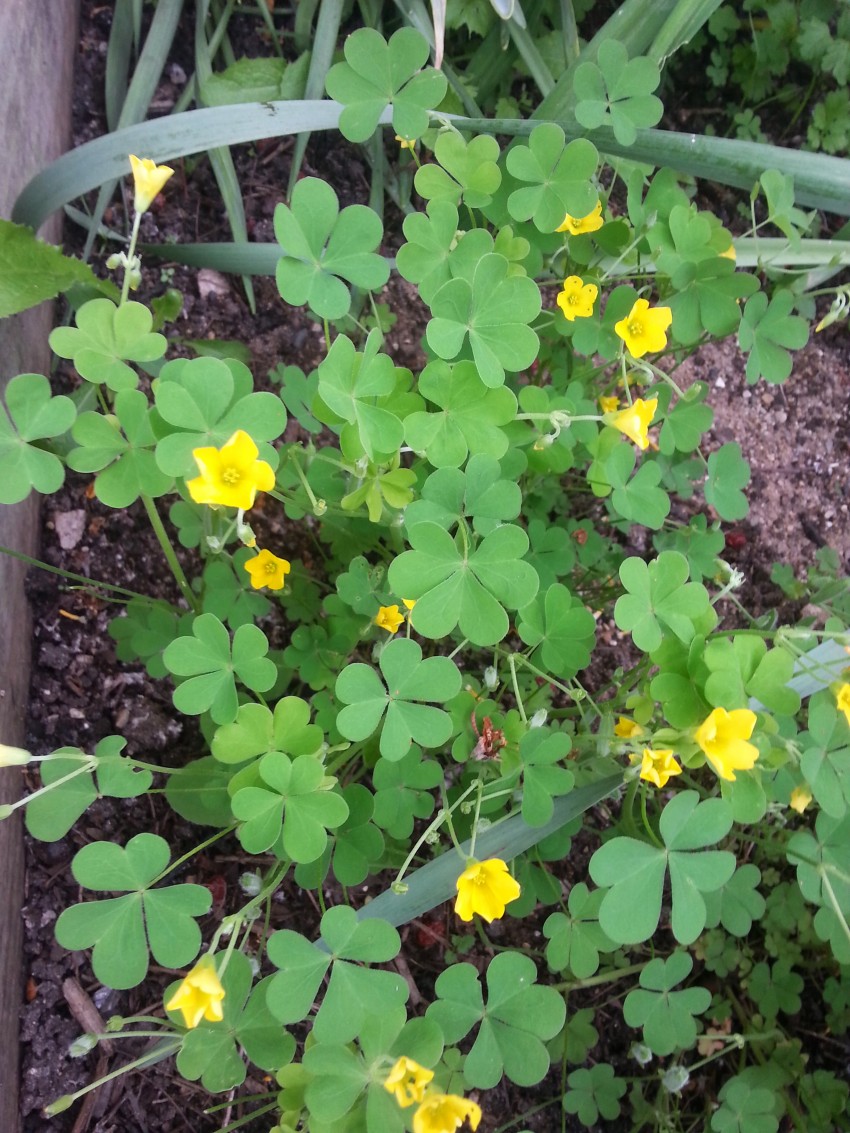 Great as a snack or a garnish, Oxalis is a tasty edible weed.
Oxalis stricta
Oxalis stricta, also known as yellow wood sorrel or lemon clover, is an annual weed that you can find anywhere…and everywhere. It spreads aggressively from its seedpods—which can explode on contact!
It only takes a brief sampling of the leaf to figure out why this weed is also called sour grass. The plants are full of oxalic acid, which is dangerous to humans in large amounts, but relatively harmless in small doses. The oxalic acid in the plant gives it a wonderful sour taste that makes for an excellent addition to salads. Oxalis grows commonly in lightly to heavily shaded garden areas. Look for them under plants like hostas.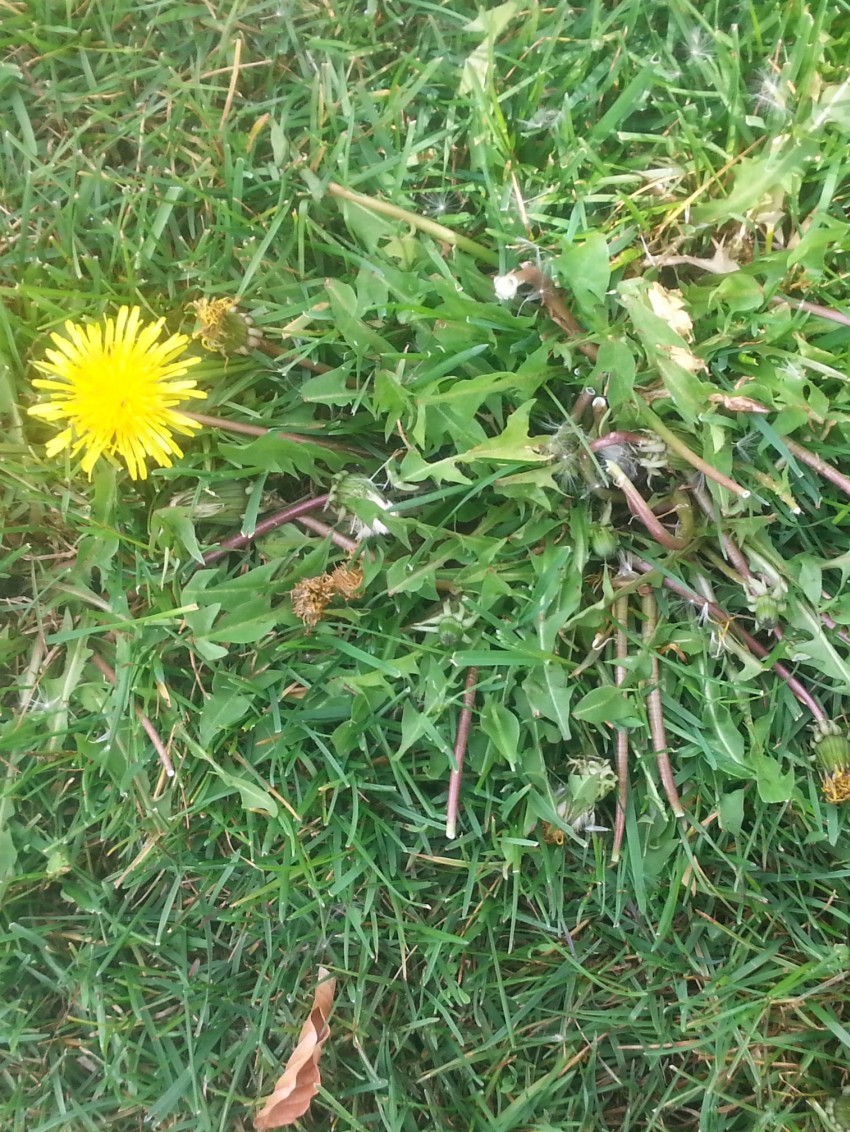 The long, lion-toothed leaves help identify suburban lawn villain Taraxacum officinale, but if you ever have a doubt, look for the aster-esqe yellow blooms.
Taraxacum officinale
Taraxacum officinale, or dandelions, are bothersome weeds, but they are truly "gourmet." Dandelions get their name from their toothed leaves which are reminiscent of lion's teeth, or as the French would say, "dent de lion."
In its long botanical history, the dandelion has been used medicinally, but also as food. Dandelion roots, leaves, and flowers are entirely edible. Roasted, the roots can make for a caffeine-free coffee substitute. The young leaves make for bitter but interesting additions to salads. The plants can also be deprived of sunlight until the leaves become pale, which will change the flavor of the leaves to make them more palatable. The flower buds can be fried and eaten, while the open blooms can be used to make dandelion wine!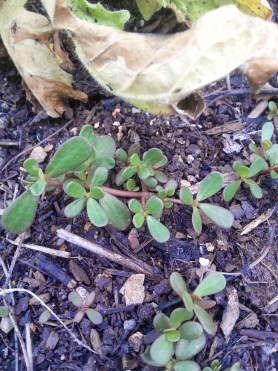 Keep an eye out for the  fairly drought resistant  Portulaca oleracea in areas where the ground tends to crack.
Portulaca oleracea
Purslane (Portulaca oleracea) is a weed that you can find in sunny garden areas. They have succulent, red to green, low-spreading stems with flat, paddle-shaped leaves and bright yellow flowers. Purslane actually has an ornamental relative called moss rose (Portulaca grandiflora), which have leaves that are more pointed than flat, and much larger flowers. Though they are also edible, why bother when you have purslane growing naturally? Look for purslane in sunny areas, particularly where the ground can get dry. Harvest purslane any time before the flowers appear, because they can become quite bitter after flowering. Purslane is also incredibly nutritious, rich in Omega-3 fatty acids, and high in Vitamins A, C, and E, as well as magnesium, potassium, and iron, just to name a few. Try it raw, or in a stir-fry!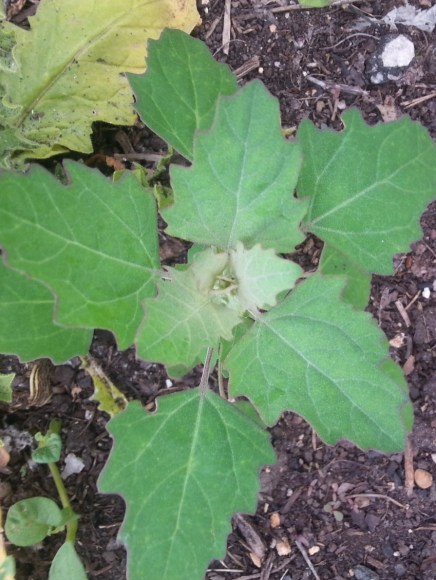 Chenopodium is an easy weed to scarf up while working in the garden.
Chenopodium album
Another common edible weed is Chenopodium album, also called lambs' quarters, or goosefoot. It will grow in sunny to partly shady areas and is high in Vitamins A and C. Like Oxalis, it also has high amounts of oxalic acid, so remember to enjoy it in moderation. I prefer to eat the young seedlings, which only have two to three sets of leaves. This makes for an easy snack while you're in the garden.
Steer clear of Chenopodium's southern cousin, epazote (Chenopodium ambrosioides or Dysphania ambrosioides). Native to Central America, South America, and southern Mexico, this weed can now be found on roadsides in North America as well. While epazote—whose long skinny leaves do not resemble a goosefoot—is used medicinally for a number of purposes, high doses can can cause severe dermatitis or allergic reactions. 
Tradescantia is more of a beautiful garden edible than a weed.
Tradescantia
As our final edible weed, I debated including Tradescantia, or spiderwort, in this list. Though it can spread in the garden, it is not anywhere as aggressive as the other weeds in this list. It is also commonly grown for ornamental purposes.  Chicagoland Grows' Tradescantia 'Tough Love' is a reddish-purple-flowered cultivar.
The wild plants vary a great deal in size from 1 foot to 4-5 feet tall, depending on species. The small, three-petaled flowers are often blue, but also come in purple, pink, and white. The name spiderwort may come from the fuzzy, webbing-like stamens of the flower, or from the way the mucilaginous substance in the stems will form thin, web-like strands when broken. If you're planning on eating this one, peel the leaves off the stem and cook them like asparagus. You can also chop up the stems (or leaves) and fry them. But don't stop there—the flowers are also tasty when raw. Since they usually last for just one day, you don't have to feel guilty about eating them either! Plus, since they're native plants used to grazing animals, they can take the abuse!
Title:
Assistant horticulturist