Seeing Nature Through a New Lens
How does the natural world affect a community's health and well-being? Over the course of one year, 16 Chicago high school students from the Instituto Health Sciences Career Academy (IHSCA) sought to find the answer.
The Chicago Botanic Garden's Healing Environments Ambassadors Learning Through Horticulture (HEALTH) internship launched in April 2019. The program connects high school students, their schools, and families to the health-promoting benefits of nature. Over the course of a spring-to-spring year, including an eight-week paid summer leadership intensive, students learned about therapeutic horticulture, videography, environmental stewardship, and landscape design. A new session starts in spring 2021.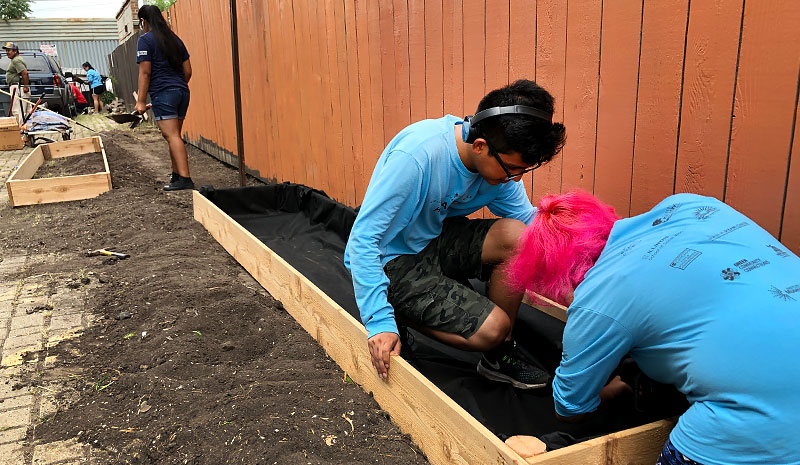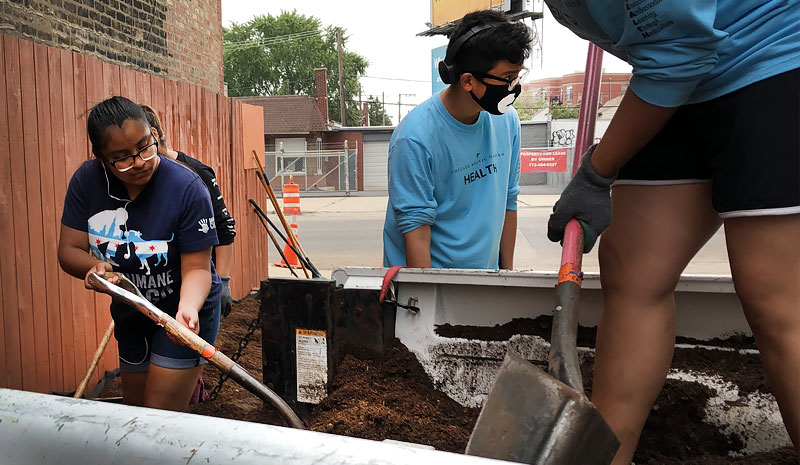 HEALTH interns constructing raised beds outside the entrance of the Instituto Health Sciences Career Academy (IHSCA).
 
The program's leader is Vincent Gomez, manager of horticultural therapy services at the Chicago Botanic Garden. "The HEALTH program prepares its youth ambassadors to understand gardening and environmental stewardship as mentally and physically restorative practices essential for healthy living. While our summer field trips reveal the role of urban agriculture in building stronger communities and improving access to healthy foods, HEALTH's project-based curriculum creates a context for youth to discover how the various technical skills they gain from the program empower them to reimagine, and beautify everyday environments where they learn, live, and play," said Gomez.
At the end of the year, the students used their experience to create short-form documentaries, capturing what they learned and tackling issues like fast fashion and the power of gardens. 
---
Leslye Ferra-López, a high school senior, learned valuable lessons about connecting with the natural world.
"I didn't know the environment itself is used as therapy and that sensory gardens could have a meaning and remind you of a memory. I found this one plant that looks like a cotton ball and it reminded me of a bunny tail. I didn't think nature had so much meaning."
Inspired to explore issues affecting the planet, Ferra-López and her group learned how climate change and the environment are deeply impacted by fast fashion. Using their new videography skills they worked on creating The Dark Secrets of Fast Fashion to shed light on the harmful effects of fast fashion on the environment and garment workers.
"Chemicals being used to make fast fashion clothing are dumped into rivers. This makes garment workers sick who then don't receive medicare to help them. Animals are affected too, as they drink the chemical-filled water," said Ferra-López.
Ferra-López hopes their film will move people to action. "We want people to be conscious of their clothing purchasing decisions. That clothing may look nice, but it leads to bad outcomes for people and the planet."
---
Isabela Alcántara, a junior in high school, found that learning more about plants helped her make connections to her own life.
"I knew that plants help people physically and mentally. My grandma suffered a lot through her childhood and now that she's older, she often goes to her garden to relax and goes into a peace of mind that makes her feel better."
Alcántara fondly recalls visiting gardens in local hospitals during the internship program, where children found fun and comfort in being surrounded by plants. "I liked seeing how different gardens can benefit young people who are sick. It really warms your heart to see them playing around and how they're happy, even in a hospital," said Alcántara.
Her group's film, The Great Adventures of HEALTH, captures the heart of their experience from sensory plant gardening to garden-inspired cooking to nature walks and the blossoming friendships between her peers.
---
Being part of the HEALTH internship and working on these documentaries meant not only connecting with nature, but connecting with each other, especially for Angeles Muñoz.
Working with her peers, Muñoz learned to broaden her perspective. "People really do think differently and have different points of view. I try to listen to them and open up to them and learn to disagree. With this internship, we grew a bond with each other and we were there for each other."
Drawing from their personal experiences, Muñoz and her group decided to address gang violence with their film, Gang Violence: Impact on Families and Community. She noticed the positive impact a safe space like a community garden can have on the neighborhood.
"I feel like once you have a safe place you can go to, people start changing into better people. Every community should have a safe spot," said Muñoz.
A sophomore in high school, Muñoz was excited for the opportunity to do something different. "I really enjoyed going to different places and situations and putting ourselves in their shoes. We went to different gardens that were full of flowers and fresh air, and there are certain parts of the city that don't have that," said Muñoz.
---
Gardens can have a big impact on communities. That's what Berenice Hernandez and Esmerelda Guzmán quickly found to ring true during their time as HEALTH interns.
"The first garden we saw [the Semillas De Justicia Community Garden] was my favorite because of its background and history. It helps a lot of families who can come in and reserve a space to plant their own foods and produce," said Guzmán.
Paying a visit to a handful of community gardens, Hernandez, Guzmán, and their group were motivated to share what they found with the community at large. Their film Gardens Around Chicago brings awareness to all of the garden resources available to local communities.
"We wanted to teach audiences how different gardens are affecting the community. There are places here in Chicago where there is nature and where we can connect with the healing abilities of plants," said Hernandez.
After completing the internship and with a host of unique experiences under their collective belt, these students began to look at the natural world with fresh eyes.
"I feel a safe space with nature now that I can vibe with. Like sunflowers—they have this vibrant yellow and it just gives you some type of feeling inside. I've been taking care of plants now, and I even got my mom into it," said Muñoz.
Alcántara also explained her newfound appreciation for plants and nature. "I now see why people look toward plants a lot because it helps people. If it can help people in need, then it can definitely help me. When I have my own house, I want a bunch of plants."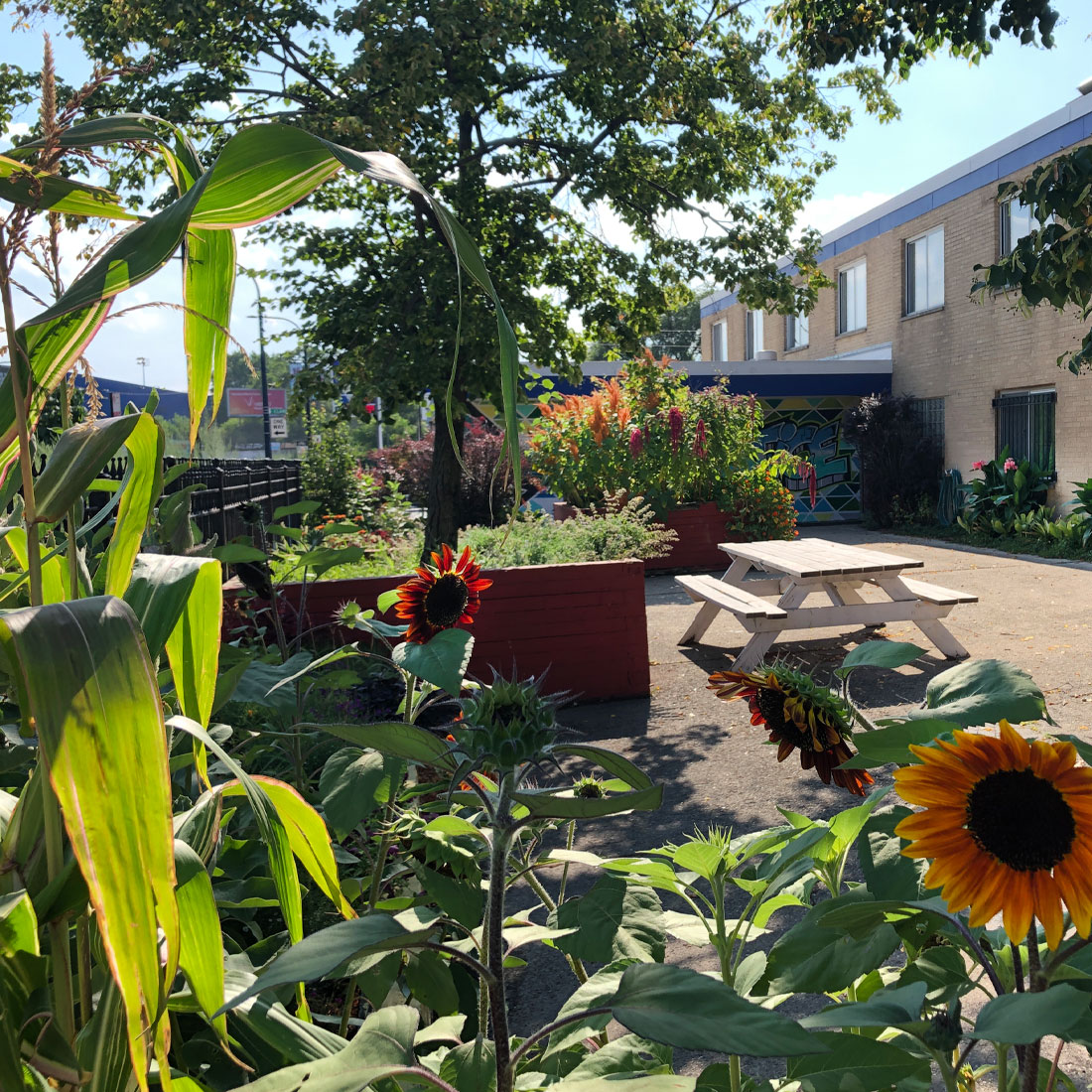 These documentaries were supported by teaching artists from Free Spirit Media Inc. and will be showcased by The One Earth Film Festival presented by Green Community Connections, a supporter and partner of the HEALTH program. This project was made possible in part by the Institute of Museum and Library Services [grant number: MA-20-18-0022-18].
Title:
Marketing and Editorial Content Writer