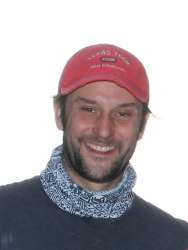 Teaching and Research Affiliations:
Adjunct professor, Biological Sciences, Northwestern University
Selected Professional Associations:
Botanical Society of America, Ecological Society of America, Endangered Species Protection Board, IUCN SSC Conservation Genetics Specialist Group 
Research Interests:
Restoration Genetics
Gene-flow and Pollination
Rare and Threatened Species
Plant Hybridization
Conservation of Genetic Diversity
Restoration Genetics: Choosing "genetically appropriate material" for restoration has become an important aim of many restorations. I study the genetic, demographic, and community factors that might influence restoration success in a number of species:
Chris Woolridge is working with Andrea Kramer and I, looking at the impact of predictive provenancing (particularly collecting seed from more southerly populations) will have on extand populations
Golden paintbrush (Castilleja levisecta) — Restorations of golden paintbrush populations are ongoing in both Washington and Oregon. Adrienne Basey (MS Current), Andrea Kramer and I are working with Tom Kaye (Institute of Applied Ecology) and Peter Dunwiddie (University of Washington), looking into genetic changes that occur when a rare plant is brought into production for restoration purposes.
Castilleja affinis subsp neglecta - Is a rare endemic of Serpentine soils in the Bay Area. Laney Widener (MS current) has been investigating genetic variation within this species to guide restoration efforts. We are also working with David Tank at University of Idaho to compare this rare taxa within other similar california coastal Castilleja sp, using a combiantion of genomic, microsatellte and morphlogical techniques.
Wooly milkweed (Asclepias lanuginosa)—Genetic work by Eun Sun Kim (University of Illinois, Chicago, Ph.D, student) has established that clonal growth is limiting reproduction in this rare species and restoration is now being installed to see if we can improve sexual reproduction in this species.
Pitcher's thistle (Cirsium pitcheri)—Kayri Havens, Pati Vitt, and I have compiled more than ten years of genetic data in restored and native populations of Cirsium pitcheri, a federally listed endangered species.
Hill's thistle (Cirsium hillii)—Abigail White is working with Andrea Kramer and I looking a restoration potential in this species. We are working with the Plants of Concern program, who have been monitoring populations in the Chicago area for more than ten years. We have established new genetically diverse restorations that are monitoring their success.
Lepidospartum burgessii -  Evelyn Webb Williams and I are working with Mike Howard (BLM - New Mexico) to identify if there are any potential genetic issues that might be limiting seed set. 
Genetics and Pollinators: The success and diversity of flowering plants is attributed in part to animal pollination. The genetic contribution of different pollinator guilds will vary through maternal fitness (number of seed sired), paternal fitness (number of fathers and distance of fathers) and connectivity between isolated populations. I am interested in the role pollinators play in driving the genetic structure of plant populations.
The shift from bee to bird pollination—Anna Braum (MS 2014) and Eun Sun Kim (University of Illinois, Chicago, Ph.D, student) has been investigating the underlying mechanisms that drive floral color polymorphism in Castilleja coccinea, a local paintbrush species whose populations are either completely red or yellow. 
The shift from bird to Hawkmoth pollination — Katie Wenzell (PhD Current) is work with Krissa Skogen and I looking at the role hawkmoth, bird and bee pollinations in Castilleja sessiliflora and it role in shaping floral morphology
Krissa Skogen, Norm Wickett, Rick Overson and Tania Jogesh are working on large project investigating Diversification in the Onagraceae Family, using Genomic, Population genetics and field data.
Paternity and Pollen Quality — Together with Krissa Skogen, Matt Rhodes (MS 2014) and Kathleen Kay (University of California, Santa Cruz), we are using exclusion experiments to compare the genetic differences in pollen quality of provided by different guilds of pollinators in Oenothera harringtonii and Clarkia breweri
Anita Cistenas-Fuentes is looking at the relationship between pollinators and rates of inbreeding, and the potential role this can have in the expression of inbreeding depression.
Hybridization: Working with a number of collaborators, we are investigating the potential threat of hybridization to populations of rare species, including Lantana depressa in Florida (Joyce Maschinski) and Lespedeza leptostachya in Minnesota (Alona Banai MS 2008), as well as the role hybridization might be playing in Phragmites australis invasion in the Chicago area (Dan Larkin)
Selected Publications:
Restoration Genetics:
Fant J.B., Price, A.++ and D. Larkin (Online early) The influence of habitat disturbance on genetic structure and reproductive strategies within stands of native and non-native Phragmites australis (common reed)" Diversity and Distributions (Online early). 
Fant, J.B. , K. Havens, A.T. Kramer, S.K. Walsh, T. Callicrate, R.C. Lacy, M. Maunder, A. Hird Meyer,and P.P. Smith (2016) What to do when we can't bank on seeds: What botanic gardens can learn from the zoo community about conserving plants in living collections American Journal of Botany (Accepted)
Basey A., J.B Fant, A.T. Kramer (2015) Producing native plant materials for restoration: ten rules to collect and maintain genetic diversity. Native Plants Journal 16:37-53.
Havens K., P. Vitt, S. Still, A.T. Kramer, J.B. Fant, and K. Schatz (2015) Seed Sourcing for restoration in an era of climate change. Natural Areas Journal 35(1) 122-133
Kramer A.T., D Larkin and J.B. Fant, (2015) Assessing potential seed transfer zones for five forb species from the Great Basin floristic region, U.S.A.. Natural Areas Journal 35(1) 174-188, (2015) Assessing potential seed transfer zones for five forb species from the Great Basin floristic region, U.S.A.. Natural Areas Journal 35(1) 174-188
Fant, J.B., K. Havens, J.M. Keller, A. Radosavljevic* and E.D. Yates (2014) The influence of contemporary and historic landscape features on the genetic structure of the sand dune endemic, Cirsium pitcheri (Asteraceae). Heredity 112, 519–530
Herman B, S Packard, Cathy Pollack, G. Houseal, S. Sinn, C. O'Leary, J. Fant, A.D. Lewis, S. Wagenius, D. Gustafson, K. Hufford, Bob Allison, K. Shaw, S. Haines and C. Daniels (2014). Decisions… Decisions… How to Source Plant Material for Native Plant Restoration Projects.  Ecological Restoration 32 (3) 236-238.
Fant, J.B., A.T. Kramer , E. Sirkin, and K. Havens (2013) Genetics of reintroduced populations of the narrowly endemic thistle, Cirsium pitcheri (Asteraceae). Botany 91 (5) 301-308).
Fant, J.B., R.M. Holmstrom*, E. Sirkin, J.R. Etterson, and S. Masi, S (2008) Genetic structure of threatened native populations and propagules used for restoration in a clonal species Ammophila breviligulata (American beachgrass). Restoration Ecology 16(4):594-603.
Gene flow and Pollination:
Skogen, K. A., T. Jogesh, E. T. Hilpman*, S. L. Todd*, M. K. Rhodes*, S. Still, and J. B. Fant. In Press. Land-use change has no detectable effect on reproduction in a disturbance-adapted plant pollinated by long-distance dispersing hawkmoths. American Journal of Botany.
Rhodes, M.*, J.B. Fant and K.A. Skogen (2014) Local topography shapes fine-scale spatial genetic structure in the Arkansas Valley evening primrose, Oenothera harringtonii (Onagraceae) Journal of Heredity (in press)
Ksiazek, K*., J. B. Fant, and K. Skogen (2012) An assessment of pollen limitation on Chicago green roofs. Landscape and Urban Planning. 107 (4) 401-408.
Tonietto R*, J. Fant, J Ascher, K. Ellis*, and D Larkin (2011) A comparison of bee communities of Chicago green roofs, parks and prairies. Landscape and Urban Planning 103: 102– 108.
Kramer, A.T. *, J.B. Fant, and M. Ashley (2011) Influences of landscape and pollinators on population genetic structure: Examples from three Penstemon (Plantaginaceae) species in the Great Basin. American Journal of Botany 98(1): 109–121.
Hybrids:
Fant, J. B., A. Banai*, K. Havens, and P. Vitt (2010) Hybridization between the threatened plant, Lespedeza leptostachya Englem. and its co-occurring congener Lespedeza capitata Michx.: morphological and molecular evidence. Conservation Genetics. Online early.
Maschinski J., E. Sirkin, and J.B. Fant (2010) Using genetic and morphological analysis to distinguish endangered taxa from their hybrids with the cultivated exotic pest plant Lantana strigocamara (syn: Lantana camara). Conservation Genetics. Online early.
Fant, J.B. and C.D. Preston (2004) Genetic structure and morphological variation of British populations of the hybrid Potamogeton x salicifolius Wolfg. Bot. J. Botanical Journal of the Linnean Society 144(1):99-112.
*Denotes student authors
Graduate Students:
Anita Cisternas Fuentes (PhD, Current)
Katie Wenzell (PhD, Current) - Coadvised with Krissa Skogen
Abigail White (MS Current) - Coadvised with Andrea Kramer
Jordan Wood (MS, Current) - Coadvised with Kayri Havens-Young
Chris Woolridge (MS Current) - Coadvised with Andrea Kramer
Drake Mullett (MS, Current)
Kris Bonefont (MS, Current)
Claire Ellwanger (MS, 2016)
Laney Widener (MS, 2014)
Anna Braum (MS, 2013)
Kelly Ksiazek (MS, 2011)
Ben Staehlin (MS, 2009)
Rebecca Tonietto (MS, 2009)
Alona Banai (MS, 2008)
Postdocs:
Tania Jogesh (Current)
Rick Overson (Current)
Evelyn Webb Williams (2013-2014)
Websites:
Scent, Pollinators, Predators, and Floral Diversity in Evening Primrose group
Onagraceae, particularly species in tribe Onagreae, produce a floral scent that drives the biological interactions that impact plant fitness (fruit and seed production), including attracting legitimate pollinators (hawkmoths, bees) as well as floral and seed predators (Mompha moths). This scent, in turn, is used by these species to locate host plants to lay their eggs, which thereby impacts their reproductive fitness. Krissa Skogen, Norman Wickett, and I will be integrating chemical ecology and comparative genomics to explore the impact of past selective pressures on current patterns of diversity in these nonmodel organisms: evening primroses, hawkmoths, and micromoths. This is part of a National Science Foundation-funded Dimensions in Biodiversity grant —"Landscapes of Linalool: Scent-Mediated Diversification of Flowers and Moths across Western North America" — which is working in collabortation with other scientists at Agriculture & Agri-Food Canada, Amherst College, Colorado College, Cornell University, Oberlin College, Smithsonian Institution, University of California at Santa Cruz, and the University of Illinois at Champagne-Urbana.
http://onagmoth.org/