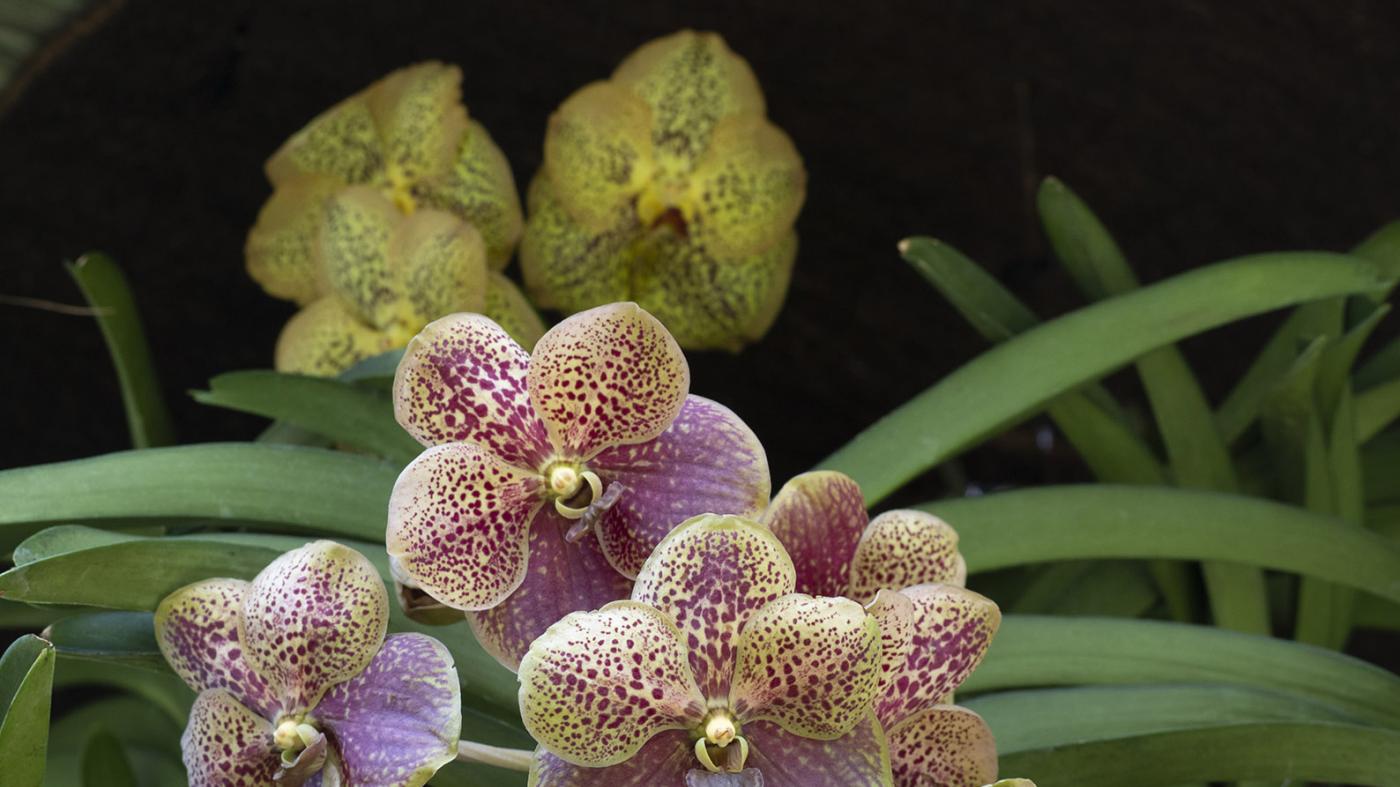 Opening at the Chicago Botanic Garden February 12 through March 27
Release Date: Thursday, February 10, 2022
The Chicago Botanic Garden celebrates the unexpected verve of wild orchids this winter during The Orchid Show: Untamed. Starting February 12 and running through March 27, the Garden's indoor galleries will be filled with lush installations and saturated with the summery color and scent of tropical plants.
"We are excited to welcome visitors back to the Garden this year for the Orchid Show," said Jodi Zombolo, associate vice president, Visitor Events and Programs. "This Show provides an enchanting opportunity to soak up the beauty of fresh blooms in the quiet of winter."
The Orchid Show: Untamed will feature more than 10,000 orchid blooms in whimsical places of our imagination. Attendees will see what happens when sweeps of orchids take over an old secret garden, burst through walls, twine around abandoned pillars, and spill over a 1900s-era piano. The focus on how orchids grow where many other plants cannot, emphasizes how their irrepressible spirit reflects hope, resilience and beauty in an unpredictable world.
On Thursday evenings, Orchids After Hours is a captivating way to experience a nighttime viewing of the Show. Cocktails and a retro menu including fried five-cheese ravioli and pineapple upside-down cake will be available for purchase. A special Orchids After Hours will be held on Monday, February 14 (Valentine's Day) and will feature a special dessert and prosecco splits.
Regular hours are from 10 a.m. to 4 p.m. daily; except for Thursdays and on Monday, February 14, when the Show is open in the evening from 5 p.m. to 8 p.m. for Orchids After Hours. Tickets are on sale now. Visit https://www.chicagobotanic.org/orchid for more information and to purchase tickets.
The following events will take place throughout the Show:
Library Exhibition –

Reichenbachia: Kings, Queens, and Orchid Mania

– Friday, February 11 through Thursday, March 31 (

Wednesday – Sunday from noon to 4 p.m.)




This rare book exhibition in the Lenhardt Library

features three chromolithograph orchids in elephant folio volumes from Reichenbachia: Orchids Illustrated and Described.

Free library talks will be held

on Thursday, February 17, and Sunday, March 13, at 2 p.m.


 

Photographers' Hours

– Tuesdays, February 15 through March 22 (8:15 a.m. to 9:45 a.m.)




Offered for photographers who would like to capture orchids using tripods and monopods before the Show opens on Tuesday mornings. Regular ticket fees apply, but only a limited number of tickets will be available each day


 

Illinois Orchid Society Spring Show & Sale

– Saturday, February 12 and Sunday, February 13 (10 a.m. to 4 p.m.)


Displays of orchids from the rarest of species to cultivated hybrids will be artistically arranged. Families can take part in orchid-based activities for children. Vendors will also be on-site to sell orchid plants and related products and Illinois Orchid Society members will offer repotting services

. 


 

Post-Orchid Show Sale

– Thursday, March 31 (9 a.m. to 4 p.m.)




This sale is an opportunity to take home favorite orchids from the Show. Early access from 9 a.m. to 2 p.m. is based on member level. All members and public are welcome from 2 p.m. to 4 p.m., while supplies last. Please check our website and social media for updates; this event sells out quickly.
The health and safety of Garden staff and visitors is a priority. The Garden will follow all state and Cook County guidelines to mitigate COVID-19 that are in place at the time of the event, including guidance on wearing masks. Proof of full COVID-19 vaccination and a face mask are required at Orchids After Hours, per current Cook County mandate. (Vaccination card, photocopy or digital copy must be shown, along with a photo ID.)
An image gallery is available for media download here.
About Chicago Botanic Garden
The Chicago Botanic Garden, one of the treasures of the Forest Preserves of Cook County, is a 385-acre living plant museum featuring 28 distinct gardens and four natural areas. With events, programs and activities for all ages, the Garden is open every day of the year. Located at 1000 Lake Cook Road in Glencoe, IL, the Garden is smoke free. Opened to the public in 1972, the Garden is managed by the Chicago Horticultural Society, accredited by the American Association of Museums and a member of the American Public Gardens Association (APGA).