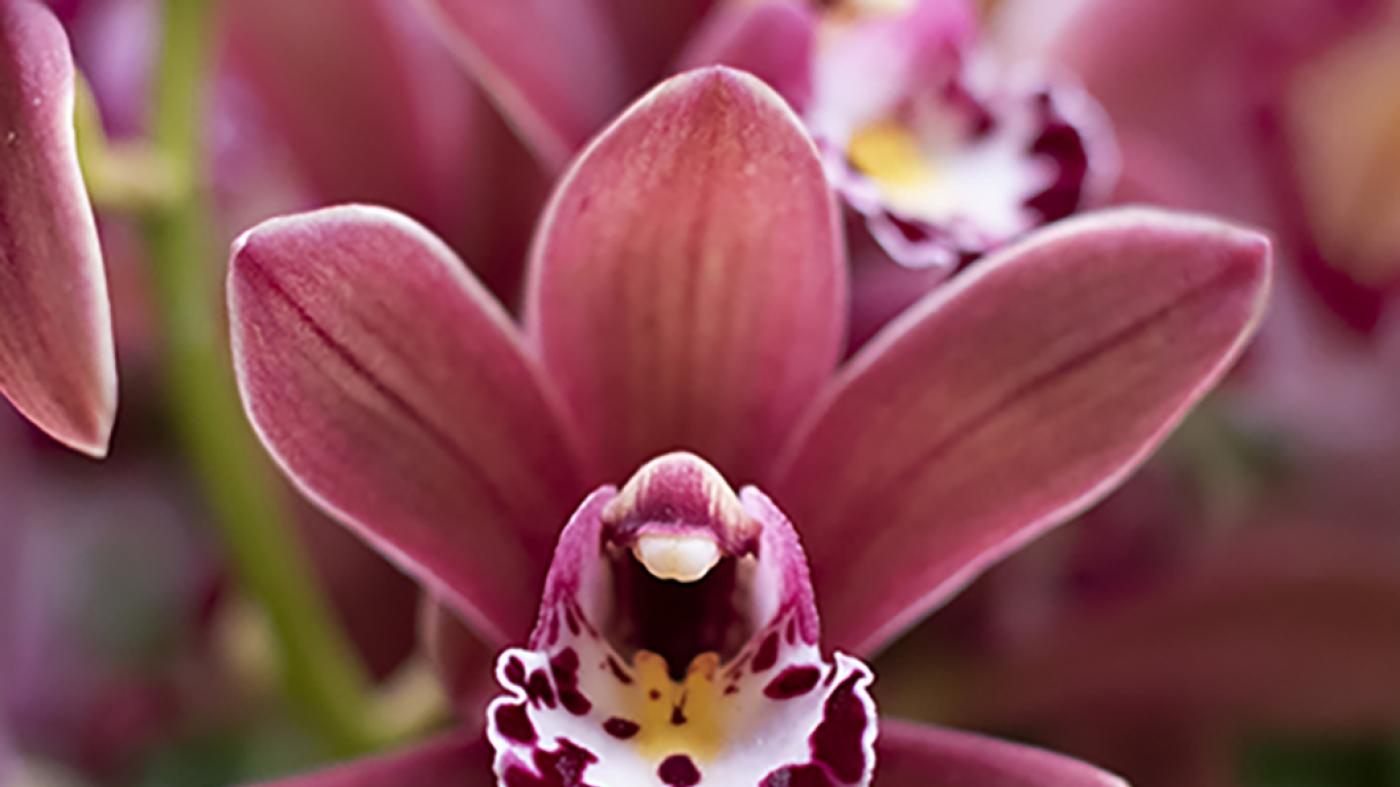 Open at the Chicago Botanic Garden February 11 through March 26
Release Date: Thursday, February 2, 2023
The Chicago Botanic Garden celebrates the big, bold beauty of orchids this winter during The Orchid Show: Magnified. Starting February 11 and running through March 26, the Garden's indoor galleries will be filled with larger-than-life installations and saturated with the vibrant color and scent of tropical plants.
"We are excited to showcase the beauty of orchids through immersive experiences this year," said Jodi Zombolo, associate vice president, Visitor Events and Programs. "This Show provides a playful opportunity to connect with and admire each orchid part, leaving visitors inspired and wowed."
The Orchid Show: Magnified will illustrate what makes an orchid an orchid with exaggerated elements that feature more than 10,000 orchid blooms. Attendees can expect the unexpected as they step into an oversized bloom and wander through huge hanging columns of color. The focus on exaggerated elements will demonstrate the bilateral symmetry of the orchid design.  
On Thursday evenings, Orchids After Hours is a captivating way to experience a nighttime viewing of the Show. Cocktails and light bites including goat cheese croquette with orchid truffle honey and café con leche will be available for purchase. A special Orchids After Hours will be held on Tuesday, February 14 (Valentine's Day), and will feature heart-shaped desserts for two and prosecco splits for purchase.
Regular hours are from 10 a.m. to 4 p.m. daily. On Thursdays and on Tuesday, February 14, the Show is open in the evening from 5 p.m. to 8 p.m. for Orchids After Hours. Tickets are on sale now. Visit https://www.chicagobotanic.org/orchid for more information and to purchase tickets.
The following events will take place during the Show:
Library Exhibition – Moth Orchids Illustrated – Saturday, February 11, through Sunday, March 26 (Wednesday – Sunday from noon to 4 p.m.)|
This rare book exhibition in the Lenhardt Library features ten volumes with beautiful illustrations of moth orchids or Phalaenopsis, published between 1750-1900. Free library talks will be held on Saturday, February 25, and Sunday, March 12, at 2 p.m.
 
Photographers' Hours – Tuesdays, February 14 through March 21 (8:15 a.m. to 9:45 a.m.)
Offered for photographers who would like to capture orchids using tripods and monopods before the Show opens on Tuesday mornings. Regular ticket fees apply, but only a limited number of tickets will be available each day.
 
Illinois Orchid Society Spring Show & Sale – Saturday, March 11, and Sunday, March 12 (10 a.m. to 4 p.m.)
Displays of orchids from the rarest of species to cultivated hybrids will be artistically arranged. Families can take part in orchid-based activities for children. Vendors will also be on-site to sell orchid plants and related products and Illinois Orchid Society members will offer repotting services.
 
Post-Orchid Show Sale – Thursday, March 30 (9 a.m. to 4 p.m.)
This sale is an opportunity to take home favorite orchids from the Show. Early access from 9 a.m. to 2 p.m. is based on member level. All members and public are welcome from 2 p.m. to 4 p.m., while supplies last. Please check our website and social media for updates; this event sells out quickly.
An image gallery is available for media download here.
About Chicago Botanic Garden
The Chicago Botanic Garden provides the opportunity for people and planet to thrive, showcasing the power of plants through its leadership in plant conservation science, community engagement, and learning, and the beauty of its 385-acre living museum. Every year, more than one million people visit the Garden's 28 gardens and four natural areas. The Garden's urban agriculture initiative, Windy City Harvest, helps build healthy communities through its 15 urban farms and programs in Chicago and nearby counties. The Garden is a nonprofit organization run as a public/private partnership with the Forest Preserves of Cook County.